Location
Paula D
1 Canal Lane
See Event Details for Boarding
Ottawa, ON K1P 5P6
Canada
Sales Have Ended
Ticket sales have ended
This event is sold out. Make sure to follow us on Eventbrite for upcoming events and to take advantage of discounted tickets.
THIS EVENT IS SOLD OUT. DUE TO POPULAR DEMAND WE HAVE ADDED ANOTHER EVENT ON JULY 2ND TO CELEBRATE CANADA DAY WEEKEND. PLEASE SEE BELOW
About this event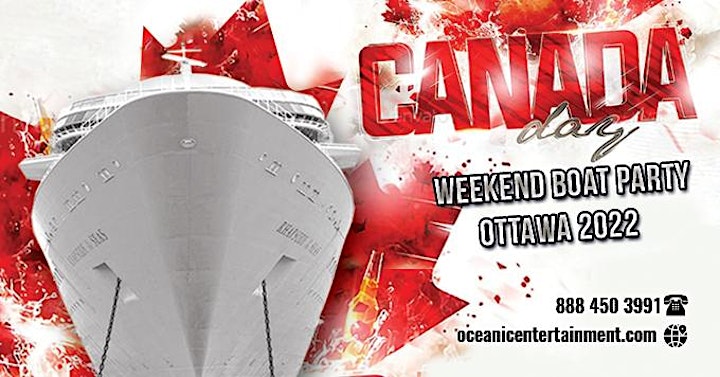 Sat, 2 July 2022 - 4:30 PM – 9:00 PM EDT
Ottawa Boat Parties present to you
Canada Day Fireworks Boat Party Ottawa 2022
Looking for things to do in Ottawa for Canada Day? Look no further. Come aboard the Paula D and dance the night away! Our 3.5-Hour cruise offers you breathtaking views of your city Ottawa as we sail through Ottawa river. Not only do you get to experience the summer sunset, you also get to enjoy the stunning fireworks display as we party into the night!
Featuring:
Spectacular Views Ottawa's landscape
Fireworks Display
Club-like Dance Floor with Roof Top
Luxury Boat
Fully Licensed Premium Bar
3 hours of cruising around Harbor
2 Level Yacht
Talented Live DJ
Professional photographer
Spacious Outside Viewing Deck
Smoking Permitted on the Outer Deck
Great for Birthday Celebrations / bachelorette / bachelor / anniversary / graduations & more. Any special celebration - just message us in advance!
Music By
We got the hottest DJ pumping up your crazy fun filled night! In the mix dropping ALL the biggest hits. Top 40, Hip Hop, Throwback, Afrobeats, Dancehall, R&B, Reggaetón, Throwback & any personal requests - our DJ got them all covered!
Paula D is a luxurious two-vessel yacht which includes a spacious dance floor and a fully functional bar on the lower deck. The upper level is a sleek modern lounge that opens onto an equally large outdoor deck that offers a perfect arena to mingle and enjoy stunning views of Ottawa and surrounding area.
Boarding Location: The Hull Marina, 160 Laurier street, Gatineau, QC
Dress code:
Party attire - All White. Come dressed up as we have professional photographers snapping your pictures throughout the night.
This will surely be one of the best nightlife experiences. Grab your tickets now as the July 1st Canada Day boat cruises are very popular and the number of seats are limited – the tickets sell out very quickly! For more info and tickets call us at 888 450 3991.
Boarding Location: The Hull Marina, 160 Laurier street, Gatineau, Qc
Timing
Boarding starts at: 8:30pm
Boat Leaves at: 9:00 pm (with or without you)
Re-docks at: 12:00 am
Must be 18+
Ticket Starts at $30. Book your tickets today and take advantage of our super early bird ticket pricing. Keep in mind, early bird tickets are limited in quantity & ticket prices will go up immediately after the early bird tickets are sold out. Price increase warning: Prices often go up significantly (100% +).
Price increase warning: Canada Day Fireworks are extremely popular and high in demand. Ticket prices often go up significantly (100% +) the closer you get to Canada Day July 1st.
Follow us on Eventbrite for future events
FAQ
What are the minimum age requirements to enter the event? You must be 18+ and bring in a valid government ID to enter the boat.
What is the dock location? 160 Laurier St, Gatineau, Quebec J8X 3X5
Is there parking? There are plenty of paid parking in the area.
How can I contact the organizer with any questions? You can call us at 888-450-3991 or visit www.oceanicentertainment.com. You can also email us at info.ottawa@oceanicentertainment.com
What is the refund policy? All sales are final and non-transferable.
Is the boat heated? The boat is heated with an outside viewing deck during winter.
Are there group discounts? Yes, we provide discounts for groups over 10. For more info call us at 888-450-3991.
Do you guys provide refunds if it rains? Rain or shine this event goes on. The boat has a covered section and outside deck.
Is there non alcoholic beer or redbull on board? Yes
Are they allowed to smoke on the upper deck including Cannabis products? Only on the top back deck.
Is there food or light snacks for sales? Chips and chocolate bars
Can people bring outside food like snacks, etc. ? No outside food or drinks allowed on board.
Sales Policy
All sales are final. Tickets cannot be exchanged, transferred or refunded after purchase has been made.
Identification
Government-issued photo ID must be presented to gain entry to any events. The name on the ID must match the name on the ticket. Events held in the United States of America is a 21+ event, and in Canada is a 19+ event, with provincial age limit exceptions.
Liability Waiver
By purchasing this ticket, you agree to not hold Oceanic Entertainment Inc. and all parties associated herewith liable for any and all claims, loss or damage to any personal belongings or injuries. It is hereby understood that the purchase of tickets by you and your participation in the events shall not be construed as an assumption on the part of the Promoter of responsibility, liability, or control of the events.
Entry Policy
NO Intoxicated entry - We reserve the right to refuse entry despite of tickets. Please buy your tickets accordingly - Strictly NO EXCEPTION and NO REFUNDS
PURCHASE POLICY
All sales are final. Tickets cannot be exchanged or refunded. Event date and time are subject to change without notice. An email notification will be sent if any changes are made to the event. Tickets may only be picked-up by the holder of the card used to purchase the tickets.
If the purchased event is canceled in its entirety due to any unforeseen circumstances, Oceanic Entertainment has the sole and absolute right to:
reschedule the event, or
issue a partial/full refund, or
not issue any refunds.
Please note that the decision of the issuer in such cases will be deemed final and binding.
ID
Be prepared to provide government-issued photo ID used to purchase the tickets. The name on the ID must match the name on the ticket to gain entry to the above event.
Marketing
All pictures shown are for illustration purpose only. Refer venue in address and website for more info.
COVID POLICY
Assumption of Risk: I acknowledge that an inherent risk of exposure to the disease COVID-19 (as defined by the World Health Organization and any strains, variants or mutations thereof) and SARS-CoV-2 (the virus that can cause COVID-19) (collectively, "COVID-19"), and any other communicable or infectious disease, exists in any public place where people are present. COVID-19 is an extremely contagious communicable disease that can lead to severe illness and death. No precautions can eliminate the risk of exposure to COVID-19, and the risk of exposure applies to everyone. I acknowledge that the risk of exposure to COVID-19 and any other communicable or infectious disease includes the risk that I will expose others that I later encounter, even if I am not experiencing or displaying any symptoms of illness myself. By participating in the above event, I agree to voluntarily assume any and all risks in any way related to exposure to COVID-19 and any other communicable or infectious disease, including illness, injury or death of myself or others. I acknowledge that my participation is entirely voluntary.
Boarding Location: The Hull Marina, 160 Laurier street, Gatineau, QC
On the Gatineau, Quebec side of the Ottawa River, located in Jacques Cartier Park, adjacent to the Canadian Museum of History and the Alexandra bridge
Canada Day Celebration Ottawa
Canada Day Fireworks Ottawa
Things to Do Canada Day Ottawa
Ottawa Boat Parties
Canada Day Activities Ottawa
Floating Night Club