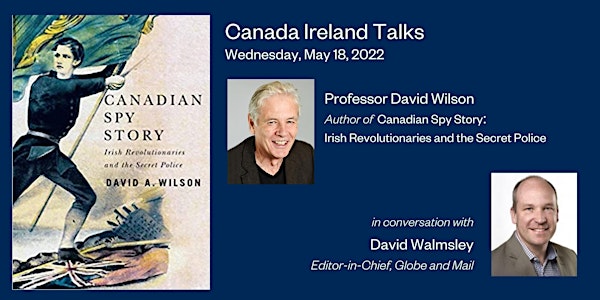 Canada Ireland Talk: 'Canadian Spy Story' w/ David Wilson & David Walmsley
Event Information
Location
Alumni Hall (Room 400)
121 St. Joseph Street
Toronto, ON M5S 3C2
Canada
Prof. David Wilson discusses his new book, 'Canadian Spy Story,' with David Walmsley, Editor-in-Chief of the Globe & Mail.
About this event
David Walmsley, Editor-in-Chief of the Globe and Mail, interviews David Wilson, Professor of Celtic Studies at St. Michael's College in the University of Toronto, about his new book, Canadian Spy Story: Irish Revolutionaries and the Secret Police.
Wednesday May 18, at 7 pm at Alumni Hall (Room 400), St. Michael's College, 121 St. Joseph Street, Toronto. This is a free event.
Presented by the Canada Ireland Foundation in cooperation with the Celtic Studies Program at St. Michael's College .
Canadian Spy Story takes us into a dark and dangerous world of betrayal and deception, spies and informers, invasion and assassination, spanning Canada, the United States, Ireland, and Britain. Wilson tells the tale of Irishmen who attempted to liberate their country from British rule, and the Canadian secret police who infiltrated their revolutionary cells and worked their way to the top of the organization. With surprises at every turn, the story includes a sex scandal that nearly brought Canadian spy operations crashing down, as well as reports from Toronto about a plot to assassinate Queen Victoria.
Featuring a cast of idealists, patriots, cynics, manipulators, and liars, Canadian Spy Story raises fundamental questions about state security and civil liberty, with important lessons for our own time.
"Canadian Spy Story is brilliant historical scholarship, the profundity of its argument deliberately concealed by its gripping narrative. Wilson waits until the end to reflect on larger questions of civil liberty versus national security that pervade the entire story. This is a masterstroke of storytelling." Kevin Kenny, New York University
"Canadian Spy Story is an outstanding book by one of Canada's leading historians - meticulously researched, well structured, and beautifully written. Wilson paints a compelling picture of the twilight world of émigré conspirators, their anger at their plight, their desire to strike back, their resilience in the face of innumerable setbacks, and their doggedness in planning for the great day of liberation." Thomas Bartlett, University of Aberdeen
Date and time
Location
Alumni Hall (Room 400)
121 St. Joseph Street
Toronto, ON M5S 3C2
Canada