Description
YOU ARE INVITED TO CANADA LEADERSHIP SUMMIT 2018!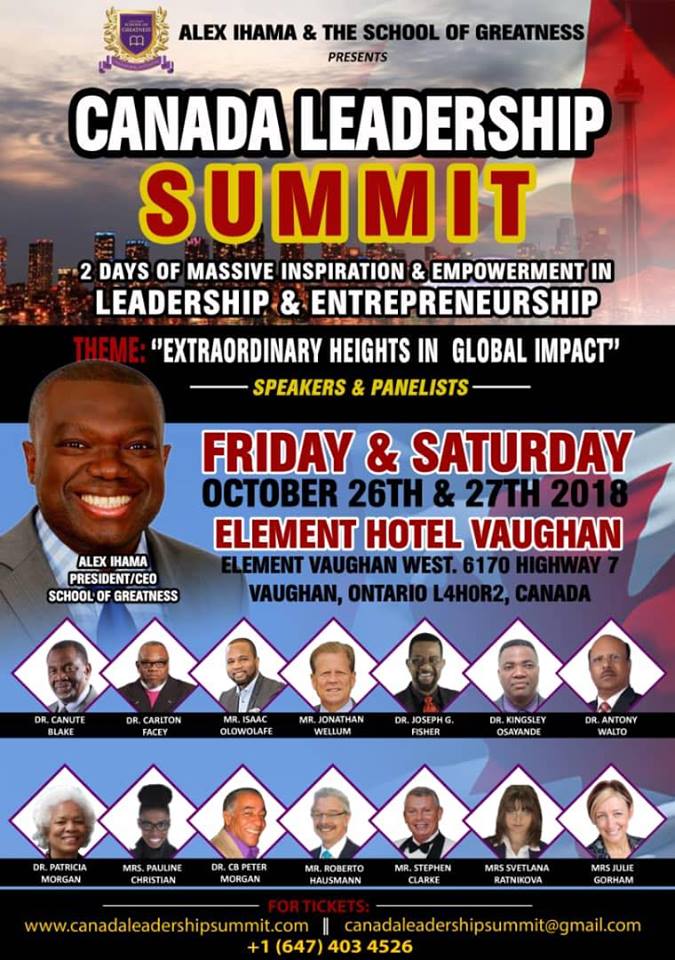 It is a 2-day event of massive inspiration to empower hundreds of executives and entrepreneurs from all over the world in the political, corporate, religious, and academic arenas, including directors, managers, supervisors, and civil servants, professors, and pastors.


Our objective is to educate and equip you with rare strategies to become an exceptional leader and entrepreneur through lectures and activities that are intellectually stimulating, economically empowering, and spiritually therapeutic. The theme for this year's summit is"Extraordinary Heights in Global Impact", and your personal, professional and organizational success is our mission.


Friday will be mainly focused on business strategies for wealth creation, dynamics of expansion in life, business and ministry and revenue generating opportunities for financial freedom and charitable work, while Saturday will be mainly focused on rare precepts & principles of exceptional leadership governance, with proven spiritual and strategic concepts for team building, management, and strategic alliances.
For the biographies of our exclusive list of speakers, sponsorship opportunities and agenda for this two-day intensive summit for leaders and entrepreneurs, visit www.canadaleadershipsummit.com.
If you require more information, send an email to canadaleadershipsummit@gmail.com.