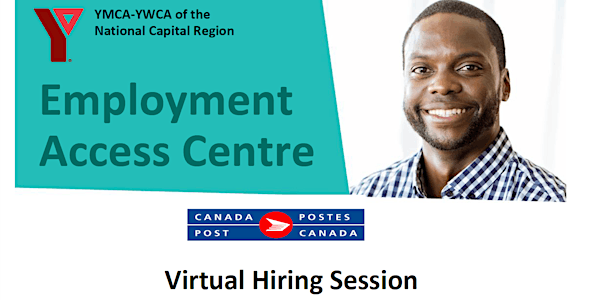 Canada Post - Virtual Hiring Session
Come join us at Canada Post Virtual Hiring Session.
About this event
The Y Employment Access Centre, has partnered with Canada Post to host a hiring session to recruit for
Bilingual HR Clerk, Contact center (part time)
To learn more about the job requirements,
https://jobs.canadapost.ca/job/Ottawa-Clerk%2C-Contact-Centre-1-ON/556160317/
If you are interested, please register and come ready for initial screening interview.
Wednesday, February 23rd
02:00pm – 04:00pm
*Session will be Through ZOOM. You must register to receive your invitation.
You do not require any special equipment in order to attend this webinar. We will not be using webcam or microphones. Participants will simply login and to view the workshop and can type in questions for the facilitator to answer. Once you have registered you will receive an email with instructions on how to connect.
_______________________________________________________________________________
Aucun équipement spécial est nécessaire pour particper à ce webinar. Nous n'utiliserons ni caméras ni microphones. Il suffit que les particpants se connectent pour assister à l'atelier, nos facilitateurs se ferons le plaisir de répondre à toutes les questions. Une fois inscrit, vous recevrez un email avec les instructions pour vous connecter.