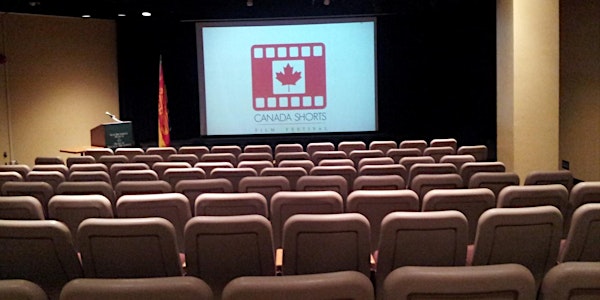 Canada Shorts 2022: Canadian and International Short Film Festival
Free event. Watch an outstanding selection of Canadian and International short films!
When and where
Location
The Cinematheque 1131 Howe Street Vancouver, BC V6Z 2K8 Canada
About this event
Free event.
Watch an outstanding selection of Canadian and International short films entered into and curated by Canada Shorts Film Festival.
The shorts being screened are best-of-category and award winners. They include short films from Canada, the United States and overseas.
All films will be screened in English, or utilize English sub-titles when appropriate.
SOME SHORTS HAVE ADULT THEMES AND ARE NOT SUITABLE FOR CHILDREN.
11 category winning short films will screen in in a single block. Total run time is 90 minutes.
Ouroboros ... In a near future, a lonely man elaborates a twisted plan in order to fulfill his desire to have a child.
One In The Chamber ... Hanna unknowingly wakes up in an abandoned building swarming with mercenaries.
Cruise ... We've all received scam phone calls, but what about the person making the calls? Cruise is a dark workplace satire about a hapless telemarketer trying mightily to give away a free cruise. And if he fails, there will be dire consequences.
Ten Essentials ... A man wakes up in the desert chained to a corpse.
Rising - Lil Berete ... Short documentary dives into the personal story of Yay Berete p/k/a Lil Berete, a young rapper from Regent Park, Toronto's most notorious and violent neighborhood.
Billy Hoople ... After purchasing an old picker-upper Victorian home, young couple, Bob and Sara, call upon an unconventional exorcist to rid them of an aggressive spector. Billy Hoople, exorcist, mystic protector, and exterminator of any and all varmints natural or otherwise.
Part Forever ... Huei and her husband Wen Hsiung come to say goodbye to Huei's dearest sister. The seemingly calm and sad farewell ceremony seemed to hide an astonishing and dark secret.
A ... A few fragments from the story of a lonely young man looking for love. A film adaptation of 'A', an unpublished play by Antoine Pelletier exploring contemporary LGBTQ+ relationships.
Sakura ... In Japan, Sakura means cherry blossoms in spring, is synonymous with renewal, beauty and ephemeral nature of life. It evokes the hope of a new beginning, and is of almost divine inspiration.
Blue ... Jules looks up to the stars and wonders if we will ever get to explore the worlds and galaxies we are yet to see, or even begin to imagine. Love and exploration are the central themes that bind the story together.
Gary ... The brave crew of the Equinox have just landed on Mars. Now inhabitants of Station Orion, they will look to each other for inspiration and survival. And then there's Gary...