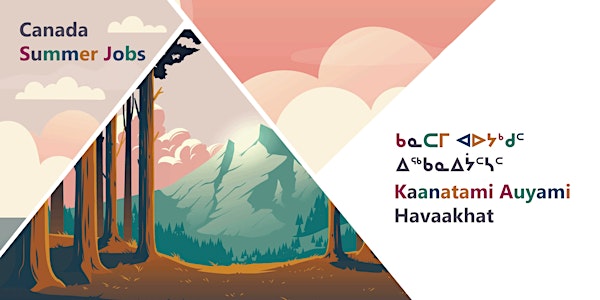 Canada Summer Jobs 2023 Info Sessions - Nunavut
Register for a one-hour Info Session to learn more about the Canada Summer Jobs Program and how to apply. For Employers in Nunavut Only.
About this event
Canada Summer Jobs - Overview
Learn more about Canada Summer Jobs at: Canada.ca/canadasummerjobs
Northern Info Session Details:
All times are listed in Eastern Standard Time. These sessions are only for employers located and hiring within Nunavut.
Date: Wednesday, December 7, 2022
Time: 1–2 PM Eastern (10 AM Pacific, 11 AM Mountain, 12 PM Central)
This session is delivered in English with a 15 minute Q&A available in English, French and Inuktitut.
After registration, an email invitation with joining instructions and an MS Teams link and 1-800 number will be shared 24 hours before your session date.
**If you have trouble registering for a date, ensure you are viewing this page using a compatible browser, such as Microsoft Edge.
_ _ _ _ _
ᑲᓇᑕᒥ ᐊᐅᔭᒃᑯᑦ ᐃᖅᑲᓇᐃᔮᔅᓴᑦ - ᖃᓄᐃᑦᑑᓂᖏᑦ
ᑐᑭᓯᒋᐊᒃᑲᓐᓂᕈᓐᓇᕐᒥᔪᑎᑦ ᑲᓇᑕᒥ ᐊᐅᔭᒃᑯᑦ ᐃᖅᑲᓇᐃᔮᔅᓴᓂᒃ ᐅᕙᓐᖓᑦ: Canada.ca/canadasummerjobs
ᐅᑭᐅᖅᑕᖅᑐᒥ ᑐᑭᓯᒋᐊᕈᑏᑦ ᓇᓗᓇᐃᔭᖅᓯᒪᔪᑦ:
ᐊᑎᓕᐅᕈᓐᓇᖅᑐᑎᑦ ᐃᑲᕐᕋ ᐊᑕᐅᓯᕐᒥᑦ ᓯᕗᓂᖓᓐᓂ ᖃᐅᔨᒃᑲᓐᓂᕈᒪᒍᕕᑦ ᑲᓇᑕᒥ ᐊᐅᔭᒃᑯᑦ ᐃᖅᑲᓇᐃᔮᔅᓴᓂᒃ ᐊᒻᒪᓗ ᖃᓄᖅ ᐱᓇᓱᐊᕈᓐᓇᕐᒪᖔᖅᐱᑦ. ᑕᒪᒃᑯᐊ ᐃᖅᑲᓇᐃᔭᖅᑎᓐᓄᑐᐊᖅ ᑐᕌᖓᔪᑦ ᓄᓇᕗᑦ ᐃᓗᐊᓂ.
ᑎᑎᕋᖅᓯᒪᔪᓕᒫᑦ ᓯᕿᓐᖑᔭᖏᓐᓂ ᒪᓕᑦᑐᐃᓐᓇᐃᑦ ᑲᓇᓐᓇᐅᑉ ᓯᕿᓐᖑᔭᖏᓐᓂ.
ᑏᓰᑉᐱᕆ 7, 2022 ᐱᒋᐊᕐᓗᓂ 1−ᒥ– 2−ᒧᑦ ᐅᓐᓄᓴᒃᑯᑦ ᑲᓇᓐᓇᐅᑉ ᓯᕿᓐᖑᔭᖓ ᒪᓕᑦᑐᒍ (EST)
ᑖᓐᓇ ᖃᓪᓗᓈᑎᑑᕐᓂᐊᖅᑐᖅ 15−ᒥᓂᔅᒥ ᐊᐱᖅᑯᓯᕐᓂᑦ ᑭᐅᖃᑦᑕᕐᓗᑎᓪᓗ ᐊᑐᐃᓐᓇᐅᔪᑦ ᖃᓪᓗᓈᑎᑐᑦ, ᐅᐃᕖᑎᑐᑦ ᐃᓄᑦᑎᑐᓪᓗ.
ᐊᑎᓕᐅᓚᐅᖅᑎᓪᓗᑎᑦ, ᐃᕐᖐᕐᓇᖅᑕᐅᑎᒃᑯᑦ ᑐᔪᐃᕕᐅᒐᔭᖅᑐᑎᑦ ᐱᖃᑕᐅᔪᒪᓂᕐᓂᑦ ᒪᓕᒋᐊᓕᓐᓂᒃ ᐊᒻᒪᓗ MS−ᒥ ᐱᓕᕆᔨᖏᓐᓂ ᑲᓱᕐᕕᒋᔪᓐᓇᖅᑕᕐᓄᑦ ᐊᒻᒪᓗ 1-800−ᒧᑦ ᐅᖄᓚᒍᓐᓇᖅᑐᑎᑦ ᐃᑲᕐᕋᑦ 24 ᐃᓗᐊᓂ ᐱᒋᐊᓚᐅᓐᖏᓐᓂᖏᓐᓂ ᐃᓪᓗᖓᓐᓂ.
**ᐊᑎᓕᐅᕈᓐᓇᓂᓐᖏᒃᑯᕕᑦ ᐅᓪᓗᖓᓐᓂ ᐱᒋᐊᕐᕕᖃᓚᐅᖅᑎᓐᓇᒋᑦ, ᕿᓂᕈᑎᓐᓂᒃ ᓈᒻᒪᒃᑲᓗᐊᕐᒪᖔᑕ ᖃᐅᔨᒋᐊᑦᑎᐊᕐᓗᒋᑦ, ᓲᕐᓗ ᐊᑐᕐᓗᑎᑦ Microsoft Edge−ᒥᑦ.
_ _ _ _ _
Kanatami Auyami Havaakhat – Ukautait Naitumik
Naluhuiyaklugit Kanatami Auyami Havaakhat hamani: Canada.ca/canadasummerjobs
Ukiuktaktumi Tuhagutikhait Katimaniagutikhainik:
Titigaklutit atauhimik katimaniaktut ayoikhaklutik Kanatami Auyami Havaagutikhainik Pilihimatjutikhait ovalo kanuk uktulaaktutit. Hapkoa katimatjutait talvatuak havakviit havaktukhakhiuktut Nunavumi.
Tamamik ublukhiuktit titigakhimayut Qikitanit ublukhiuktainut.
December 7mi, 2022 1:00mongakat – 2:00mut
Hapkoa katimaniat tuniniaktut Kablunaatitut 15 minute apigikataklutik Kablunaatitut, Weveetitut ovalo Inuktitut.
Titigaktaaguvit, kagitauyakut ilaukuniaktutit tuhagutikhainik ovalo kitumut MSmik Ilaukataunut aktuklugit ovalo hivayakvikhak 1-800 naamakaniaktut ilaukatigilaaktat ubluk tamaat piliktinagit ubluani.
**Ayokhaguvit titigagutikhainik ubluanut, kungiaklugit tamamik makpigaat kinikhiaviit atuklutit Microsoft Edge.