About this Event
The Canada Summit for National Progress is a groundbreaking gathering of established leaders, emerging leaders, dreamers and doers who are committed to building a strong Canada for future generations.
If you are a business person, non-profit organization leader, elected official, community leader, community volunteer, student, senior, stay at home parent or anyone with a heart for Canada and a desire to work for tangible change then this event is for you.
On June 13th and June 27th, participants will hear from cutting-edge, national voices via video conference on key challenges to rebuilding Canada post COVID-19 and then innovate together with other participants to find solutions.
UPDATE NOTICE:
Due to the importance of the conversation surrounding rebuilding Canada post-COVID, and, due to the financial hardship many are experiencing because of it we have decided to make this year's event FREE!
If you would like to donate to help with the costs​ for this year and to help expand the vision for future years, you can choose a donation amount when registering.
THE FORMAT INCLUDES:
Presentations by respected, national voices giving insight into some of Canada's greatest challenges and therefore, greatest opportunities.
Small group innovation sessions to generate solutions for our some of our nation's biggest challenges.
Inspiring fireside chats with national influencers.
INNOVATION SESSIONS
During the innovation sessions participants will brainstorm in a small group setting online. The goal is to solve some of our nations biggest challenges with solutions through:
Policy ideas
Innovations & Inventions
Community initiatives
These innovation sessions will be limited to 225 participants per session and virtual rooms will be filled on a first come, first seated basis.
To receive a link to a virtual room, you will need to register for the individual innovation sessions when checking out.
SCHEDULED TOPICS
June 13th: Economic Recovery & Freedom Rights.
June 27th: Healthcare & Domestic Strength.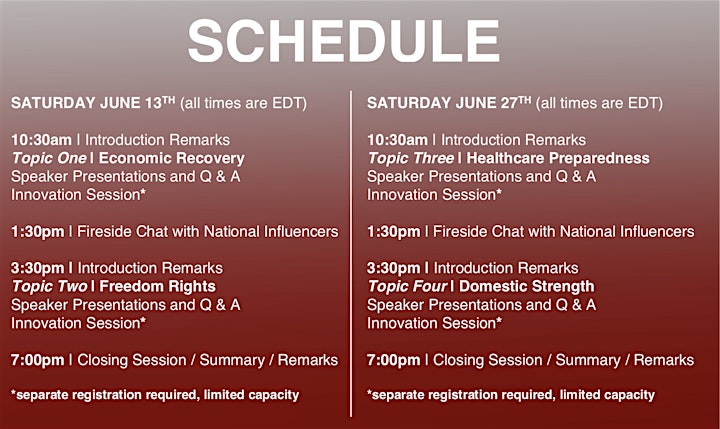 PRESENTERS & FEATURED NATIONAL INFLUENCERS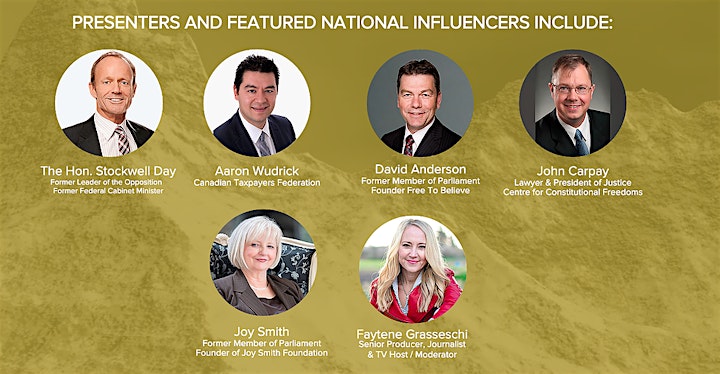 PHOTOS FROM OUR PILOT EVENT IN 2018