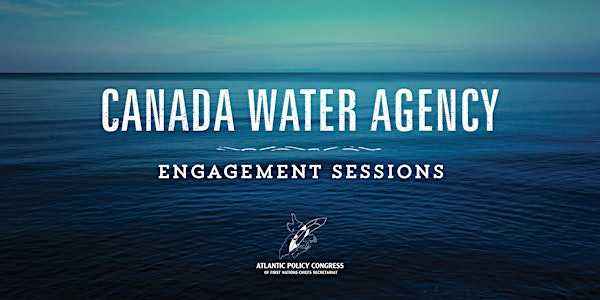 Canada Water Agency Engagement Sessions - Newfoundland
Join us for the Canada Water Agency Engagement Sessions -Newfoundland
About this event
The engagement session, presented by the Atlantic Policy Congress of First Nations Chiefs Secretariat, will feature conversations around the creation of a Canada Water Agency and the effects an agency like this will have on Indigenous peoples and their water.
The goal of these engagements is to:
1. Identify and reflect the relationships, knowledge systems, concerns and interests of Indigenous peoples related to freshwater, including aquatic ecosystems, groundwater and ice, in the development and operations of the Canada Water Agency
2. Understand the freshwater challenges and opportunities of Indigenous peoples
3. Solicit First Nations' views on the mandate, roles and priorities for the Canada Water Agency
Please note: A separate engagement session will be held for each of the four Atlantic provinces. Please chose to attend the session based on your location.
Canada Water Agency Background Information
Canada Water Agency Discussion Paper
Agenda and speaker info coming soon!
--------------
Important Notes:
The sessions will be taking place online using the Sched platform. Please keep an eye on your inbox for session and ticket info.
Sessions will be streamed using the RingCentral software. (Free download)
Session links can be found on the conference website (coming soon!), using the Sched platform, on the first day of the event