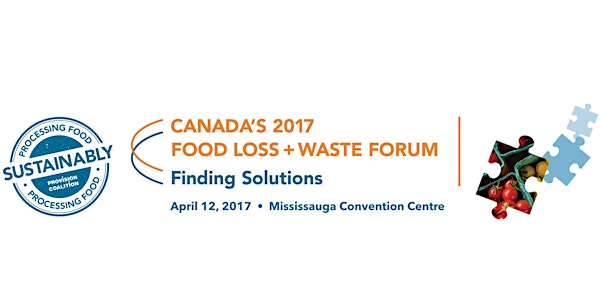 Canada's 2017 Food Loss + Waste Forum | Finding Solutions
When and where
Location
Mississauga Convention Centre 75 Derry Road West Mississauga, ON L5W 1G3 Canada
Refund Policy
Contact the organizer to request a refund.
Description
Event Details:
Provision Coalition with its collaborative partners Canada's National Zero Waste Council and PAC, Packaging Consortium are hosting Canada's 2017 Food Loss + Waste Forum | Finding Solutions on April 12, 2017.
This premier event will bring together leaders in food loss + waste from across Canada's food value chain. Hear from local and global experts on innovative technologies, solutions and best practices and interact with solutions providers in the exhibitor forum.
---
Final Agenda:
8 - 8:30 am- Registration, Solutions Showcase Exhibit Opens, and Networking Breakfast
8:30 - 9 am - Welcome and Opening Remarks - Cher Mereweather, Executive Director, Provision Coalition; MC: Jonathan Bloom, Author American Wasteland, Wasted Food
9 - 9:30 am - Overview of Global Food Loss + Waste Protocol - Kai Robertson, Lead Advisor, World Resources Institute
9:30 - 10 am - Keynote Presentation: Food Waste Reduction Solutions, Best Practices and Business Case - Eva Goulbourne, Associate Director, Programs and Communications, ReFED
10 - 10:30 am - Food Waste Prevention: Pragmatic Solutions for the Value Chain - Introductions: Wesley Gee, Director of Sustainability, The Works Design Communications; Andrew Shakman, Co-Founder and CEO, LeanPath
10:30 - 11 am - Solutions Showcase Exhibit & Networking Break
11:00 - 11:30 am - A North American Perspective on the Food Waste Challenge and Opportunities: Research Findings from the Commission for Environmental Cooperation (CEC) - Introductions: Lori Nikkel, Director of Programs and Partnerships, Second Harvest; David Donaldson, Program Manager for Green Growth, Commission for Environmental Cooperation (CEC)
11:30 am - 12 pm - National Strategy on Food Waste Reduction: Invitation to Collaborate, Canada's National Zero Waste Council - Bob Long, Federation of Canadian Municipalities (FCM) Board Director, Canada's National Zero Waste Council Board Member, and Co-Chair of the Food Working Group; Stakeholder Input Moderator: Deb Stark, Former Deputy Minister, Ontario Agriculture, Food and Rural Affairs (OMAFRA)

12 - 1 pm - Networking Luncheon in the Solutions Showcase Exhibit
1 - 2 pm - C-Suite Talk Show Panel - Moderator: Jonathan Bloom, Author American Wasteland, Wasted Food
RETAIL
- Sonya Fiorini, Sr. Director, Corporate Social Responsibility, Loblaw Companies Canada
- Christine Bome, Senior Director of Public Affairs, Walmart Canada
MANUFACTURING/PROCESSING/FARMING
- John Coyne, Vice President, Legal & External Affairs and General Counsel, Unilever Canada Inc.
- Helen Anne Hudson, Director of Corporate Social Responsibility, Burnbrae Farms Ltd.
CONSUMER PERSPECTIVE
- Larina Lopez, Division Manager for Corporate Communications, Metro Vancouver
2:00- 2:15 pm - Last Chance for Solutions Showcase Exhibit and Afternoon Networking Break
2:15 - 3:15 pm - Panel # 1: Real World Case Studies: Food Waste Reduction Solutions in the Manufacturing Sector - Introductions: Walter Kraus, Vice President, Environment & Corporate Sustainability, Weston Foods (Canada) Inc.; Moderator: Cher Mereweather, ; John Lillard, R&D Project Leader, Innovation Team, Campbell Company of Canada; Doug Alexander, Director of Engineering, Ippolito Fruit & Produce

3:15 pm - 4:15 pm - Panel # 2: Real World Case Studies: Food Waste Reduction Solutions through Packaging (PAC Panel contributor) - Jim Downham, President & CEO, PAC, Packaging Consortium; Angela Dennis, Director, Technical Packaging & Environmental Officer, Nestle Canada; Terry Grill, Director, Sustainability-Americas, Sealed Air Corporation; Dr. Martin Gooch,
4:15 - 4:30 pm - Closing Remarks and Event Wrap-Up - Jonathan Bloom, Author American Wasteland, Wasted Food; Cher Mereweather, Executive Director, Provision Coalition

4:30 pm - Adjourn
We have secured a special conference rate at the Holiday Inn Express located near the Mississauga Convention Centre. If you would like to take advantage of this rate please contact the hotel directly at 905-795-1011, and mention the name of our event "Canada's 2017 Food Loss & Waste Solutions Forum"

* Refund Policy: No ticket refunds will be accepted after March 22, 2017. No ticket transfers will be accepted after April 5, 2017.
* Attendee Data: Please note that attendee data could be made public via the attendee list by the event organizer. If you object to this or have any further questions please get in touch with Provision Coalition at info@provisioncoalition.com
---
Event Sponsors: