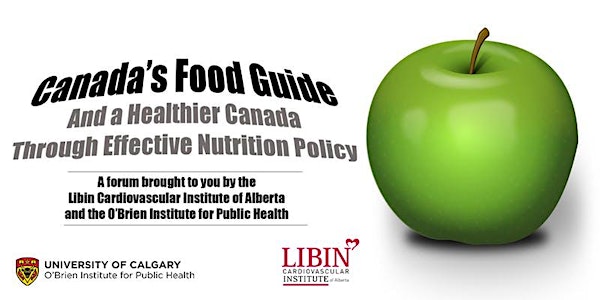 Canada's Food Guide and a Healthier Canada - Forum
When and where
Location
University of Calgary Downtown Campus 906 8 Avenue Southwest Calgary, AB T2P 1H9 Canada
Description
As the new Canada Food Guide rolls out, the Libin Cardiovascular Institute and O'Brien Institute for Public Health are hosting a two-day public conference in Calgary on June 18 and 19, 2018.
'Canada's Food Guide: A healthier Canada through effective nutrition policy' will aim to ask consumers, health professionals, and policymakers to think about nutrition – and associated health crises – differently. We aim to see these challenges not solely as a problem with the individual – the belief that diabetes, obesity, cardiovascular disease, etc., are all shortcomings of the person – but with the socio-economic systems we've built. The intent is also to share ideas, foster collaboration, and build networks that will identify knowledge, and design longitudinal strategies with which to address these crises from a societal and policy point of view.
The Honourable Nancy Greene Raine, former Canadian senator, will provide the keynote address, discussing marketing to children and identifying what civil society can do to help support healthy public policy in Parliament.
Leading this conference will be, among others, Dr. Hasan Hutchinson, Director General of the Office of Nutrition Policy and Promotion at Health Canada. Thought leaders from across sectors and industries will discuss a range of topics related to nutrition. These topics will cover:
Canada's food guide and planned policies;

Canada, Alberta and Calgary's key priorities and policy gaps;

the paradigm shift from food as a source of health and wellness to unhealthy diets being the leading risk for death and disability in Canada;

how policy in Canada can advance dietary and health equity;

innovators in nutrition: a look across civil society, the private sector and the public sector; and,

innovations in implementation: who should do what to implement the food guide.
Monday, June 18: 5:30pm – 9:00pm
Tuesday, June 19: 8:30am – 6:15pm