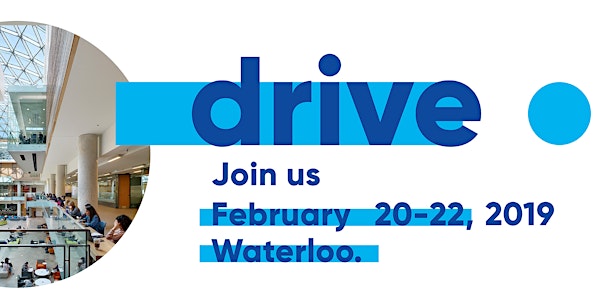 Canada's Global Conference on Scaleup Ecosystems
When and where
Location
Lazaridis Hall 64 University Ave W Waterloo, ON N2L 3C5 Canada
Refund Policy
Refunds up to 30 days before event
Description
DRIVE is Canada's global conference on scaleup ecosystems. In its inaugural year, DRIVE poses the question of how do we create domestic value in a global tech economy?
The DRIVE conference is collecting answers to exactly this question. In the last few years, across all geographies, theories, schemes, and designs for scaling have proliferated — some more successful than others.
DRIVE is bringing together policy-makers, researchers, accelerators and successful tech CEOs from around the globe to compare best practices and highlight bold ideas. DRIVE is not just a collection of talking heads. DRIVE is data-driven: you can decide for yourself which strategies, tactics and approaches really work, because we're asking speakers to bring with them the data that demonstrates the impact of their practices. DRIVE will deliver provocative keynotes, new opportunities for global partnerships and proven ways to create value.
At DRIVE, we will ask:
What is a "scaleup ecosystem" and what is not? How important are the institutions within an ecosystem? Are successful ecosystems driven primarily by government investment? Accelerators? Access to talent? Access to capital?
Where are scaleup ecosystems? Where should they be? Where are the boundaries of regional ecosystems? How do they interact with, or compete with, global ecosystems?
Who is succeeding in building scaleup ecosystems? Which models are working, which aren't? What positive and negative effects do regional efforts have on scaleup success?
How are data and technology being used to power scaleup ecosystems? How can we share these data as a global community of practitioners?
The conversation has been started, now it's time to DRIVE the solution.
We can't wait to see you there.