The story of the "Banker Ladies" is hidden and erased from history, but it is a story worth knowing.
About this event
Canada's Hidden Figures: The Story of Black Women Cooperators
The Simon Fraser University Department of History invites you to attend the third lecture in our 2021-2022 Annual Public Lecture Series, Highlighting Black Histories.
Due to COVID-19, this year's lectures will have a only a limited number of in-person guests. In-person guests will be required to wear masks in all in-door campus spaces and show proof of vaccination and one piece of government ID before being allowed access to the lecture theater. Be sure to register early if you plan to attend in-person!
Guests who choose not to attend in-person will be able to watch the lecture live, and participate in the Q&A, via the Zoom platform. A link to the Zoom webinar will be distributed by email to all registered attendees with online admissions at 2PM on October 22nd. Only registered attendees with a valid email address will receive the Zoom webinar link.
IMPORTANT: Please choose between 'In-person Admission' and 'Online Admission' when registering for the event.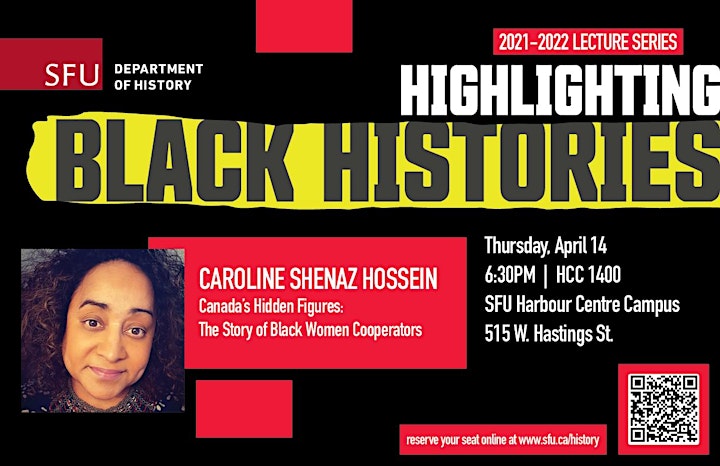 The story of the Banker Ladies is hidden and erased from history, but it is a story worth knowing. To meet their livelihood and social needs, these Black diaspora women participate in informal cooperatives and lead solidarity economies through a form of mutual aid called Rotating Savings and Credit Associations (ROSCAs). Rooted in equity, mutual aid and self-help, the Banker Ladies decide on the rules and processes of how to make regular contributions to a ROSCA that is then given in whole or in part to each member in turn to help others. Valuing these informal coop institutions and acknowledging the expertise of the Banker Ladies will help build an inclusive economy and bridge the gap of inequity in Canada.
Speaker Bio
Caroline Shenaz Hossein is Associate Professor of Global Development and Political Science at the University of Toronto Scarborough. She is a Founder of the Diverse Solidarity Economies (DiSE) Collective, an organization that pushes for equitable economies and a Postgrowth Fellow at the Postgrowth Institute, working alongside global activists and changemakers fighting for new inclusive economies. In 2021, she delivered the Big Thinking Lecture for the Federation for the Humanities and Social Sciences, "Canada's hidden cooperative system." Hossein is also an elected board member to the International Association of Feminist Economics, and an editorial board member to the U.N. Task Force for the Social and Solidarity Economy. She is the author of the multi award-winning Politicized Microfinance (2016), co-author of Critical Introduction to Business and Society (2017) and editor of The Black Social Economy (2018). Her co-edited book Community Economies in the Global South is forthcoming.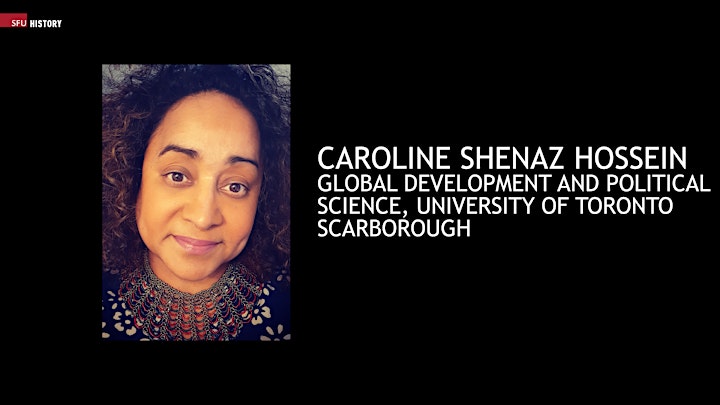 Organizer of Canada's Hidden Figures: The Story of Black Women Cooperators