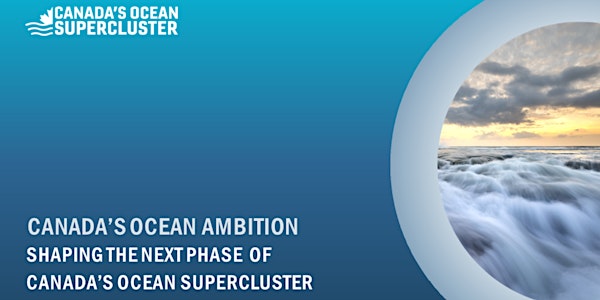 Canada's Ocean Ambition: Shaping the Next Phase of The OSC - NS
Please join virtually us as we connect virtually to shape Canada's Ocean Ambition and the future of Canada's Ocean Supercluster.
About this event
Canada's Ocean Ambition: Shaping the Next Phase of Canada's Ocean Supercluster – NOVA SCOTIA
After a successful first mandate and a pan-Canadian network with over 500 members, Canada's Ocean Supercluster is excited to embark upon its renewed mandate with big ambition for what's next.
We invite you to join us virtually on September 28th, 2022 for a strategic conversation on the future of Canada's Ocean Supercluster and how we can realize the potential of the Canadian Ocean Economy together. We will reflect on the achievements and lessons learned from the first mandate of the OSC and have a curated conversation on the OSC's future strategy, build our ecosystem further through transformational projects and programming, and help drive digital, sustainable and inclusive growth in ocean. This session will also be a unique opportunity to network with other private sector, academia, non-profit and government organizations based in Nova Scotia.
Who is this event for?
Your voice and insights will be critical to shaping a compelling, ambitious and outcome-focused strategy for Canada's ocean sectors. We are inviting OSC members and non-members alike to join us virtually to share ideas and perspectives with members of our executive team regarding the strategic priorities, programming opportunities, and engagement initiatives for the next phase of the OSC. The event is open to all stakeholders with an interest and role to play in the sustainable growth of Canada's Ocean Economy. We encourage private sector leaders, Indigenous organizations, non-profits, academia and government executives to register.  
📍 Location: Air Meet virtual platform: https://www.airmeet.com/e/2aef1360-3ce2-11ed-b3f4-1dccf0ce0be9 (link has also been emailed out to all attendees who have registered to date)
* Due to the last-minute change of the event location & date, there will be a recording made available for those who can no longer attend*
🕘 Time: 9 AM to 12:00 PM ADT
📝 Agenda:
9:00 am - Welcome
9:15 am - OSC Presentation and strategy conversation with the audience
11:30 am - Closing and Networking
Please do not hesitate to email contact@oceansupercluster.ca should you require any accessibility accommodations.