EARLY BIRD TICKET for Canada's Recovery Capital Summit
About this event
Recovery Oriented Systems of Care and Recovery Capital
Canada's Recovery Capital Summit
The 2021 National Recovery Capital Summit aims to transform provincial policies, services, and systems toward a recovery-oriented paradigm responsive to the needs of people nation-wide and within our own communities.
In years prior, recovery-oriented events and conferences facilitated innovative knowledge exchanges, data sharing, and enhance service coordination. These efforts have articulated guiding principles and measures of recovery that can be used across programs and services to promote improvements in systems of care. Stakeholders have generated ideas for advancing recovery-oriented systems of care (ROSC) in various communities across the country.
The progress of the thousands of service users, family members, providers, researchers, and policymakers has generated the foundational knowledge for this 2-day Recovery Summit.
We invite you to actively participate in Recovery Oriented Systems of Care sessions during this 2-day Summit. This Summit provides an opportunity to inform the design of systems that extends beyond traditional prevention, treatment, and harm reduction to continue sustaining ongoing wellness, resiliency and quality of life.
Early registration is offered until Jul 23, 2021. We are working tirelessly to finalize our Summit agenda during this period of reclaiming and reopening in-person events.
Abstracts
Want to present knowledge, research or recovery-oriented practices? Please submit abstracts via www.RecoveryCapitalConference.com.
Please reach out directly to the Advisory Committee to share your ideas for the Summit Agenda.
Are you a person who has a relationship with substance use? Are you connected with or do you currently use substances? Do you identify as in recovery?
Use these; share these:
• Better App(Global) https://www.betterapp.ca/
• Brave App (Global) https://www.brave.coop/besafe
• Nors Overdose Prevention Hotline (Canada)1 888 688 NORS (6677)
• Never Use Alone (USA) 1 800 484 3731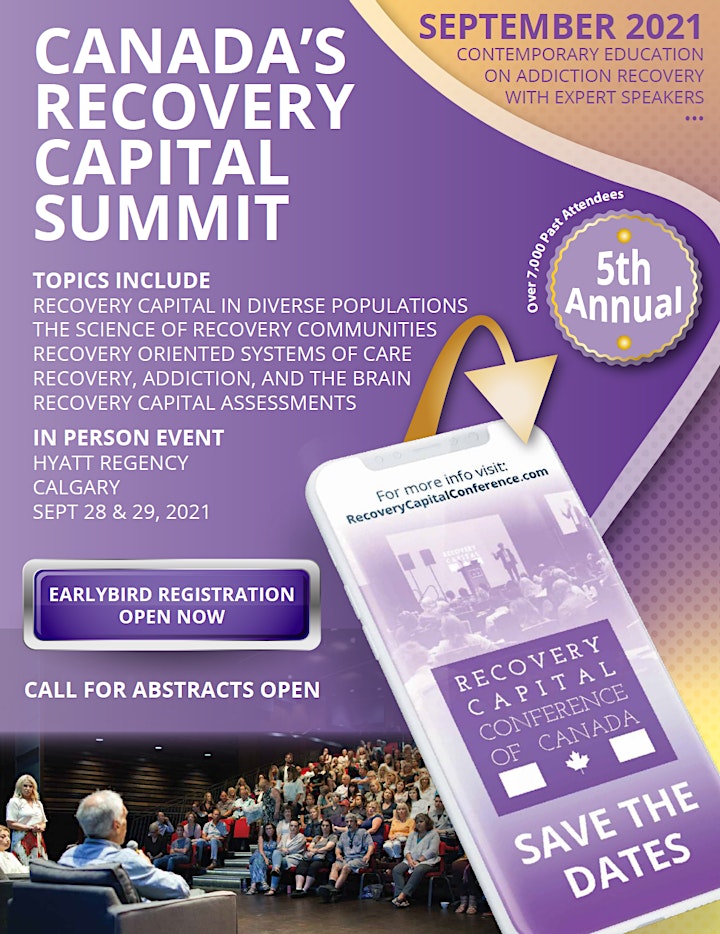 Organizer of Canada's Recovery Capital Summit
Last Door Recovery Society is a nonprofit registered charity that provides accredited and licensed addiction treatment services and has been serving people since 1984.  Last Door places an emphasis on community engagement, keeping recovery accessible and in the forefront through community events.
The Recovery Capital Conference is another example of advocacy for recovery, Join us on in September to listen to leading international researchers, clinicians and policy makers who will provide evidence based clinical knowledge gained through decades of care.
Recovery Capital Conference of Canada is a part of Recovery Week.