Empowering working moms to go from overwhelmed to supported
About this Event
This is not your average business event!!!

Are you ready to make powerful connections, learn how to access funding, navigate your busy lifestyle and meet inspiring women and organizations to finally take charge of your personal and professional life as a busy mom?
Canada's Total Mom Pitch presented by The Scotiabank Women Initiative™ and powered by VISA is empowering working moms to go from feeling overwhelmed to supported. This digital event provides small business owners and entrepreneurs with resources, expert-led conversations and mentorship to gain confidence around funding and business growth.
Join us on Monday, March 15, for the FINALE of Canada's Total Mom Pitch, where you'll get to watch five Mom Entrepreneurs Pitch LIVE for their chance to win a $30,000 grand prize to catapult their business to the next level.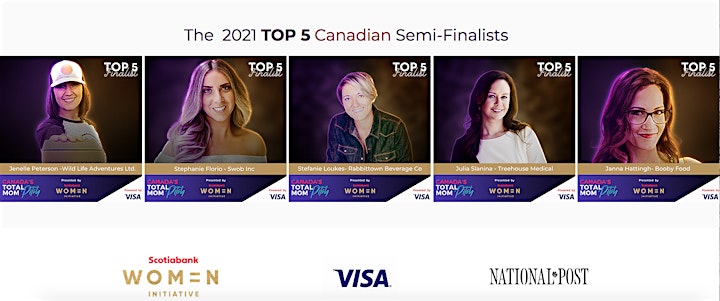 Why should you attend?
Learn how and where you can access funding, investment, grants, and financial support for your business.
Introduce your business, your mission and connect with other passionate founders in the Visa Canada Entrepreneur Mix & Mingle Lounge.
Listen to and learn from the women who have been there, who are there, and who can save you some serious time, money, and headaches.
Finally, connect with organizations that fund and support women from diverse backgrounds and see the value in you!
Grow your toolbox to gain clarity, strategy, and structure around your business
Learn about how to improve your digital marketing and e-commerce skills
Get unstuck and tap into credible resources that you can rely on!
Win door prizes for your business
Enter into big giveaways including an all-expense-paid trip to North Carolina (worth over $3,500)
Support inspirational Canadian Mom Entrepreneurs - when you support other women, you will get love back too!
Make sure you visit the Small Business Vendor Market and discover all the incredible Canadian small businesses we're bringing right to you in this virtual expo! We know you will find your new must-have products, business services AND you will be able to chat with them live to ask your questions!
Entrepreneurship can be a long and lonely journey. Build a positive support system around you with other moms who live a similar lifestyle and get it!

Noteworthy Speakers, Panels, and Workshops:
Hina Kahn
Kelsey Rose
Coach Carey
The Honourable Mary Ng - Minister of Small Business, Export Promotion and International Trade
Gillian Riley - CEO, Tangerine
Stacey Madge - President & Country Manager, Visa Canada
Pinterest Workshop

Highlights:
Attend workshops on topics such as Funding, Exporting, eCommerce, Legal, Social Media, and digital marketing.
Total Mom Business Bundle - A PDF ultimate business resource book that features Canadian business resources and support to save you time and give you credible sources you can trust!
Share your best business moments in the celebrate your wins room to win a bottle of Veuve Clicquot champagne
Make new connections with like-minded entrepreneurial moms in the Visa Canada Mix & Mingle Lounge.
Opportunity to shop and support local businesses in our Small Business Market
Make powerful connections and introduce yourself to the women who are supporting today's Canadian women-owned women-led business ventures.

Have an online business or store & want to be featured? Skip the attendee line and become a vendor: CLICK HERE TO APPLY
Secure your spot in the Small Business Vendor Market and sell your products and services to Mom Entrepreneurs across Canada. You can't beat this National exposure opportunity and tap into our super strong women-led ecosystem.
You will be able to chat LIVE with attendees and answer their questions, add a video to your virtual expo booth so attendees know what your business is all about.
Attend expert-led panels, workshops, win prizes and business services as attendees shop your store.
Includes a ticket to the finale
Additionally, recognition awards will be given to applicants from the following partners:
Export Development Canada - Export Rising Star Award
Reach Global Marketing - Reach Beyond Award
Zensurance - Digital Innovation Award
Visit North Carolina - Mountains to Coast Award