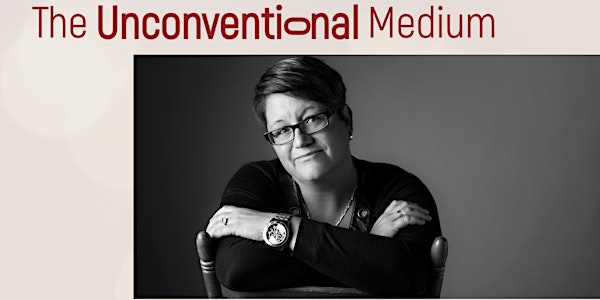 Canada's UnConventional Medium JENNIE OGILVIE - Live in CAMROSE, AB
International Psychic Medium JENNIE OGILVIE LAUGH, CRY, REPEAT An evening with Jennie Ogilvie - The Unconventional Medium
By Jennie Ogilvie - Canada's Unconventional Medium
Date and time
Starts on Sat, Apr 29, 2023 7:00 PM MDT
Location
Boston Pizza 6046 48 Avenue Camrose, AB T4V 0K3 Canada
About this event
Join us on SATURDAY April 29, 2023
A Fundraiser for Camrose & Area Animal Shelter
Sponsored By Camrose Boston Pizza
50/50 Draw BRING CASH
3 Tickets for $5
6 Tickets $10
20 Tickets $20
 An evening with:
Jennie Ogilvie - Canada's UnConventional Medium
Doors Open @ 6PM
Live show 7:00PM
Come early for dinner. Food & Beverage available.
Jennie is an International Psychic Medium who is dynamic, very down to earth, no-frills, no-nonsense and definitely has no filter. She is often described as the Comedian Medium - as she believes laughter and celebration can be as healing as tears.   This event will be a fun and interactive evening of Psychic Medium Readings. 
Please note that not everyone will receive a message in this group reading. Come and have the experience, engage in the conversation, and learn a new perspective on grief and healing.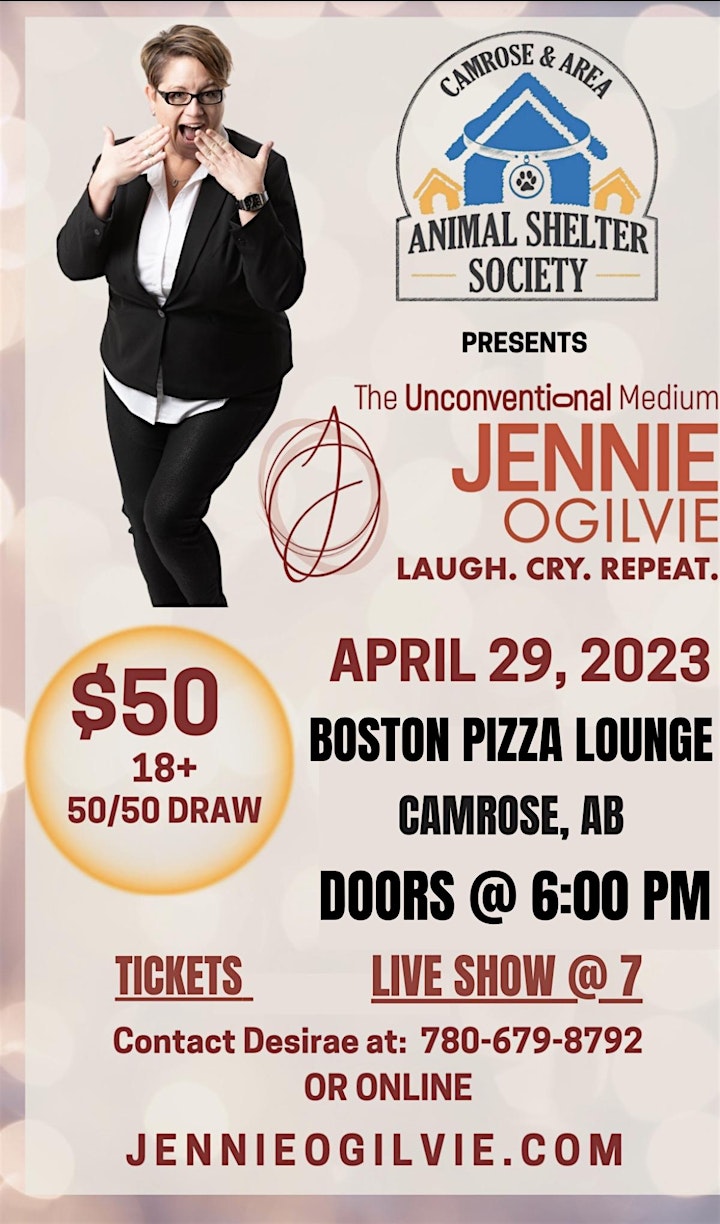 About the organizer
un·con·ven·tion·al
adjective
Not based on or conforming to what is generally done or believed.
"her unconventional approach to life"
Apparently I am a cross between Theresa Caputo and Ellen Degeneres. I am straight to the point, often have no filter, and I believe that laughs are just as healing as tears. As a medium, it is my job to understand what spirit gives me, in turn, then communicating that to my clients in the form of validations.
As I have grown with my connection, it was clear to me that a reading is just not about the validation of loved ones you have lost making a connection through me. An integral part of this process is not forgetting the person still living through the loss.
One day, YOU will be the one that someone loses, and between the time you lose somebody that you love, and the time you pass away, you've got one great big MOMENT IN TIME.  So Embrace it!  Enjoy it!  Love it!