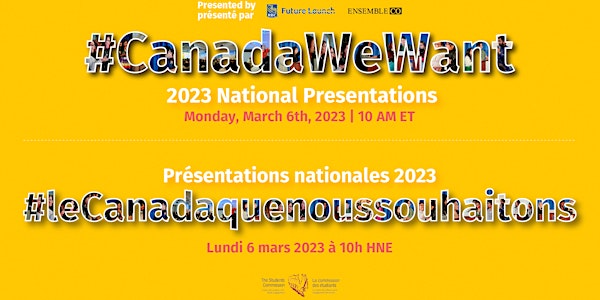 #CanadaWeWant National Presentation 2023 (In-person)
Presented by RBC Future Launch, join us to hear directly from youth about how they want to build a better country.
Date and time
Mon, Mar 6, 2023 10:00 AM - 3:30 PM EST
Location
Globe and Mail Centre 351 King St E Floor 17 Toronto, ON M5A 0N1 Canada
About this event
Presented by RBC Future Launch in collaboration with EnsembleCo, The Students Commission of Canada will bring youth together from across Canada to discuss today's most pressing issues and ideas that will shape the Canada We Want.
Agenda
10:00AM - Guest Arrive
10:30AM - Welcome & Opening Remarks
10:45AM - Presentations
11:45AM - Closing Remarks
12:00PM - Lunch/Break
1:00PM - Panel Discussion - TBA
2:00PM - Networking
3:30PM - End
Want to join virtually instead? Register here: https://www.eventbrite.ca/e/canadawewant-national-presentation-2023-virtual-registration-511951750467
RESPECT. LISTEN. UNDERSTAND. COMMUNICATE.™
The #CanadaWeWant youth movement is focused on building a country and world where all young people positively transition into a successful adulthood. This year's #CanadaWeWant National Presentation's will be held in-person and virtually. We will bring together young people from coast to coast to coast to imagine the country they want for the next 10 years. Let's take a moment to listen to the voice of the youth of Canada.
About The Students Commission of Canada
The Students Commission of Canada was founded on the recommendation of young people at a national youth conference in 1991. Since then, the SCC has purposely worked with others to ensure that young people's voice are heard, valued and that their ideas for improving themselves, their peers and their communities are put into action.
---
Présentations nationales #leCanadaquenoussouhaitons 2023
Objectif avenir RBC vous invite à entendre ce que les jeunes comptent faire pour contribuer à l'amélioration du pays.
Ces événements, présentés par Objectif avenir RBC en collaboration avec EnsembleCo et La Commission des étudiants du Canada, rassembleront des jeunes de partout au pays afin de discuter des enjeux les plus pressants et des idées qui façonneront le Canada que nous souhaitons.
Programme
10 h – Arrivée des invités
10 h 30 – Mot de bienvenue et allocution d'ouverture
10 h 45 – Présentations
11 h 45 – Mot de la fin
12 h – Pause-repas
13 h – Table ronde – à communiquer ultérieurement
14 h – Activité de réseautage
15 h 30 – Fin de l'événement
Vous voulez plutôt participer à l'événement virtuel ? Inscrivez-vous ici : https://www.eventbrite.ca/e/canadawewant-national-presentation-2023-virtual-registration-511951750467
RESPECTER. ÉCOUTER. S'ENTENDRE. COMMUNIQUER.™
Le mouvement jeunesse #leCanadaquenoussouhaitons vise la création d'un pays et d'un monde où tous les jeunes peuvent devenir des adultes accomplis. Cette année, la présentation nationale #leCanadaquenoussouhaitons aura lieu en mode présential et en mode virtuel. Nous rassemblerons des jeunes d'un océan à l'autre, qui auront pour mandat de dresser le portrait du pays dans lequel ils souhaitent vivre ces dix prochaines années. Prenons le temps de donner la parole aux jeunes.
À propos de La Commission des étudiants du Canada
La Commission des étudiants du Canada a été mise sur pied à la suite d'une recommandation émise par des jeunes lors d'une conférence nationale de la jeunesse en 1991. Depuis, la CÉC travaille avec divers partenaires pour permettre aux jeunes d'exprimer leur point de vue et de réaliser leurs idées pour améliorer leurs propres vies et celles des autres.
About the organizer
We see a Future in your Future.
The future of work may be changing, but we know you have the potential, the ambition and power to impact the world around you. That's why we created RBC Future Launch, a program that increase your access to skill development, networking, work experience, mental well-being supports and services.
Empowering you for the jobs of tomorrow.
To learn more visit: www.rbc.com/futurelaunch