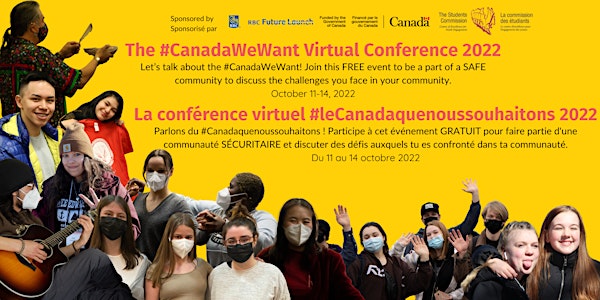 #CanadaWeWant Virtual Conference 2022
We are excited to welcome you to the 2022 #TheCanadaWeWant Virtual Conference October 11-14
About this event
At this Conference we will continue to explore this key question: What do young people want for Canada's future? Youth and adult allies from every province and territory are invited to come together to take action on issues that are impacting young people. Together, conference delegates will discuss and study the issues of greatest relevance to Canadian youth, decide on concrete actions to take, and be supported to present their findings to key decision makers. As collaborators we need YOUR voice and recommendations to make an impact on issues impacting Canadian youth today.
Over these three days, participants will discuss topics like healthy relationships, truth leading to reconciliation, mental health and so much more! They will spend time studying and discussing these issues while sharing their own lived experiences all while building a safe space to express themselves.
Be part of this fun and exciting event and bring the momentum back home to your community and help us build the #CanadaWeWant.