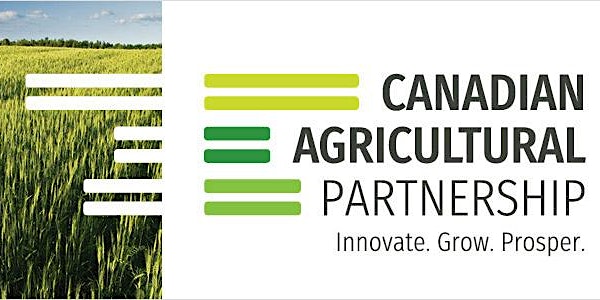 Canadian Agricultural Partnership Funding Q&A with OMAFRA Program Staff
Description
Canadian Agricultural Partnership Funding Q&A
A Community of Practice Webinar
---
We look forward to coming together to help answer some of your questions around the Economic Development Stream of the new Canadian Agricultural Partnership. Call-in and webinar details will be in your ticket. More information about the event below.
On this call you will learn how you can best support your clients in accessing funding and in delivering agriculture economic development. You will have the chance to learn about new program areas and build awareness of opportunities within the CAP program for your agri-food producers, processors, and agricultural organizations.
Background:
In Ontario, the Canadian Agricultural Partnership (CAP) is a five-year, $1.5 billion investment to the Ontario agri-food sector: $1.1 billion for Business Risk Management funding and $417 million for strategic initiatives to help grow Ontario's agri-food and agri-products sectors, effective April 2018.
CAP is looking to invest in Ontario's agri-food and agri-products businesses and their value chains to expand markets, be more competitive, productive and profitable. These investments will continue to support the long-term sustainability of the agri-food and agri-products sectors and their value chains.
Economic Development programming will target funding in three areas:
Market development

domestic and international markets
Productivity

technology, innovation and labour attraction
Business analysis

skills development, knowledge transfer and resources
http://www.omafra.gov.on.ca/english/cap/ecdev.htm