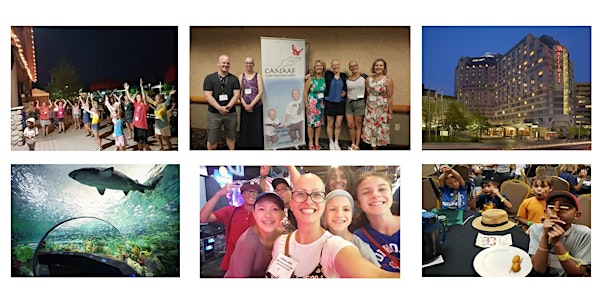 Canadian Alopecia Areata Foundation National Conference COME TOGETHER 2022
Event Information
Location
Marriott Downtown at CF Toronto Eaton Centre
525 Bay Street
Toronto, ON M5G 2L2
Canada
Join us this July 22nd-24th for CANAAF's 2022 National Family Support & Awareness Event at the Marriott Downtown at CF Toronto Eaton Centre!
About this event
COME TOGETHER 2022: CANAAF's National Family Support & Awareness Event 
Marriott Downtown at CF Toronto Eaton Centre, Toronto, Ontario        
Friday, July 22nd to Sunday, July 24th, 2022 
***Early Bird Registration Rates Available Until May 31st***
Join CANAAF at the Marriott Downtown at CF Toronto Eaton Centre from Friday, July 22nd to Sunday, July 24th, 2022 for our 10th Annual Family Support and Awareness Conference! 
Enjoy downtown Toronto with loved ones and friends and visit the Eaton Centre right next door! Staying at the Marriott you will have access to a rooftop pool and gym, a cozy fireplace lounge, and 4-star dining options. The weekend is PACKED with amazing adventures and activities!
Itinerary
Don't miss an unforgettable trip to Ripley's Aquarium on the evening of Friday, July 22nd!
Here are a some of the other activities to look forward to:
Medical panel and Lineup of Guest Speakers- learn about current medical options, and what's new in the alopecia world
Vendor Marketplace- Explore and shop for high-quality products and services for your alopecia
Coming Up Rosies Scarf Making Party- A family-fun creative activity led by Rosie and Paula Quinn, founders of Coming Up Rosies
CANAAF Support Sessions for Teens, Parents, and Adults- get to know one another and to share how alopecia is affecting you and your loved ones
Fully Supervised Kids Camp for Children 3-12 Years
Teens Toronto Experience (13-17 years)- organized itinerary includes offsite excursions
Saturday Night Dessert & Dance Party- Live performances, tasty desserts, cash bar, and a talent show where you can show off your talent!
Sunday Morning Group Breakfast- A relaxing morning shared with your CANAAF family. Included in registration fee.
and much, much more!
Room Booking Information
CANAAF guests will receive a discounted rate on their rooms starting at $239 per night for Single & Double occupancy. Please note additional costs for triple and quad occupancy may apply. Reservations must be made by June 22nd, 2022 to receive the CANAAF discounted rate. Limited number of rooms available.
To book your hotel stay at the CANAAF discounted rate, please first register for the conference. The group code will be emailed to you in your registration confirmation email. 
For further information on the Marriott Downtown at CF Toronto Eaton Centre, please visit their website.
Last updated: May 10th, 2022
Ticket Add-Ons
Ripley's Aquarium Tickets and 2 Day TTC Transit Passes are available for purchase at time of registration only. They will appear as additional items in the ticket options.
Group Visit to Ripley's Aquarium- Additional Charges Apply. Discounted tickets available at time of registration ONLY.
2 Day TTC Transit Passes - Available for transportation to the aquarium and sight-seeing. Additional Charges Apply. May be ordered at time of Registration Only.
Registration Terms
Conference Fee is for all events for the full 3 days. Eventbrite ticket price is for the Conference ONLY (does not include room booking fees).
No reduced pricing for single day ticket sales will be offered.
All attendees require a Conference Pass
Conference refunds not available.
Children Supervised Programming
Supervised programming for children is only available for kids 3+ (.i.e. the child must be 3 or older by July 22nd, 2022 to join the Kids Club.).
We look forward to seeing you at the Marriott Downtown at CF Toronto Eaton Centre this Summer!
Use #CANAAF2022 on social media to share your excitement!
Date and time
Location
Marriott Downtown at CF Toronto Eaton Centre
525 Bay Street
Toronto, ON M5G 2L2
Canada
Refund policy