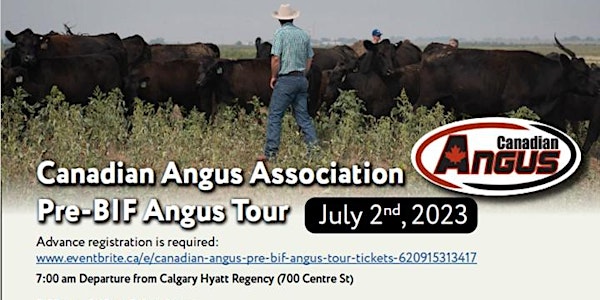 Canadian Angus Pre-BIF Angus Tour
Come see some Canadian Angus genetics, meeting new and old Angus friends, and enjoy some Stampede Style Angus hospitality.
By Canadian Angus Association
Date and time
Sun, Jul 2, 2023 7:00 AM - 7:00 PM MDT
Location
Hyatt Regency Calgary 700 Centre Street South Calgary, AB T2G 5P6 Canada
About this event
7:00 am Departure from Calgary Hyatt Regency (700 Centre St)
8:30 am – 9:15 am Belvin Angus: Belvin Angus is a family-owned operation that has been in the purebred Angus business for 45 years. The operation consists of 375 cows. Mabel and Gavin Hamilton and family hold their annual bull sale the first Tuesday of March and a female sale every second October. Belvin Angus sells bulls to some of the largest, most progressive commercial operations in Western Canada. They take a balanced approach to using phenotypic and genotypic data to raise bulls that can be profitable in all sectors of the industry, and across a wide range of tough environmental conditions.
10:15 – 11:00 am ARDA Farms is a family-owned operation located six kilometres west of Acme. With their Acme roots dating back to 1903, the Davis family is proud to run a purebred and commercial operation consisting of 800-head, as well as a grain farm. Their annual bull sale is on the second Friday of March each year, where they offer quality yearling & 2-year-old bulls, purebred open heifers, and commercial replacement females. ARDA Farms takes pride in their low-input cow herd built on structural soundness, feet and udder quality, and longevity. Their mentality is "we show our ranch cows & ranch our show cows. The ranch cow and the show cow have always been one and the same around here."
12:00 – 1:00 pm Angus Central: An iconic Calgary Stampede tradition is a pancake breakfast. Since pancakes are delicious at any time of day, the Canadian Angus Association is excited to host "breakfast for lunch" and refreshments at Angus Central, the member-owned Angus office, during this tour featuring Canadian Angus genetics.
2:30 – 3:15 pm Heinz Family Farm: It's a pleasure to showcase a successful young Angus family who just had a very successful fourth annual bull sale. Sarah and Jesse Heinz successfully marketed a set of very functional and consistent bulls this spring. They have recently established a new homestead in Buffalo Hills, Alberta and we're looking forward to seeing it as much as they look forward to showcasing it.
4:30 – 6:00 pm Cudlobe: Cudlobe Farms is a family-owned and operated Black Angus herd located at the base of the Porcupine hills in southern Alberta. Brothers Dyce and David Bolduc, with their families, have expanded the herd from three cows in 1967 to more than 700 purebred mother cows now running under the Cudlobe umbrella. The cattle are bred with the intention of excelling in any environment; both phenotypically in the pasture and at harvest times, with Cudlobe ranking as one of Canada's leading carcass and performance sources.
6:00 – 7:00 pm Arrive at Hotel
The Tour is available at no cost, but registration is required to ensure adequate transportation and refreshments.
*Space is limited so please register ASAP*