Canadian Black Business Week 2021 Launch Event - Black Business Direct
Fireside Chat with Tony West for the Canadian Black Business Week Launch.
About this event
To kick off the Canadian Black Chamber of Commerce's (CBCC) 2021 Canadian Black Business Week, we invite you to attend a fireside chat with Uber's Chief Legal Officer Tony West, as we unveil the first national digital directory by a national Black-led non-profit organization.
This directory builds on a long-shared community mission to build a comprehensive, living repository that promotes and improves access to Black-owned Canadian restaurants, retail shops, vendors and entrepreneurs.
In conversation with CBCC President Christelle Francois, this fireside discussion will discuss:
• The importance of a directory for Black-owned businesses
• CBCC's partnership with Uber to launch this directory in Canada, and ways that global brands can do more in their communities
• Ways that Canadians can support Black-owned businesses
• How businesses can register for this free resource to increase their exposure
About Tony West
Tony West is Senior Vice President, Chief Legal Officer, and Corporate Secretary at Uber, where he leads a global team of more than 600 in the company's Legal, Compliance and Ethics, and Security functions. Tony has more than 20 years of experience in the public and private sectors.
Previously, Tony was Corporate Secretary and Executive Vice President of Public Policy and Government Affairs of PepsiCo. Tony was twice confirmed by the Senate to serve as a senior official in the Obama administration. From 2012 to 2014, Tony was the Associate Attorney General of the United States, the US Department of Justice's third­‐ranking official.
From 2009 to 2012, Tony was the Assistant Attorney General of the Civil Division, the largest litigating division of the Justice Department.
Earlier in his career, Tony was an Assistant United States Attorney in the Northern District of California, where he prosecuted a variety of federal crimes. He also served as Special Assistant Attorney General at the California Department of Justice and was a litigation partner at Morrison & Foerster LLP in San Francisco.
About Christelle Francois
Christelle Francois is a bilingual executive leader and businesswoman who has the pulse on the leaders of entrepreneurship, innovation and advocacy. Christelle possesses extensive experience as a Strategy Consultant. She is the Founder of a firm named; Untold & Co Agency.
Christelle is also passionate about her community and has volunteered and sat on the board of numerous organizations, such as Apathy is Boring and Head & Hands.
Christelle was recently appointed as the President of the Canadian Black Chamber of Commerce.
She began her time with the Chamber as a Regional Vice President. Christelle attended McGill University and specialized in Management
About the CBCC
The Canadian Black Chamber of Commerce is a non-profit organization that is a cultural Chamber of Commerce. It was created to serve the purpose of Commerce, Black-owned businesses, Entrepreneurship and Economic development within the proud Black Communities across Canada.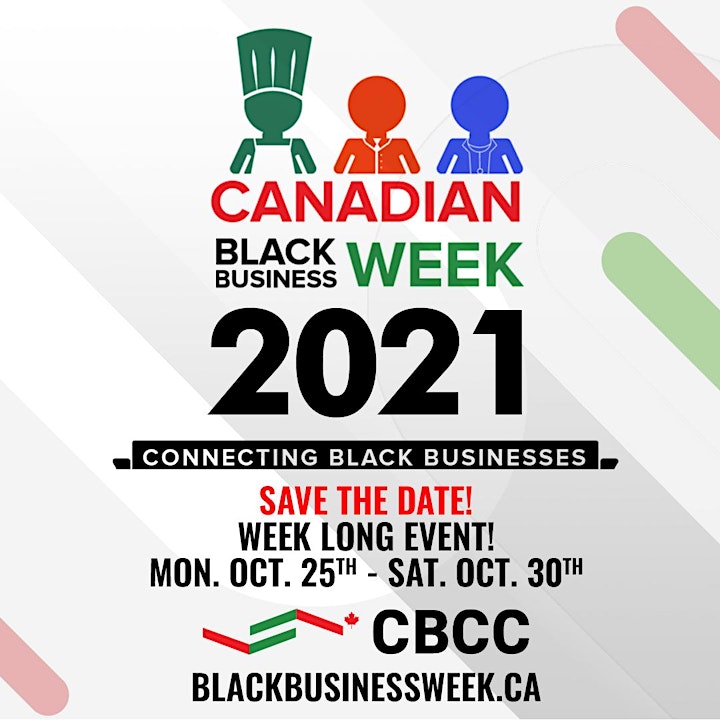 Organizer of Canadian Black Business Week 2021 Launch Event - Black Business Direct