Description
Are you in your 50's or 60's and looking after your parents?
We are proud & blessed to present the First Annual Canadian Caregiver Symposium in Nanaimo, on beautiful Vancouver Island.
Are you a Sandwich Generation Caregiver, caring for your parent(s)? This Symposium is designed for YOU!
This one-of-a-kind event is brought to you by Saskia Jennings of Creating Being Well - Certified Caregiving Consultant & Educator and Permelia Parham of Vibrational Healing, Certified Emotion Code Practitioner.
Please join us!
HOW TO SAVE $25:
Choose to buy 1 ticket at $ 149 (all inclusive) or SAVE when you purchase 2 tickets at $273 (all inclusive, regular $298).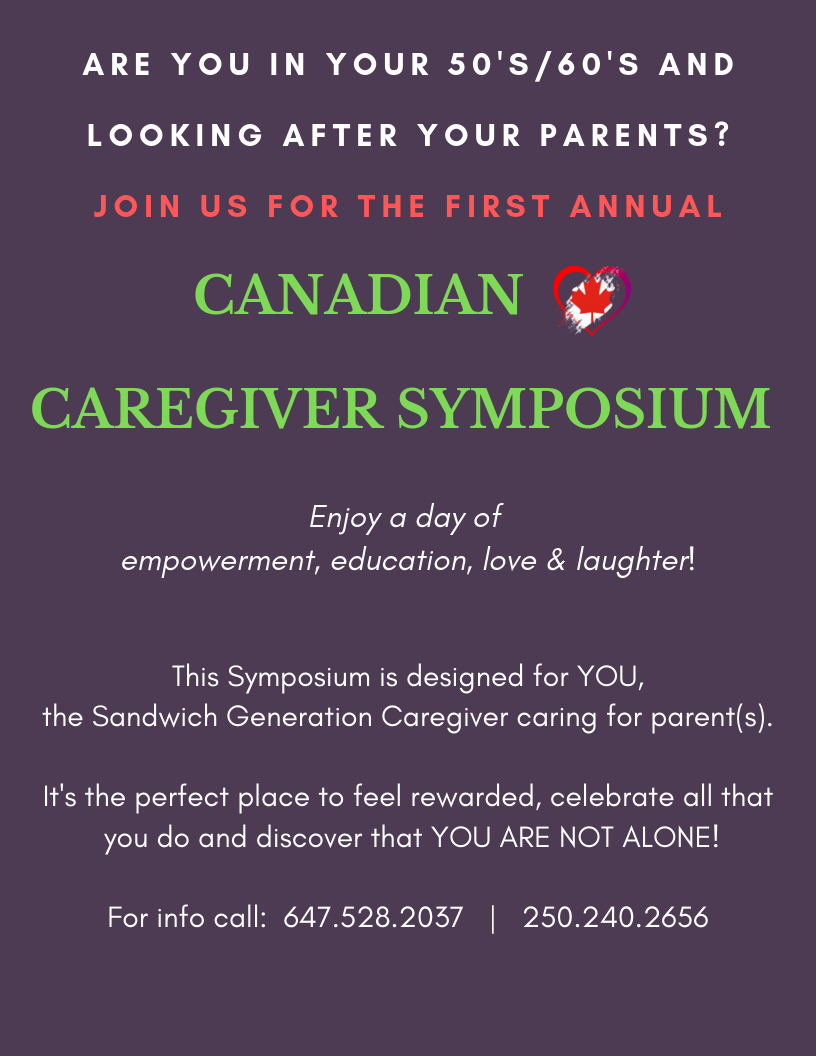 We offer you a unique program and we thank the caregivers that have given us their 'wishlist' for this special day. We offer Expert Speakers, our Caregiver's Panel, Skills & Support exercises and more.
Mark your calendar for the whole day. Welcome coffee/tea, treats and healthy lunch are included and you don't want to miss our Caregiver Cocktail Hour!
We welcome Mathieu Powell as M.C. for our unique Symposium.
Mathieu is known as a dedicated Community Leader, who is experienced in helping those who are ageing and in need of support and also has a great understanding of the challenges Canadian Caregivers face these days. He is also the host of the Podcast: Food 4 thought, published on the well-known Vancouver Island-based website Seniors101.ca
Important: If you like or are in need of help to find someone to provide respite care, please call Saskia to discuss resources. We are happy to help. We are currently seeking Service/Care Providers to sponsor respite hours.
Feel free to reach out to us: saskia@creatingbeing well.com or call us on the numbers above.
We encourage Health Care Service Providers to offer this educational day to their staff who work diligently in the community supporting our elders.
We are choosing a small group of vendors, especially those who can support caregivers in a unique way.
With love & care,
Saskia & Permelia
Learn more about us and our story, click: www.creatingbeingwell.com and www.vibrationalhealing.ca


All event images and logos are proprietary & copyright to Creating Being Well & Sin Design, and Vibrational Healing, and cannot be used without consent.
#caregiver #seniors #sandwichgeneration #wellness #caregiversupport #career #retirement #nanaimobc
#nanaimobc #parksville #oceanside #vancouverisland #victoriabc #conference #seminar #symposium #canadiancaregivers #babyboomers