Let's Honour the Children of the Residential School System, Enable the Survivals to Heal & Develop a National Strategy for the Way Forward
About this event
Within you is the desire to stand up for social justice,
the spirit to fight for what is right, just and honourable.
Within you is the quest to protect the downtrodden,
the depressed, oppressed and discouraged.
This is what leadership is all about - nothing more, nothing less.
The Canadian Congress on Indigenous Lives Matters is about a thousand people coming together to honour the thousands of children who lost their lives in the Residential School System while discussing the Way Forward as a Nation and strategies to protect the Indigenous Peoples and enable the socio-economic development of their communities.
In addition to creating significant awareness about the pain, plight, potential, passion and power of the Indigenous Peoples, other objectives of this event include:
• Honour the lives of the 215 children and others who are yet to be found.
• Encourage Indigenous and non-Indigenous participants through inspirational messages.
• Empower them with strategies for success in leadership and entrepreneurship.
• Teach them how to cope with mental health challenges and traumatic events.
• Discuss the way forward as a person, a people, an organization, and a nation.
• Compel collective decisions and actions to stand with the Indigenous People.
• Challenge participants to become Change Agents & Social Justice Advocates.
Let us march together virtually to honour the children who lost their lives in the Residential School System.
Let us work together as a People on the Way Forward as a Nation.
In the words of Martin Luther King, Jr., "Until people can rise above his individualistic concerns to a broader concern of humanity, they are not fit to live."
To join this national conversation, visit www.indigenouslivesmatters.ca.
#indigenouspeoples #indigenouslivesmatter #diversityequityinclusion #diversityandinclusion #humanrights #indigenouslivesmatters #leadershipdevelopment #diversity #culture #leadership #inclusion #justice #youth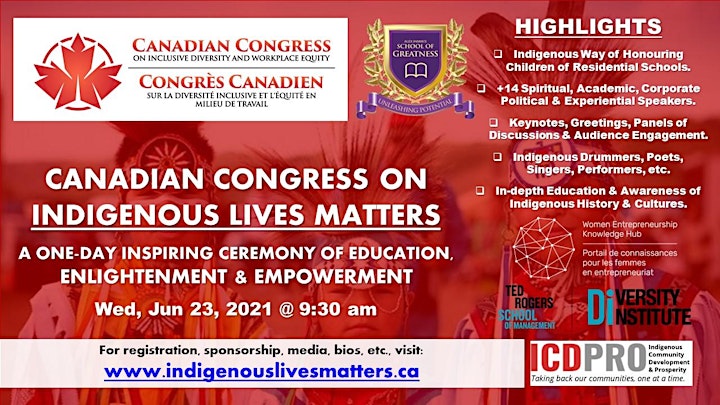 ABOUT ALEX IHAMA
Alex Ihama is one of Canada's foremost speakers, executive coaches and consultants on leadership, strategic management and the transformation of corporate culture and strengthening of competitive advantage through the implementation of an inclusive diversity and workplace equity framework.
Since 1999, Alex Ihama has gradually worked his way through many industries and arms of the governments to become one of Canada's foremost speakers, executive coaches, and consultants on innovation leadership, strategic management and the transformation of culture and strengthening of competitive advantage through an inclusive diversity and workplace equity framework.
As the Executive Director of the Canadian Congress on Inclusive Diversity & Workplace Equity, he works with and through many academic, scientific and experiential experts, researchers, and trainers to offer an end-to-end strategic solution that organizations, institutions, and the government require to develop their leaders, implement equitable policies and build a cohesive and inclusive corporate culture
With over two decades of corporate experience working for and with Fortune 500 companies to execute projects and programs valued at over a billion US dollars, he has developed a set of quantitative and qualitative methodologies that have educated, equipped and empowered executives to transform the corporate culture in their organizations, institutions, and the government.
After watching the live stream of George Floyd's killing by a police officer on May 25, 2020, he decided to leverage this significant experience in strategy to create a comprehensive & transformational diversity framework which is now being used in major organizations to initiate and sustain paradigm shifts in mindsets, skillsets, communications and culture.
Alex strongly believes that eliminating systemic racism from a corporate, community, religious or institutional culture requires a well-thought-out strategy than sporadic training and activities to celebrate diversity. It requires all hands on deck, from the leadership to the staff, to ensure the cues and clues of discrimination and inequities are identified and dealt with – swiftly, strategically, successfully & sustainably.
This, he said, is his life's work.
For more, visit www.canadiancongressondiversity.ca, email alex@canadiancongressondiversity.ca or call +1-289-242-3622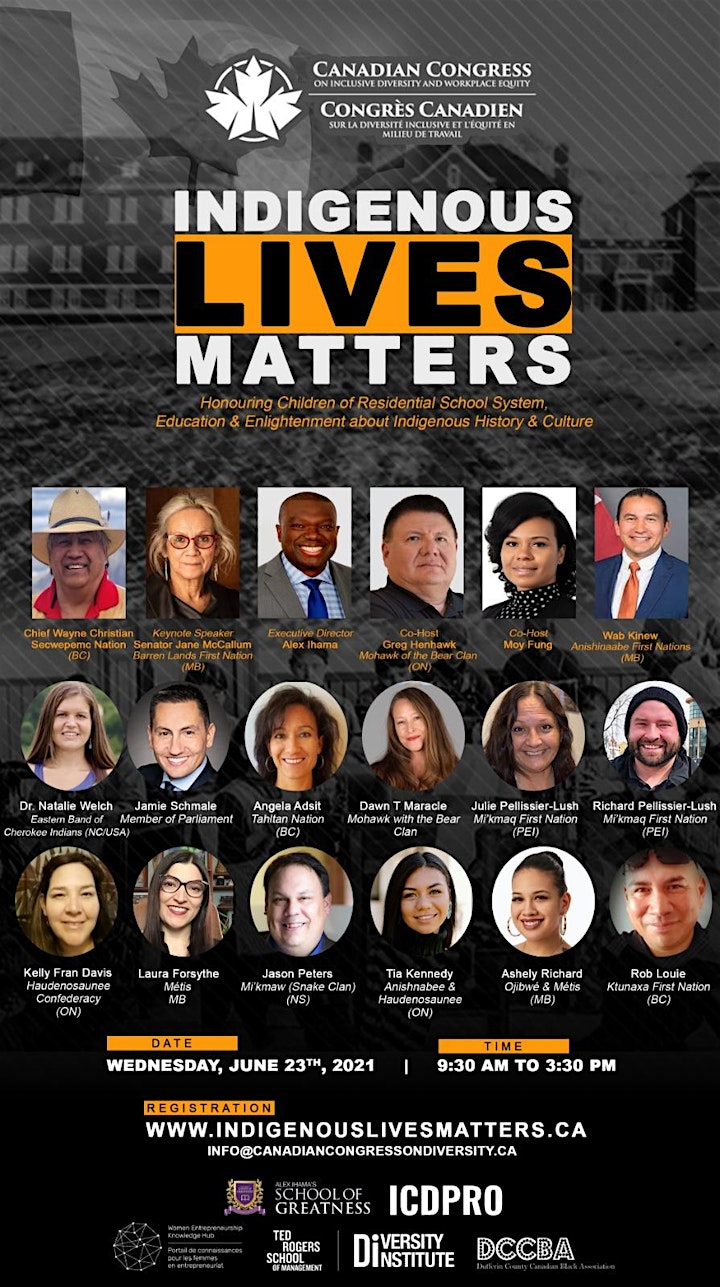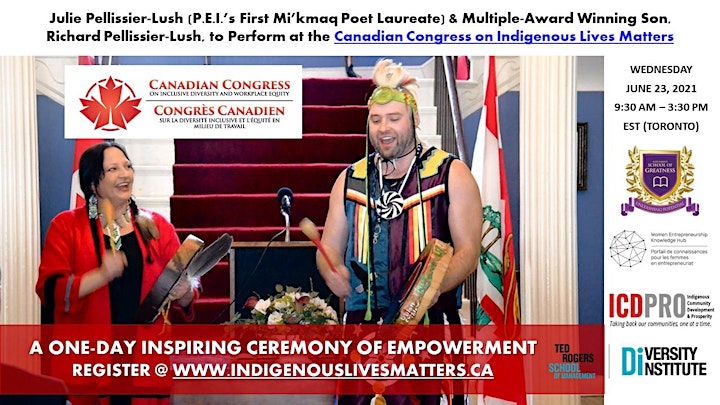 ABOUT JULIE PELLISSIER-LUSH
Julie Pellissier-Lush is an actress, and bestselling author of My Mi'kmaq Mother, and Mi'kmaq Campfire Stories of Prince Edward Island. She is the Poet Laureate for PEI, recipient of the Queens jubilee medal in 2013, the Meritorious Service Medal recipient in 2017, and the Senators 150 medal in April 2019. She grew up all over Eastern Canada and spent a number of years in Winnipeg, Manitoba, before coming back home. Julie is a graduate from the University of Winnipeg in 2000 with a double major in Psychology and Human Resource Management. She works as a Knowledge Keeper for L'nuey, the Epekwitk Mi'kmaq-rights initiative and the Board of Director for the Native Council of PEI. She writes, acts, and does photography to preserve the history and culture of the Mi'kmaq for future generations. Julie wrote the poems for the play Mi'kmaq Legends which has been performed on many different stages in the Atlantic region. Julie lives in PEI with her husband Rick, her five children, and her granddaughter Miah.
ABOUT RICHARD PELLISSIER-LUSH
Richard is a 31-year old, band member of Lennox Island First Nation. He is a Holland College graduate from the Sport and Leisure program and he is a certified personal trainer. He is currently working at L'nuey, which serves the two First Nation Communities here in PEI, as the Engagement Officer. Mi'kmaq Legends, the only Indigenous Youth Theater company, was his dream, and he participated in it the first year as an actor in 2011, and in the summer of 2012, Richard had his directing debut. He performed with the Young Company in 2009 with the production Abegweit Soul of the Island and 2011, with the production The Talking Stick. He has played football for 21 years and he has won the Atlantic Football Championships twice with the Holland College Hurricanes team, currently, he is playing for the PEI Montana Mariners as well as coaching and managing the younger Cornwall Timberwolves teams in his spare time. Last year he was given the Lifetime Achievement Award for all of his years of work with the youth in football, as well as the Indigenous Coach of the Year for all of Canada. Richard has been dedicated to the youth of PEI through physical fitness programs, promoting healthy eating choices, and sports-related activities that he provides in the evenings all year long all over PEI. His hope for the future is that one day he will be a part of an Aboriginal Theatre Company here in Prince Edward Island to help develop the acting skills and confidence of the Aboriginal youth here.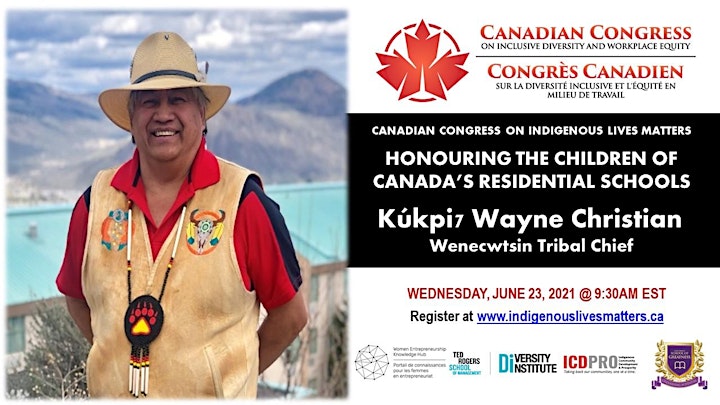 ABOUT CHIEF WAYNE M. CHRISTIAN
Wayne M. Christian is of Secwepemc ancestry. His Indian name is Wenecwtsin it comes from his great grandfather. He is a proud father of seven children and twenty-seven grandchildren. Kukpi7 (Chief) Christian was re-elected for his 7th consecutive election with a term for 4 years as Chief of Splatsin January 10th, 2018. Kukpi7 Christian has worked for over 40 years in establishing healing and health systems for the Indigenous Nations of BC. Christian is currently one of the Tribal Chiefs of the Secwepemc Nation representing 9 of the 17 communities of the Secwepemc Nation with responsibilities' for Stsmamlth (Children) & Aboriginal Title and Rights.
Kukpi7 Christian in his first role as Chief lead two major initiatives in fighting for our rights; the Indian Child Caravan 1980 and the Constitution Express 1980 and 1981—fighting for recognition of our laws and jurisdictions for our lands resources and people.
He is committed to unravelling the legislative genocide that removed our governance from our territories; our families; to rebuild the Secwepemc Nation.
One of Christian's greatest strengths is a commitment that is firmly rooted in the values, principles and traditions of the Indigenous Nations. His leadership philosophy is based on inclusiveness, spirituality, traditional knowledge rooted in our oral history, a strong belief in our Sovereign land title and rights that are governed by our laws, our values, culture, traditions and our connection with all of creation, he believes strongly that the solutions to the issues in the communities are rooted in the minds, hearts and spirits of the People who will deal with the Government's legislative genocide.
He is known as a tireless and passionate advocate for recognition of Aboriginal Title and Rights at the political and grassroots levels for the Indigenous Nations and communities, he believes that the children are our future and the future is right now. Whatever it takes the time is now.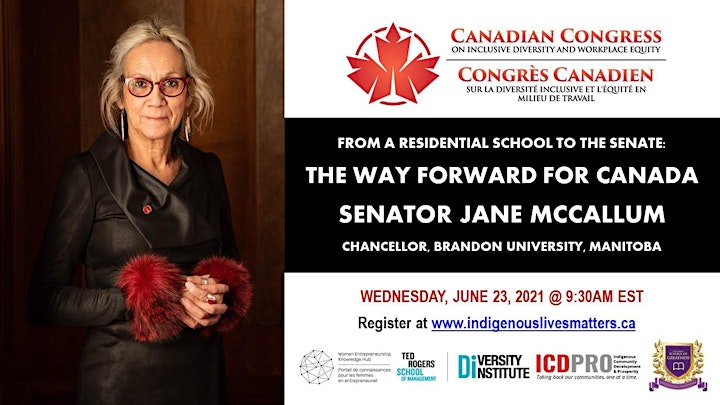 ABOUT SENATOR MARY JANE MCCALLUM
Mary Jane McCallum is a Cree woman from the Barren Lands First Nation in Brochet, Manitoba. Her husband, Ron Phillips, is a professor at Nipissing University and her two daughters, Courtenay and Keeley Phillips, are both lawyers, one working in Saskatchewan and the other in British Columbia.
In 2016, Mary Jane reunited with her son, Jonathan, whom she gave up for adoption in 1975. In the reconnection to her son and his family, Mary Jane is learning the importance of stepping softly, choosing her words carefully, and respecting their sacred space. Mary Jane uses their sacred reconnection as an example of reconciliation. She wishes to thank Jonathan's family, especially his mother and father, for being parents who loved, kept him safe and prepared him for his journey on earth.
Mary Jane started her career in the dental field as a dental assistant in 1973. Mary Jane then received her dental nursing diploma in 1977, her dental therapy diploma in 1979, and her dental degree from the University of Manitoba's Faculty of Dentistry in 1990. Mary Jane spent most of the past forty-eight years providing dental services and treatment to First Nations in Manitoba as a dental nurse, dental therapist and dentist. From 1996-2000, she worked as the Regional Dental Officer for the province of Manitoba. In 2000, she worked as an Assistant Professor in the Faculty of Dentistry at the University of Manitoba. Yet, her passion always remained working with Indigenous people in the community-based setting.
After nearly five decades in the dental field, Mary Jane has recently retired from dentistry. Mary Jane went to the Guy Hill Residential School in Manitoba from 1957–1968. Mary Jane continues to present to school children, university students, academics, and communities about residential school. She believes that Canada must never forget the genocide of their Original Peoples and that lateral and vertical violence against Indigenous Peoples still exists today; a result of sustained governmental policies.
On Dec. 2, 2017, Mary Jane was appointed to the Senate of Canada as a representative of the province of Manitoba. She assumed this mantle with reconciliation top of mind, recognizing its importance for Canada if we are to be recognized as human rights leaders. Mary Jane supports the ongoing resistance, resurgence and rebirth of Indigenous sovereignty. In recognizing and reclaiming her autonomy, she believes that Indigenous Peoples are well on our journey towards reclaiming our spirit and power. As one Elder had told her: "Our children and grandchildren will climb on our shoulders as we did with our ancestors."
In May 2021, Mary Jane McCallum was appointed as Chancellor of Brandon University. She is the first Indigenous person to serve in the role for Brandon University, as well as BU's first female Chancellor.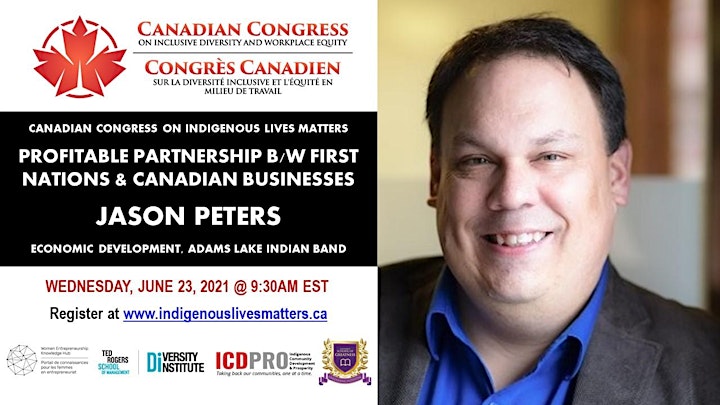 ABOUT JASON PETERS
Jason Peters, a Mi'kmaw (Snake Clan), is a member of Glooscap First Nation which is located in Nova Scotia's Annapolis Valley. His Great grandfather, Louis Peters was Chief of Bear River First Nation. His relatives Chief Joe Peters (Grandfather), Chief Shirley Clarke (Aunt) and Chief Sidney Peters were / are leaders within his community. This doesn't include his Aunt Lorraine Whitman who is the current President of the Native Women's Association of Canada.
Jason has experience leading and working for the provincial government, Indigenous organizations, non-Indigenous organizations, private sector, local and international board of directors. This includes the brokering of profitable partnerships between First Nations communities and Canadian businesses. His encounters as a two-time Chief Executive Officer (CEO) assist his understanding of both board and Chief and Council culture.
Peters is also a Indigenous sport administrator, Chartered Professional Coach (ChPC), NCCP Coach Developer and board member with multiple sustainable, viable and successful organizations. Prior to his role with the Adams Lake Indian Band, Peters worked for the Glooscap First Nation Economic Development Corporation and the Government of New Brunswick's Aboriginal Affairs Secretariat and the Department of Healthy and Inclusive Communities. With GNB he acted as the lead on numerous economic development and community-building files. In this capacity Peters facilitated collaboration between government and First Nations including the Mi'kmaw and Wolastiqik communities, providing advice on planning, program delivery, communications and inter-departmental coordination relating to Indigenous issues.
As CEO of the Glooscap First Nation Economic Development Corporation, established in 2014, the GFNEDC focused on helping our Glooscap family thrive. As a corporation that is 100% owned by the Glooscap First Nation community, our role was to manage community businesses on behalf of Chief and Council, with the goal of facilitating growth and increased community capacity. The profit from those businesses is reinvested in ways that enable the community and its members to become more spirited and full of life with each passing year.
Once elected to the position of Chairperson of both the Beaubassin and Whynotts Mi'kmaq Wind Management Ltd., Peters helped to establish a self-reliant, renewable energy business partnership made up of thirteen Nova Scotian Mi'kmaq communities.
Peters' is also a basketball and rugby coach, coaching teams at the provincial, regional, high school and local levels. Peters has also worked with Aboriginal sport and recreation groups, and in 2011 his book Aboriginal Sport Heroes: Atlantic Canada was published. In 2016, Peters company (Nation2Nation Consulting) was the recipient of the Aboriginal Start-Up of the Year during the prestigious 8th Atlantic Aboriginal Entrepreneur Award Show in Halifax, Nova Scotia and a 2013 inductee of the New Brunswick Aboriginal Sports Hall of Fame,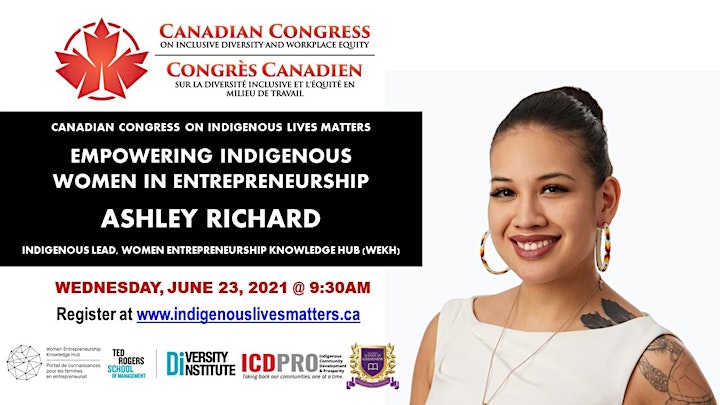 ABOUT ASHLEY RICHARD
Ashley Richard is a proud Ojibwé and Métis woman residing in Winnipeg, Treaty 1 Territory. For the past 10 years, Ashley has worked at both the regional and national levels with organizations on their Indigenous programming, including strategic design and partnership development. She is a full time Masters student at Queen's University in the Class of 2021 cohort for the Masters in Management Innovation and Entrepreneurship program. Ashley sits on the Board of Governors at Red River College and is the Chair of the Walking Together Grants at The Winnipeg Foundation.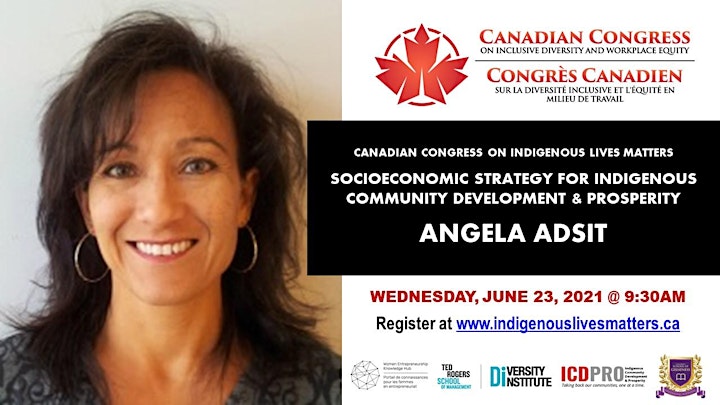 ABOUT ANGELA ADSIT
Angela is a proud member of the Tahltan Nation and CEO of Indigenous Community Development & Prosperity (ICDPRO).
She has managed several Indigenous organizations and sits on her Nation's Government Board of Directors.
Her passion for community development began when she worked with the City of Edmonton on one of their City Planning Committees and as the Executive Director of a Business Improvement Area in nine inner-city communities. .
She understands the need to integrate the various components of a community so the community is built holistically, strategically, and with the local Indigenous ways of 'being and doing' at the centre.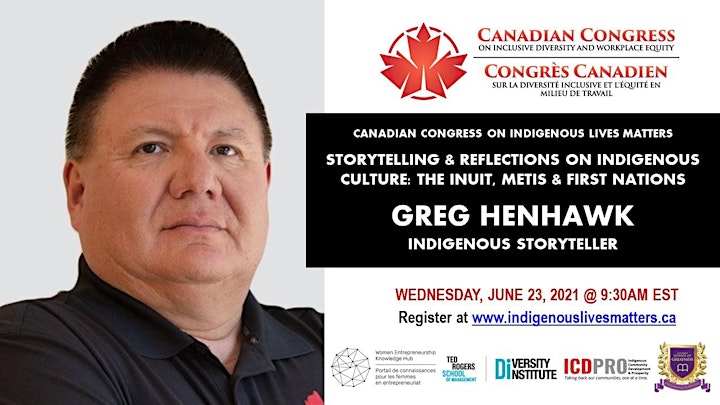 ABOUT GREG HENHAWK
Greg Henhawk is a Mohawk of the Bear Clan from Six Nations of the Grand River FN in Southern Ontario. He is a retired Secondary School teacher having spent 32 years in the Ontario education system. His duties included teaching Physical Education and Science and serving as the Department Head of Physical Education for 14 years. His final 7 years of teaching were spent on Six Nations in an "Alternative Education" program called SWAC (School Within a College). A program that assisted "at-risk young adult students" with completing their high school diploma and also earning College credits towards a career at the same time. Greg led the adaptation of the program for Indigenous students. Greg is presently a consultant for Leadership Training; Cultural Awareness; Indigenous Reconciliation; and Physical Activity and Literacy. He is a Lead Mentor for a Sport for Life Project: "Indigenous Physical Literacy in Nunavut and Nunavik". He is a consultant for Indigenous Coaching Development for the Mi'kmaq Sport Council of Nova Scotia. He is a member of the Coaching Association of Canada's: Indigenous Coach Education and Development Advisory Group; and the Indigenous Master Coach Developers' Advisory Group. Greg is also an active Board Member for the Coaches Association of Ontario.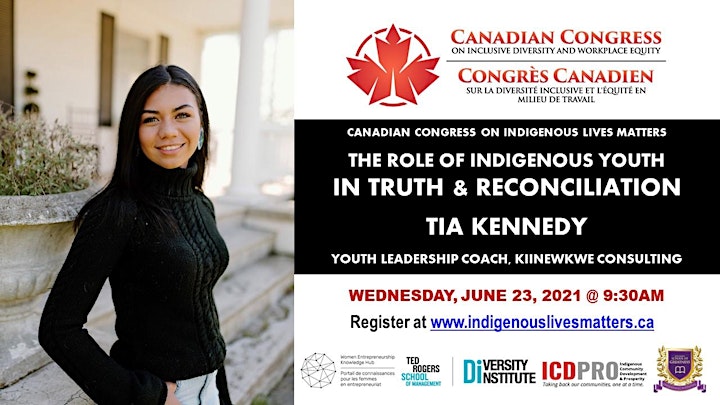 ABOUT TIA KENNEDY
Tia Kennedy is an indigenous youth advocate. From Oneida Nation of the Thames, born just outside of Walpole Island First Nation she carries both Anishnabee and Haudenosaunee Teachings. She has a passion for helping others deal with their trauma to connect mind, body, spirit. She loves working with organizations and businesses to create more cultural awareness and educate others about the ongoing impacts of colonization that indigenous peoples face in Canada. She is an advocate for social justice and focuses on creating more inclusive environments for indigenous youth. She looks forward to inspiring our future leaders and set them up with the tools they need to accomplish their goals and find strength in being their authentic selves.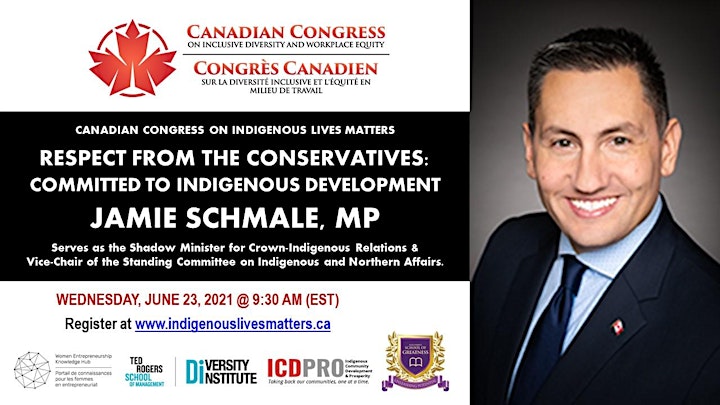 ABOUT JAMIE SCHMALE, MP
With a strong background in radio, journalism, and federal politics, Jamie has had the honour of representing Haliburton-Kawartha Lakes-Brock in Ottawa since 2015.
Since first being elected, he has served on various Parliamentary Committees such as the Procedure and House Affairs, Natural Resources and up until prorogation in August 2020, was the Vice Chair of the Indigenous and Northern Affairs Committee.
In 2019, Jamie was asked to serve as the Shadow Minister for Crown-Indigenous Relations under previous Leader Andrew Scheer. In 2020, the new leader for the Official Opposition, Erin O'Toole, asked Jamie to serve as his Shadow Minister for Families, Children and Social Development. As part of the Official Opposition's plan to recover the economy post COVID-19, Jamie has be re-appointed to Shadow Minister for Crown-Indigenous Relations and serves as Vice-Chair of the Standing Committee on Indigenous and Northern Affairs.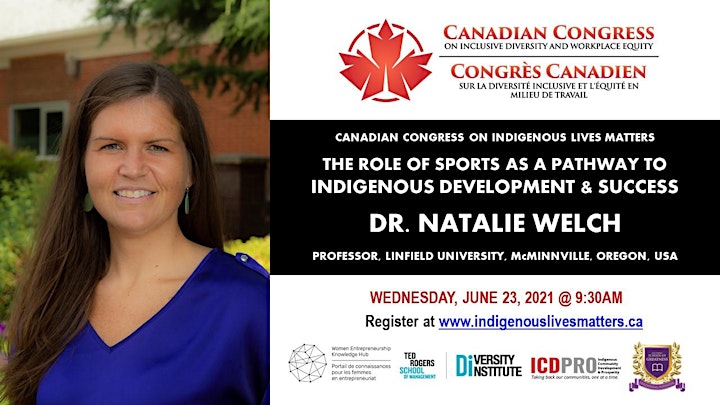 ABOUT DR. NATALIE WELCH
Dr. Natalie Welch is a Sport Management professor and the Faculty Athletics Representative at Linfield University in McMinnville, Oregon. She grew up on Qualla Boundary in Cherokee, North Carolina and is a member of the Eastern Band of Cherokee Indians. She received her undergraduate and doctoral degrees at the University of Tennessee in Sport Management. Her research focuses on the positives of sport in Native communities and how Native communities can use sports as a path to success. Professor Welch has worked with the TIDES Institute on Racial and Gender Report Cards, Disney/ESPN Wide World of Sports, Nike's N7, and Wieden+Kennedy. She also works as a producer, consultant, and hosts the "Creative Native" podcast.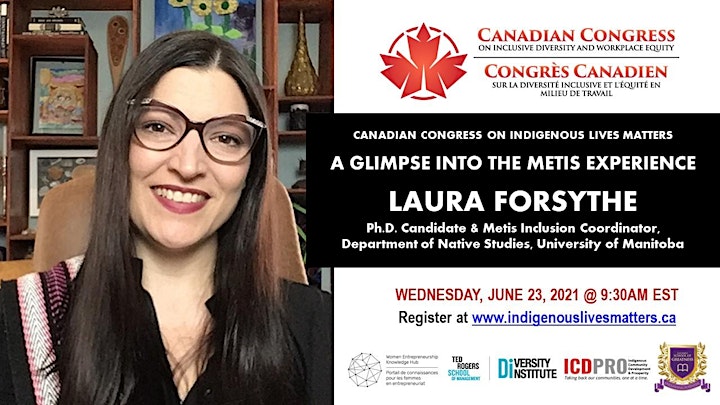 ABOUT LAURA FORSYTHE
Laura Forsythe is the Metis Inclusion Coordinator and a Ph.D. candidate in the Department of Native Studies at the University of Manitoba. Her research Ka-akimaahk lii Michif: Including Métis in Post-Secondary Education focuses on Metis women's contributions towards knowledge production. Forsythe's research contributions include numerous peer-reviewed publications, academic conference paper presentations, and the creation of a Michif Language program at the University of Manitoba. Forsythe's commitment to Métis community engagement has included becoming a member of the Board of Directors of the Louis Riel Institute (LRI), a Delegate for the Métis Education and Training (MET) Local Advisory Committee and establishing the MMF Bison Local at the UofM. In addition, as co-lead in Manitoba for the National Centre for Collaboration in Indigenous Education, Forsythe aims to highlight successful Indigenous educational programs in Manitoba.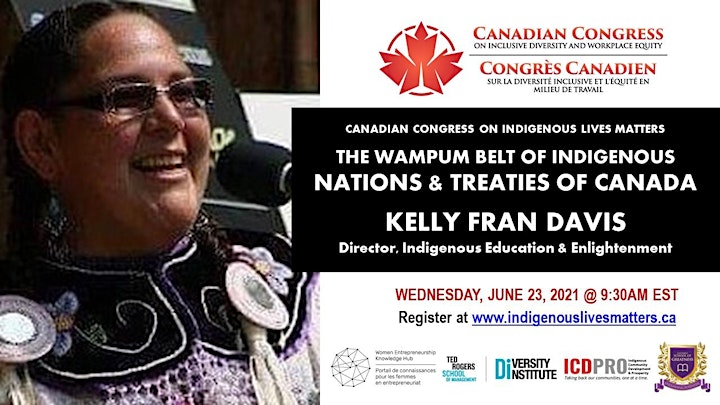 Kelly Fran Davis is the Director of Indigenous Education and Enlightenment at the Canadian Congress on Inclusive Diversity & Workplace Equity. A Haudenosaunee from the Grand River territory, she works with and through the organization to develop and facilitate curriculums and programs to increase awareness about the challenges and recommendations on the Way Forward for the Indigenous Peoples. She has worked on significant academic and community projects including various contract roles with the federal, provincial and municipality levels of government, as well as a Haudenosaunee Researcher, creating the Way Forward Recommendations for Improving Niagara Region Public Health & Emergency Services' Indigenous Engagement. Kelly is also a part-time faculty of education member at Wilfrid Laurier University where instructs Indigenous Context in Education for 2nd-year Teacher Education Candidates and all her works, guided by the Calls to Action of Canada's Truth & Reconciliation Commission.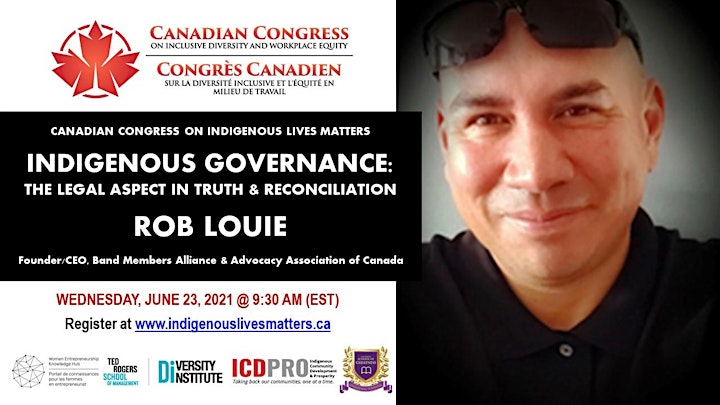 Rob Louie, DipIPSM, BA, LLB and LLM (Candidate) is the founder, CEO and President of the Band Members Alliance and Advocacy Association of Canada (BMAAAC), a national, non-profit society that helps Band members get access to justice to hold elected Chiefs and Band Councils accountable. BMAAAC has partnered with law firms in Canada to carry out this service. Rob is from the Ktunaxa (Kootenay) First Nation in British Columbia. He was the litigation strategist in Louie v. Louie (2015 BCCA). He is currently working towards a Masters in Law degree from York University specializing in constitutional law. Rob has recently returned to the legal profession and will be work for Vancouver's senior criminal defence lawyer, Tony Lagemaat. Combining his educational and professional background with his recovery from alcoholism, Rob is an active member in the Indigenous, legal and recovery communities.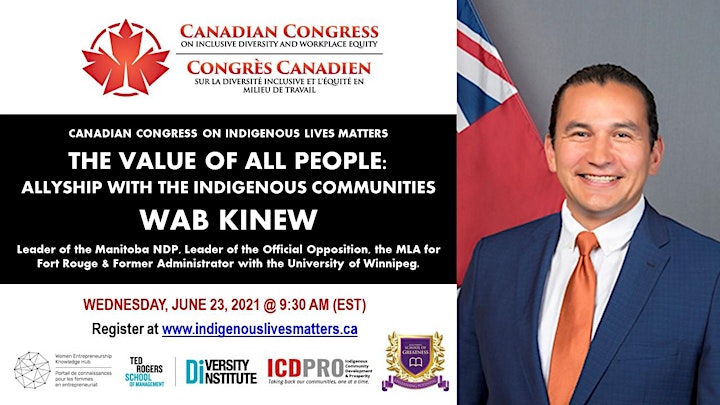 ABOUT WAB KINEW
Wab Kinew is the Leader of the Manitoba NDP, Leader of the Official Opposition, and the MLA for Fort Rouge. He is a bestselling author, award-winning musician, former journalist and a former administrator with the University of Winnipeg.
As a proud father of three young boys, Wab wants his children to grow up in a progressive province that recognizes the value of all people. He believes all children, no matter their postal code, deserve to have a real shot at success—whether it be enough one-on-one time with their teacher in the classroom, or an opportunity for a fulfilling job they can be proud of.
Wab will continue to fight back against the Pallister government's cuts to health care, which are making life harder for patients and health care workers. He will also advocate for real action on the climate crisis, so that future generations can enjoy a safe and healthy environment.
Wab and his wife Dr. Lisa Kinew live with their family in Winnipeg.
Organizer of Canadian Congress on Indigenous Lives Matters