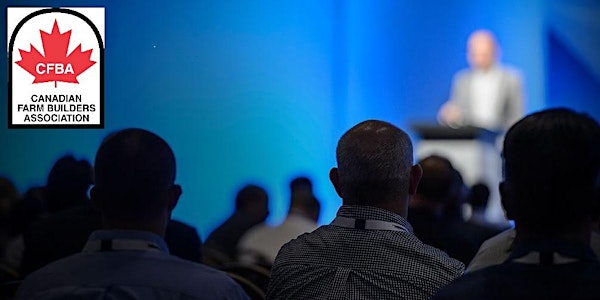 Canadian Farm Builders Association 2022 Annual Conference, Awards, & AGM
"Guest Speakers will present information that is critical to the farm building industry. You should join us!"
By General Manager: Sally
Date and time
Thu, Apr 21, 2022 8:00 AM - 7:00 PM EDT
Location
Best Western Plus The Arden Park Hotel 552 Ontario Street Stratford, ON N5A 3J3 Canada
About this event
The Canadian Farm Builders Association holds an Annual Conference to educate our members and other stakeholders regarding issues of importance to the farm-building industry. This opportunity and invitation is geared to stakeholders within the agricultural and construction sectors including farm builders, engineers, government representatives, building inspectors, and suppliers of farm-building related products and services. We hope you join us!
EDUCATION TOPICS + GUEST SPEAKERS
Harmonizing Construction Codes Across Canada & Agricultural Building Stats: Matt Farrell, Township of Huron Kinloss; Alliance of Canadian Building Officials' Association
CFBA Farm Building Code Advisory Group
Industry Issues & How These Are Being Addressed: Bart Kanters, Concrete Ontario
Hello – Goodbye: Best Practices When Hiring and Managing Departures: Matthew Badrov, Sherrard Kuzz LLP
Industry Issues & How These Are Being Addressed: Brett Perras, CISC & CSSBI
Benefits of Using the CCDC and CCA: Ted Dreyer, Madorin Snyder LLP
WOOD you know the difference? The Importance of Specification: Peter Hattin, Pastway Planing Ltd. (Ontario's largest producer of structural barn posts); Natalie Tarini, Wood Preservation Canada
Industry Issues & How These Are Being Addressed: Shervin Reyhani, Canadian Wood Council / Wood Works Ontario
Industry Issues & How These Are Being Addressed: Andrea McChesney, Canadian Concrete Masonry Producers Association
Cyber Security Awareness: Ian Snider, Compudata
Addressing the Shortage of Skilled Labour in Ontario: Michael Sherrard, Sherrard Kuzz LLP; Skilled Trades Ontario
AGENDA:
8:00 am Registration
8:30 am - 3:30 pm Guest Speakers
3:40 pm Annual General Meeting
4:15 pm Networking
5:15 pm Awards Dinner 2022
*topics and agenda are subject to change
Register by March 21st to be eligible for the Early Bird draw.
TICKETS INCLUDE: Guest Speakers, Breakfast, Lunch, Dinner with wine, Refreshments, Door Prizes, voting in People's Choice Awards 2022, Networking.
All CFBA Members are invited to the AGM @ 3:40 pm, and there is no fee to attend. Please email Sally at cfba@cfba.ca to register.
A block of rooms has been set aside for conference participants at the Arden Park - Best Western Hotel at a discounted corporate rate of $119 plus HST. Please call reservations at 1-877-788-8818 to request and reserve within the Canadian Farm Builders Association block of rooms.
CONTACT:
Email: cfba@cfba.ca
Tel. (519) 824-0809
No refunds will be considered unless COVID-19 government regulations (announced after Feb. 23rd 2022) require additional restrictions that impact the event.