Description
THE BEST COMEDY VALUE IN PRINCE GEORGE PERIOD! Welcome to SONAR Comedy and Nightclub located at 1466 3rd ave in Prince George! This is the ONLY Venue for Professional FULLTIME Comedy in Prince George! Your ticket includes.....Every show we will be bringing you 4 COMICS, 2 Television Comics we fly in, (plus a local comedy spot, and an MC), your comedy ticket gives you access to the nightclub after comedy, plus you can go downstairs in The Ultra Lounge to Socialize before or after the comedy shows, then the entire venue turns into a 2 floor nightclub with 2 dance floors, 2 different DJ's on each floor with big Sound and Big visual Lightshow, plus we have an appetizer food menu. Comedy Tickets are $20 plus transaction fee and this also gets you into the Nightclub FREE. If you are just coming to the Nightclub after comedy is finished, entrance is $5. For the 7pm comedy show, the doors open at 6:30pm, for the 9:30pm comedy show, doors open at 8:00pm. For group reservations leave a message at 236-423-4888.
Ron Vaudry


Ron Vaudry, was born 1956, looked around and said, "You can't be serious!" Never the class clown, but rather making fun of the class clown, Ron found his niche. Finding the opportunity to perform on stage for the first time in 1979 on labour day weekend in a small club in Montreal for the Jerry Lewis Joke-a-thon.Twelve noon to twelve midnight, all proceeds going to Muscular Dystrophy. "Good deposit in the karma bank!", he thought. Performing twelve sets that day, the hook was set and he never looked back.

Quickly becoming a forerunner on the Canadian comedy scene. Ron has appeared on numerous television shows in Canada, The United States, and the UK, as well as many of the top Comedy Festivals around the world. An uncompromising master in his field of hard hitting social and political satire, Ron's reputation as a comic's comic has not detered audiences from enjoying his unique comedic perspective around the world, "As hard-boiled and urban as any native New Yorker." – – The Scotsman
"Biting, sometimes cynical and almost always angry, he's mimicked but rarely mastered." – – The Sun.
"His rapier wit and existential angst shine through in his act like a dark beacon from hell." – – NOW Magazine.
"He has about as much vulnerability as a porcupine on amyl nitrate. Vaudry is funny and fun to watch." – – EYE Weekly.
Intelligent, witty and sardonic, Ron Vaudry is the thinking man's comedian. A satirical genius teetering precariously at the edge of comedy, Vaudry guides audiences through a series of hilarious, yet thought provoking political and social observations.
A favorite at both the Just For Laughs International Comedy Festival in Montreal and The Edinburgh Comedy Festival in Scotland, Ron has parlayed his standup success into headlining appearances at major comedy clubs on several continents. He is also a favourite at campuses across North America and the world.
His numerous television appearances include CBC's "COMICS!", Best of the Fest BBC3, "Comedy @ Club 54", and "The Late Show" with Arsenio Hall. He has also been featured on several radio programs including CBC's "Madly Off In All Directions" and "Definitely Not The Opera."
Ron also plays many of the top comedy clubs and venues internationally.
Cynical, angry and always controversial, Ron is truly a talent to be savored
From his humble beginning in a pub to headlining his first club, Lars Callieou has compiled an impressive list of comedy credits and has received countless awards.
In America, Lars Callieou was a finalist in the Seattle International Comedy Competition, he's traveled overseas multiple times to entertain the servicemen and women and he's appeared at the Bridgetown Comedy Festival in Portland, Boston Comedy Festival and played Brad Garrett's Comedy Club in Las Vegas. At the end of last year Lars Callieou toured with Miss Joan Rivers for a second time. She even requested him personally, "Get the funny Canadian kid again." He's become an overnight success in just 9 short years.
In his childhood, Lars Callieou spent eight years on the road with his musician parents, who sang the 1979 Canadian hit "Part Time Country Star." "Watching my parents respect each show, no matter how many were in the audience — it was never about the empty seat, it was about the full seats."
Lars Callieou was named the Funniest New Comedian in Edmonton when he won the Comedy Idol competition when he first started doing comedy. Since then he has been featured on City TV, CBC Radio and on his own weekly comedy radio show on CJSR 88.5 FM in Edmonton which he hosts Wednesdays at midnight.
Lars Callieou has gone on to open shows for the likes of Mitch Fatel, Kevin Pollack, Aries Spears, Russell Peters and Mike MacDonald. He has a comedy special currently airing on the Comedy Network, appearances at the Just for Laughs, Halifax and Edmonton Comedy Festivals. He's been on CBC's The Debaters, XM-Sirius Radio and Shaw Cable.
Lars Callieou is a comedian who delivers edgy humour. Lars is one of the most naturally funny and charismatic stand-up comedians on the scene today
Mark Hughes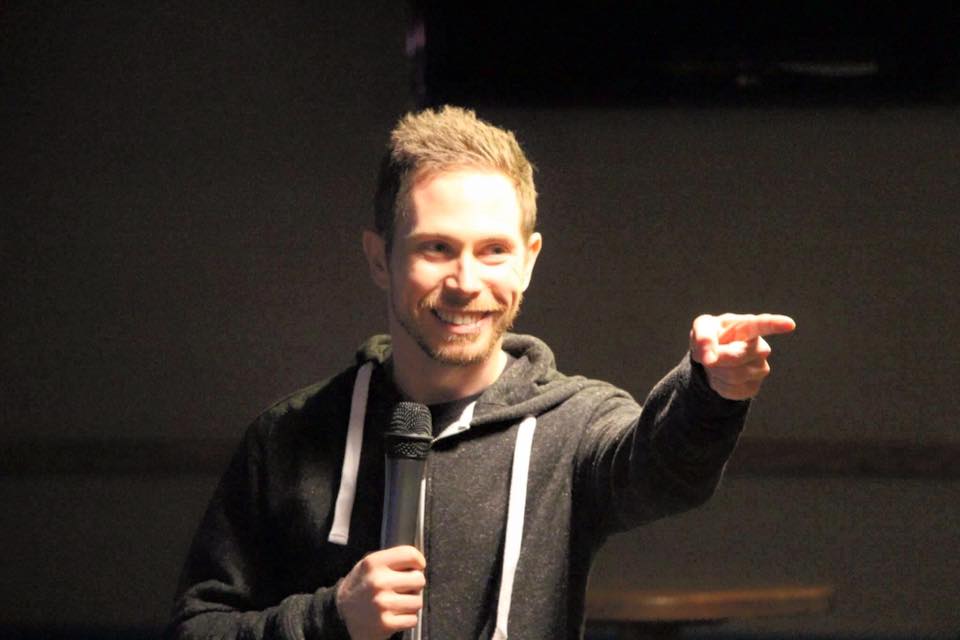 A favorite at local comedy clubs and pubs, Mark was also responsible for co-creating, producing and performing at the infamous "Comedy Shocker": Vancouver's largest and only regular XXX-Rated dark and dirty comedy show.
Mark uses his sardonic wit and fearless stage presence to share (and overshare) his perspective and life experiences - including the demons that sometimes still affect him to this day.
In substance abuse recovery since 2006, recovery shows are where Mark really shines. He first discovered his knack for the comedic absurd as a guest speaker at 12-Step meetings, conventions, and round ups, and is now in demand at these same events as a bona fide recovery comedian all over B.C. and the Prairies. He is instantly at home in front of recovery audiences, and because of his experience as both an active and clean/sober addict, he knows just where to poke. "It's like telling jokes to your friends," he says, "which is easy when all your friends were drunks and addicts - this stuff writes itself."