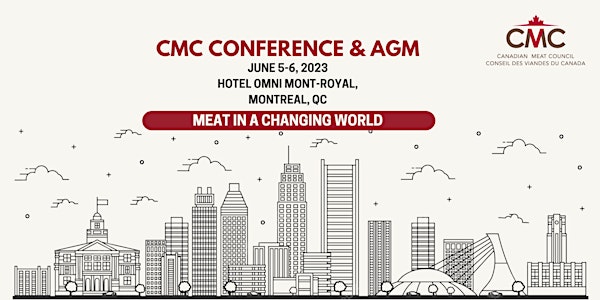 Canadian Meat Council Conference & AGM
Registration is now open for CMC's Conference and AGM in Montreal, Quebec!
Location
Hotel Omni Mont-Royal 1050 Rue Sherbrooke Ouest Montréal, QC H3A 2R6 Canada
Refund Policy
Contact the organizer to request a refund.
Eventbrite's fee is nonrefundable.
About this event
CMC's Annual Conference & AGM is the industry's flagship event where Canadian meat processors, producers, government representatives, and international meat industry goods and service providers gather for exciting industry speakers, dynamic education sessions, networking, and great food.
This year's conference theme is Meat in a Changing World, and will feature discussions on Canada's changing economy, sustainability, innovation in technology, labour, and much more.
Please join us:
Monday, June 5th
7:00 AM – 8:00 AM Registration & Breakfast
8:00 AM – 12:00 PM Technical Advisory Group Meeting
9:00 AM – 10:30 AM Public Affairs Committee Meeting
9:00 AM – 11:00 AM Halal Feed Certification
10:30 AM – 12:00 PM Labour Working Group
11:30 AM – 1:00 PM LUNCH
1:00 PM – 4:00 PM Beef and Veal Committee Meeting
1:00 PM – 4:00 PM Pork Committee Meeting
3:00 PM – 3:45 PM Associate Members Committee Meeting
4:00 PM – 5:00 PM Annual General Meeting
5:00 PM – 7:30 PM Meat & Greet Reception
Tuesday, June 6th
7:30 AM – 8:30 AM Registration and Breakfast
8:30 AM - 8:50 AM Opening Ceremonies
8:50 AM - 9:35 AM Keynote: Update from the New President of CFIA
9:35 AM - 10:20 AM Markets & Retails
Jean-Philippe Gervais, Chief Economist, Farm Credit Canada
10:30 AM - 11:00 AM Networking BREAK
11:00 AM - 12:00 PM Panel: Sustainability in the Meat Industry
Heather Lang, Principal, ESG Global Advisors
Eric Mittenthal, Chief Strategy Officer and VP of Sustainability
12:00 PM - 1:30 PM LUNCH
1:30 PM - 2:00 PM Making Business Decisions with Latest Labour Market Information
Jennefer Griffith, Executive Director, Food Processing Skills Canada
2:00 PM - 2:45 PM Panel: Cellular Agriculture (lab-grown meat)
Heather L. Bruce, Professor, Carcass and Meat Science, University of Alberta
Yadira Tejeda Saldana, Dirctor of Responsible Research & Innovation
Lejjy Gafour, CEO, Cult Food Science
2:45 PM - 3:15 PM Networking BREAK
3:15 PM - 4:00 PM Update on Beef and Pork Industry
Trevor Sears, CEO, Canada Pork
Michael Young, President, Canada Beef
4:00 PM – 6:00 PM CMC Board Meeting (*CMC board members)
Sponsorship
Interested in supporting the conference and promoting your company to over 200 conference delegates? Send an email to kristina@kitpr.ca to receive this year's sponsorship package!
Hotel Booking
To book a room at the Omni Hotel Mont-Royal, click here. If you are having trouble booking your hotel, please send an email to jennica@kitpr.ca
La conférence annuelle et l'assemblée générale annuelle du CVC constituent l'événement phare de l'industrie où les transformateurs de viande canadiens, les producteurs, les représentants du gouvernement et les fournisseurs internationaux de biens et de services de l'industrie de la viande se réunissent pour écouter des conférenciers passionnants, participer à des séances de formation dynamiques, nouer des contacts et déguster de bons plats.
Le thème de la conférence de cette année est "La viande dans un monde en évolution". Les discussions porteront sur l'évolution de l'économie canadienne, la durabilité, l'innovation technologique, la main-d'œuvre et bien d'autres sujets encore.
N'hésitez pas à vous joindre à nous :
Lundi 5 juin
7h00 – 8h00 Inscription et petit-déjeuner
8h00 – 12h00 Réunion du groupe consultatif technique
9h00 – 10h30 Réunion du Comité des affaires publiques
9h00 – 11h00 Certification des aliments pour animaux halal
10h30 – 12h00 Groupe de travail sur le travail
11h30 – 13h00 DÉJEUNER
13h00 – 16h00 Réunion du Comité de la viande bovine
13h00 – 16h00 Réunion du Comité Porc
15h00 – 15h45 Réunion du comité des membres associés
16h00 – 17h00 Assemblée générale annuelle
17h00 – 19h30 Réception « Meat & Greet » (viande et accueil)
Mardi 6 juin
7h30 - 8h30 Inscription et petit-déjeuner
8 h30 - 8 h50 Cérémonies d'ouverture
8 h50 - 9h35 Discours-programme : Mise à jour du nouveau président de l'ACIA
9h35 - 10h20 Marchés et vente au détail
Jean-Philippe Gervais, économiste en chef, Financement agricole Canada
10h30 - 11h00 Pause-réseautage
11h00 - 12h00 Panel : Durabilité dans l'industrie de la viande
Heather Lang, directrice, ESG Global Advisors
Eric Mittenthal, directeur de la stratégie et vice-président de la durabilité
14h00 - 13h30 DÉJEUNER
13h30 - 14h00 Prendre des décisions d'affaires avec les dernières informations sur le marché du travail
Jennefer Griffith, directeur exécutif, Compétences en transformation des aliments Canada
14h00 - 14h45 Panel : Agriculture cellulaire (viande cultivée en laboratoire)
Heather L. Bruce, professeur, science de la carcasse et de la viande, Université de l'Alberta
Yadira Tejeda Saldana, directrice de la recherche et de l'innovation responsables
Lejjy Gafour, PDG, Cult Food Science
14h45 - 15h15 PAUSE de réseautage
15h15 - 16h00 Mise à jour sur l'industrie du bœuf et du porc
Trevor Sears, PDG, Canada Pork
Michael Young, président, Canada Beef
16h00 - 18h00 Réunion du conseil d'administration du CMC (*membres du conseil d'administration du CMC)
Parrainage
Vous souhaitez soutenir la conférence et promouvoir votre entreprise auprès de plus de 200 délégués ? Envoyez un courriel à kristina@kitpr.ca pour recevoir l'information pour les possibilités de comandite!
Réservation d'hôtel
Pour réserver une chambre à l'hotel Omni Mont-Royal cliquez ici.