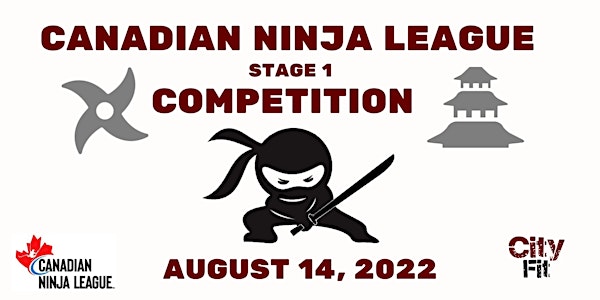 Canadian Ninja League Competition (Stage 1 Qualifer)
Join us August 14th for an unforgettable day as we host our first 2022 CNL Ninja Competition. All ages and abilities welcome!
When and where
Location
City Fit Shop Inc. 10036 81 Avenue Northwest Edmonton, AB T6E 1W8 Canada
About this event
Join us August 14th for an unforgettable weekend as we host our Canadian Ninja League qualifier competition! Be prepared to test your NINJA WARRIOR skills!
ABOUT
No matter what your skill or experience level this will be a great opportunity to learn, develop and compete using your ninja & obstacle skills in a fun, safe and friendly environment. We'll be hosting both a kids & adult competition with the opportunity for all age divisions to qualify for this season's Canadian Ninja League Nation Finals!
DIVISIONS
Age 6-8 Girls
Age 6-8 Boys
Age 9-10 Girls
Age 9-10 Boys
Age 11-12 Girls
Age 11-12 Boys
Age 13-14 Girls
Age 13-14 Boys
Age 15-17 Girls
Age 15-17 Boys
Amateur: 18 & Up Women's
Amateur: 18 & Up Men's
Masters: 40 & Up Women's
Masters: 40 & Up Men's
Pro Men's
Pro Women's
IMPORTANT NOTE: Each athlete MUST purchase a CNL membership in order to have the opportunity to qualify for the CNL National Finals. Although anyone may register and compete in the event, those that do not have a CNL membership will NOT BE ELIGIBLE to qualify for the CNL National Finals.
Rules are also listed on the CNL website.
Registration is Limited!
In order to run a successful event, there are limited spots available for each division. Register early to ensure you secure a spot.
Competition Registration - $32.99
SCHEDULE **Updated
Here's what you can expect:
You do not have to show up for the whole day, you can show up for your division start times.
Please show up at least 30 minutes prior to your division start times for warm up and orientation.
Prior to division start times, we will be walking through the course where athletes and coaches can ask questions pertaining to the goal of the obstacles. Judges cannot give any hints of advice no how to navigate obstacles.
Competitors are allowed one coach to follow the athletes through the course as well as one person to film the course. All other spectators can watch in the spectator sections to cheer the athletes on.
We will present the medals shortly after Each Division Race, so families do not have to stay the entire day.
The Division start times are approximate and are:
Division Start Time
Age 6-8 Boys & Girls 9:00 AM
Age 9-10 Boys & Girls 11:00 AM
Age 11-12 Boys & Girls 12:00 PM
13-14, 15-17 Boys & Girls 1:00 PM
Amateur: 18 & Up Men & Women 1:30 PM
Masters: 40 & Up Men &Women 2:30 PM
Upon entry, please check in to the registration desk to confirm your entry and we will gather the group for warm up and orientation.
Please email hello@cityfitshop.com for any questions.