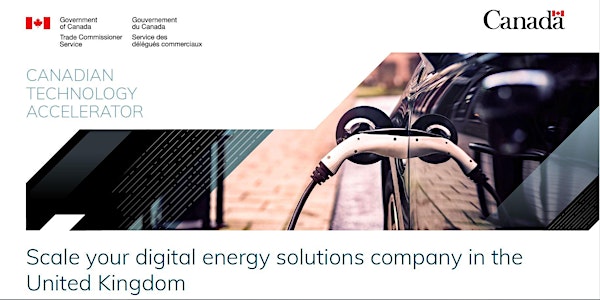 Canadian Technology Accelerator Webinar: UK Digital Energy Solutions
Access the UK market through the Digital Energy Solutions CTA | Accéder au marché du Royaume-Uni avec l'ATC Solutions d'énergie numérique
About this event
Join us December 10th for an exclusive webinar with UK Digital Energy Solutions CTA Program Managers Cael Husband and Megan Wood. Find out about opportunities arising from the UK's transition to net-zero and how the Canadian Technology Accelerator program facilitates access to one of the world's most advanced electricity markets.
The webinar will address:
• market opportunities & trends in the UK electricity sector
• government funding opportunities
• how the CTA program can assist Canadian SMEs in their UK market expansion
• Q&A
UK Digital Energy Solutions CTA Program
The United Kingdom (UK) has ambitious goals to cut emissions and increase renewable energy, including the decarbonisation of its electricity system by 2035. This will provide opportunities for Canadian tech companies offering digital solutions in clean energy management and distribution. Through the Canadian Technology Accelerator (CTA), a global business-development program, you can acquire the knowledge and connections you need to enter this growing market.
What you will gain
• a deeper understanding of the commercial opportunities for your technology in the UK market
• guidance on entering and navigating the UK market
• potential for pilot projects, partnerships, investment and/or long-term sales in the UK
• an opportunity to present to and get noticed by strategic partners, potential buyers, and/or investors
• enhanced network development with relationships built to last outside of the program
Who should apply
We are looking for Canadian innovators who have:
• revenue-generating businesses with existing market traction in North America or elsewhere
• innovative, fully built and validated technology
• a passionate, strong and committed management team with at least one senior manager who can commit to participating in the full CTA program
• a UK market-entry strategy with an appropriate company culture for the local market
• sufficient resources to target and achieve growth in the market
We use a broad definition of "digital energy solutions" and are interested in working with a wide range of technology companies providing solutions in:
• renewable energy grid integration
• demand side management including electric vehicle charging infrastructure and energy storage management
• grid operation and surveillance
• transmission and distribution level of power grids
• optimization of energy consumption/digital efficiency tools
_______________________________________________________________________________________________
ABOUT THE ORGANIZATION:
For more than 125 years, the Government of Canada's Trade Commissioner Service (TCS) has helped Canadian companies take their business to the world. Through this free service companies can get assistance in preparing for international markets, assessing market potential, finding qualified contacts and resolving business problems through Canadian trade commissioners located in 160 cities worldwide.
The Canadian Technology Accelerators (CTA) is a program of the TCS that provides business acceleration support in global hubs for companies in Digital Industries, Life Sciences, and Cleantech. Selected companies work with a dedicated Trade Commissioner and private-sector experts to create a customized market entry plan with Key Performance Indicators to match, in order to effectively connect with clients, partners and investors. Since 2013, CTA participants have raised over $740 million in new capital, generated over $270 million in new revenue, and identified over 1,200 strategic partners.
Rejoignez-nous le 10 décembre pour un webinaire exclusif avec les gestionnaires du programme des solutions d'énergie numérique au Royaume-Uni de l'ATC, Cael Husband et Megan Wood. Découvrez les opportunités découlant de la transition du Royaume-Uni vers le net-zéro et comment le programme Accélérateurs technologiques canadiens facilite l'accès à l'un des marchés d'électricité les plus avancés au monde.
Le webinaire portera sur :
• Des opportunités et tendances du marché dans le secteur d'électricité au Royaume-Uni
• Les possibilités de financement offertes par les gouvernements
• Le soutien du programme ATC pour les activités de commercialisation et expansion au marché du Royaume-Uni pour des PME canadiennes
• Q&R
Le programme de l'ATC des solutions d'énergie numérique au Royaume-Uni
Le Royaume‑Uni s'est fixé des objectifs ambitieux pour réduire ses émissions et accroître ses énergies renouvelables, en procédant notamment à la décarbonisation de son système électrique d'ici 2035. Des débouchés s'offrent ainsi aux entreprises technologiques canadiennes qui offrent des solutions numériques en matière de gestion et de distribution d'énergie propre. Grâce à l'Accélérateur technologique canadien (ATC), un programme mondial de développement des entreprises, vous pouvez acquérir les connaissances et les contacts dont vous avez besoin pour pénétrer ce marché en pleine croissance.
Les entreprises participantes acquerront :
• une compréhension plus approfondie des possibilités commerciales pour votre technologie sur le marché du Royaume-Uni
• des conseils sur l'entrée et la navigation sur le marché du Royaume-Uni
• un potentiel pour des projets pilotes, des partenariats, des investissements et/ou des ventes à long terme au Royaume-Uni
• l'occasion de présenter votre technologie à des partenaires stratégiques, des acheteurs potentiels et/ou des investisseurs et de vous faire remarquer par eux
• un développement accru du réseau avec des relations durables en dehors du programme.
Qui peut postuler
Nous recherchons des innovateurs canadiens qui :
• possèdent une entreprise génératrice de revenus ayant fait ses preuves sur le marché nord-américain ou ailleurs;
• ont une technologie innovante, entièrement construite et validée;
• disposent d'une équipe de gestion passionnée, solide et motivée, avec au moins un cadre supérieur prêt à s'engager à participer à l'ensemble du programme d'ATC;
• ont une stratégie d'entrée sur le marché britannique avec une culture d'entreprise adaptée au marché local.
Nous utilisons une définition large des « solutions énergétiques numériques » et sommes intéressés par une collaboration avec un large éventail d'entreprises technologiques fournissant des solutions dans :
• l'intégration des énergies renouvelables aux réseaux électriques;
• la maîtrise de la demande d'électricité, y compris l'infrastructure de recharge pour véhicules électriques et la gestion du stockage de l'énergie;
• l'exploitation et la surveillance de réseaux électriques;
• la transmission et la distribution dans les réseaux électriques;
• l'optimisation de la consommation d'énergie/des outils numériques d'efficacité énergétique.
_______________________________________________________________________________________________
LES ORGANISATEURS:
Depuis plus de 125 ans, le Service des délégués commerciaux (SDC) du gouvernement du Canada a soutenu les entreprises canadiennes à s'orienter sur les marchés internationaux. Le SDC offre du service gratuit aux entreprises pour se préparer aux marchés internationaux, évaluer le potentiel du marché, trouver des contacts qualifiés et résoudre les problèmes commerciaux par l'intermédiaire de délégués commerciaux canadiens présents dans 160 villes à travers le monde.
Les Accélérateurs technologiques canadiens (ATC) sont un programme du Service des délégués commerciaux (SDC) qui offrent un tremplin aux entreprises en technologie de l'information et des communications (TICs), en sciences de la vie et en technologies propres. Les entreprises sélectionnées travaillent avec un délégué commercial dédié et situé dans métropole technologique mondiale, ainsi qu'une équipe d'experts du secteur privé pour créer un plan d'entrée sur le marché personnalisé, assorti d'indicateurs clés de performance, afin de se connecter efficacement avec des clients, des partenaires et des investisseurs. Depuis 2013, les participants aux ATC ont levé plus de 740 millions de dollars de nouveaux capitaux, généré plus de 270 millions de dollars de nouveaux revenus et identifié plus de 1,200 partenaires stratégiques.
Organizer of Canadian Technology Accelerator Webinar: UK Digital Energy Solutions