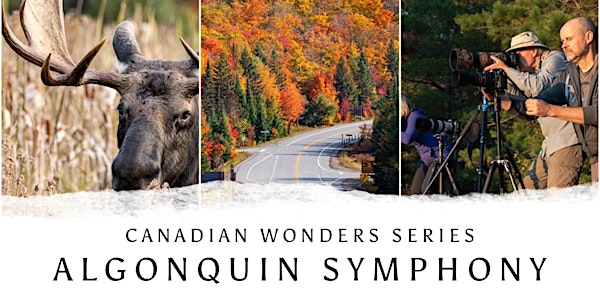 Canadian Wonders | Algonquin Symphony - Photo Workshop - Autumn 2023
Our most popular photography workshop. Join us in world renowned Algonquin Park for fun and creativity amongst the fall colours!
Date and time
Mon, Sep 25, 2023 10:00 AM - Thu, Sep 28, 2023 4:00 PM EDT
Location
Algonquin Park 29558 ON-60 Algonquin Park, ON K0J 2M0 Canada
About this event
3 days 6 hours

Mobile eTicket
Canadian Wonders Photo Workshop Series
From coast to coast, and from the border to the high Arctic, Canada boasts some of the most beautiful places in the world.  The Canadian Wonders series is all about experiencing and photographing these special places.  We will explore nature at it's best, quaint villages, large cities, unique wildlife and local culture.  Your guide and instructor will be Chad Barry, an award-winning and nationally published career photographer.  He will use his extensive knowledge and experience to help you become a better photographer and story teller. The Canadian Wonder series includes locations in Ontario with plans in the works for Newfoundland, Nova Scotia, British Columbia and Alberta!  
ALGONQUIN AUTUMN SYMPHONY - FOUR DAY PHOTOGRAPHY WORKSHOP
OUR LONGEST RUNNING AND MOST POPULAR WORKSHOP!
Algonquin Park is arguably one of the most beautiful Ontario destinations in the fall. Tourists from around the world visit Algonquin Park during the peak leaf changing season to witness the vibrant reds of the sugar maples and the saturated yellows of the birch tree. We have skillfully scheduled this workshop during the average peak leaf colour change. If we are lucky, we might even see moose! Located just a couple hours north of Toronto, Algonquin Park is a world full of beautiful natural scenery and ample wildlife. We will bring you to some easily accessible shooting locations which will provide the landscapes and wildlife that you're looking for.  This workshop is geared towards amateur photographers looking to build their confidence in the field. Open to all ages and all levels of photography enthusiasts. We recommend that you have a DSLR camera to get the best out of the workshop experience. Please review our recommended gear list for more info.
What to Expect
Registered participants will receive a more detailed itinerary by email.  As we will be on nature's schedule we will be keeping the plan flexible so we can adjust to weather conditions and wildlife opportunities as they arise.
Day 1 - Our adventures will begin at 10:00am the first day.  We will meet at the Mad Musher restaurant in Whitney, just a few minutes from the east gate of Algonquin Park.  The Mad Musher will be our home base for the classroom portion of the workshop. Morning – We will do introductions and discuss our plans and expectations for the duration of the workshop.  From there we will jump right into learning about what makes a great photo, including composition, camera settings, equipment and in field techniques.  We will draw from our experience and share with you what has worked for us. After lunch, we are back in the classroom to share more tricks of the trade like photographing wildlife and shooting in poor weather conditions.  We will break in the late afternoon to allow for some rest, a meal and travel to our first shooting location. We will have one or two locations selected for our first evening of landscape photography.  You'll get both group and one on one instruction to help you get the most out of your experience.  This shoot will continue through sunset.  
Day 2 & 3
Each morning we will start early, and meet at a pre-determined location to capture the sunrise, followed by more landscape photography and wildlife as opportunity presents. After lunch we will have a break to recharge a bit and then get back out in the fresh air for more shooting. Depending on weather conditions we may focus on photographing waterfalls and rapids, macro photography, fall colours or Algonquin historical areas.  Make sure you bring your tripod . We will finish each day with a sunset photoshoot and then a later dinner. Depending on weather we may sneak in some night photography and try to capture the Milky Way. We may also have guest speakers depending on availability.
Day 4
We'll get one more shooting location in on our final day before retiring back to the classroom.  We know you may be feeling a little tired by now. Feel free to sleep in if you need a bit of rest.  By mid-morning we will be back in the classroom for post processing demos on the big screen and some time to edit your own photos from the week. Make sure you bring your laptops with Lightroom or another editing software installed.  Following lunch we will share some of your favourite photos with the class and do a friendly group photo critique.  This is one of the most beneficial parts of the workshop experience!  Chad will also spend time with each guest doing one on one critiques.  After the critques session we will present a slideshow showcasing all of the group's favourite photos.  This part of the workshop always leaves us inspired!.  
We would love to stay forever but around 4pm the workshop will come to a close. We will say our goodbyes and allow you to start your journey back home with lots of new knowledge!    
Recommended Equipment
DSLR or Mirrorless Camera
At least one lens (bring more if you've got them)
Memory Cards And Extra Batteries
Headlamp (we will be doing some walking in low light)
Tripod
Recommended Personal Items
Water bottle
Snacks
Hiking shoes or boots
Sunblock, hat, sunglasses 
A jacket – temperatures in September drop considerably when the sun goes down
Raincoat and pants
Towel
*We'll be adding to this list closer to the event date.
Physical Requirements
We will be doing hikes on uneven ground and varying elevations. We will hike to one or more lookout points over the course of the workshop which will have some steep incline.   Participants should know their physical limitations and pace themselves accordingly.
Meals, Accommodations and Travel
The Mad Musher has blocked off all their rooms for workshop participants.  The rooms are not available online.  You can call them directly at 1-866-551-5534 to book.  All meals, accommodations and travel are the responsibility of each workshop participant and are not included in the workshop fee.  Once you've registered for the workshop we can help guide you in the directions or finding suitable accommodations. Carpooling to shooting locations is also recommended. We highly recommend arriving the night before the workshop!
Park Fees
Park fees for access to Algonquin Provincial Park will be included with your workshop fee.  We'll hand out the park passes during the introductions on the first day. If you happen to have a seasons park pass please bring it with you.
Refunds
Workshop fees are non-refundable. Please be sure that you are able to attend prior to purchasing your ticket.  If for any reason, you are unable to attend the workshop you may sell your ticket to another party. Limited Spaces Available To provide the best experience and one on one time this workshop is limited to 10 participants. 
COVID
We will be adhering to Ontario's regulations at the time of the workshop
About the organizer
Chad Barry is an award winning photographer with a passion for nature, adventure, and discovery. This passion shines through in his landscape and nature images as well as his photo workshops. Based in Southwestern Ontario, he enjoys regular day hikes at local provincial parks, national parks, national wildlife areas and conservation areas. Having found a love for Algonquin Provincial Park he can be found backpacking, camping, canoeing and capturing breathtaking photographs in Algonquin throughout all the seasons. He has photographed all over Canada including Banff National Park, Jasper National Park, Quebec and PEI. Internationally, he has photographed landscapes and wildlife in Yellowstone National Park, Grand Teton National Park, Badlands National Park and Olympic National Park.
Chad has an extensive background in teaching and coaching. He has taught martial arts and self defense for over 25 years ranging from weekly classes and monthly workshops to seminars of over 200 people. In his previous management jobs he has provided continuous mentoring of staff as well as developed and delivered adult oriented training programs for staff development and change management. A natural teacher and leader you will find Chad is fun and approachable and always willing to share his photographic knowledge with aspiring photographers.