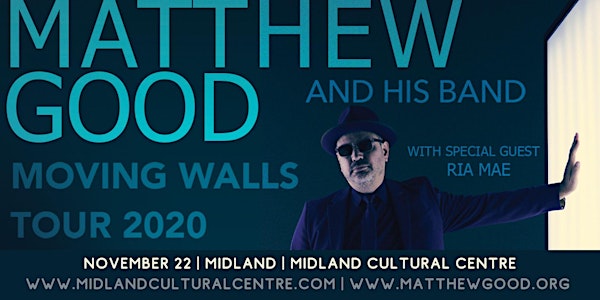 CANCELED - Matthew Good - Moving Walls Tour 2020
Sponsored by Bourgeois Midland Nissan
Location
Midland Cultural Centre - Rotary Hall
333 King St.
Midland, ON L4R 3M7
Canada
Matthew Good plays Midland Cultural Centre as part of his Moving Walls Tour 2020. With special guest, Ria Mae.
About this event
Leave it to Matthew Good — peerless singer/songwriter, bona fide if reluctant rock star, notorious straight-shooter — to transform a simple question into an astute observation about people's relationship to music.
To wit: ask Good to sum up his dazzling new solo album, the sumptuous, orchestral, and wildly multifaceted Moving Walls in an elevator pitch, and the B.C.-based performer responds not with a snappy list of styles and moods but with a clearheaded analogy fit for the era.
"Twenty years ago I'd be dying to tell people what my music sounds like and where it should be slotted in," Good says. "Not now. I made a piece of art and it's out there in the world for anyone who chooses to find it.
"Given my age and that it's mostly acoustic, I guess you could call Moving Walls adult contemporary. It's not a rock record, that's for sure. But in this day of everyone knowing everything, I really like the idea of people figuring things out for themselves."
And there you have Moving Walls, and Good's highly decorated and decades-long career, in a nutshell: he writes it how he sees it, straight from the heart. How the music is interpreted or consumed matters less than the fact that it's simply heard.
Entirely written by Good (who adds guitar, synthesizer, and all lead vocals) and cut with long-time collaborator, producer/engineer Warne Livesey (who adds various instruments while sprinkling pixie dust throughout), Moving Walls is at once a revelation and a return to form.
When it comes to expectations for Moving Walls, Good once again offers the kind of pragmatic perspective that comes from years of working in an industry built on a tectonically shifting tastes and trends, yet consistently managing to stay on top.
"I am excited to release this record to the world," Good offers. "Success is hard to think about. I mean, I've had the same job for 20-plus years. Most people have had three jobs in that time. I had various jobs when I was younger but ever since Underdogs came out (in 1997), this is what I've done for a living.
"It is amazing… even though I do think this career ages you and touring isn't the easiest thing to do," he laughs, "but it's definitely not a matter of luck. An artist has a skill and if it's lasted a quarter century, as it has with me, it's obviously a pretty good one."
No argument here.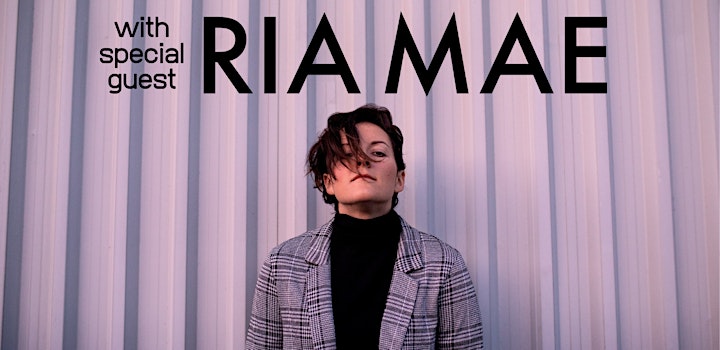 Halifax-born, Toronto-based songwriter Ria Mae hits the road with her Stars Tour beginning November 14 in Vancouver, BC in support of her highly anticipated Stars EP and new single, "Too Close", featuring Dan Talevski and coming out in October.
The EP Stars serves as a follow-up to the JUNO Award nominated pop album, My Love. The EP's first single "Bend," released summer 2017, became an instant hit skyrocketing to the top of the CBC Radio 2 charts for four weeks. Shortly thereafter it catapulted up the Canadian radio charts reaching Top 5 at Hot AC, Top 10 at AC, and Top 15 CHR radio. Together with its Platinum-certified debut "Bend" and follow-up "Red Light," My Love garnered over 12 million combined worldwide streams. The EP was produced by Adam King at Canterbury Studios in Toronto, mixed by Grammy® Award-winning Engineer Joe Visciano, and mastered by Stuart Hawkes. It features several notable collaborators including: Tegan Quin (Tegan & Sara), Joel Stouffer, Serena Ryder, and Dylan Guthro (Port Cities).
Ria's self-titled major label debut, released in 2016, features the Platinum-selling "Clothes Off" and the anthemic "Ooh Love" (certified Gold). The critically acclaimed album garnered multiple award nominations including 'Single of the Year' at the 2016 JUNO Awards and 'Best New Canadian Artist' at the iHeart Radio MMVAs.
Ria has toured Europe with Tegan & Sara, North America with Dido, and Canada with Scott Helman. She has performed with Elle King, Xavier Rudd, Shawn Hook, Family of the Year, Francesco Yates, Coleman Hell and more. To date, Ria's music has been streamed over 60 million times worldwide.