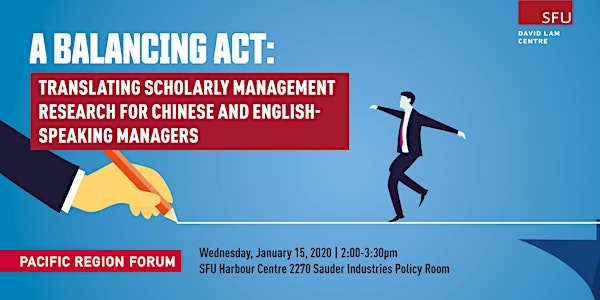 CANCELLED: A Balancing Act: Translating Scholarly Management Research for Chinese and English-speaking Managers
When and where
Location
SFU Harbour Centre 515 West Hastings Street Sauder Industries Policy Room 2270 Vancouver, BC V6B 5K3 Canada
Description
This event is cancelled due to venue closure on January 15.
Pacific Region Forum
A Balancing Act: Translating Scholarly Management Research for Chinese and English-speaking Managers
How is knowledge in scholarly management research papers (often 30 to 50 pages long) converted into insights meant to be brief, applicable, and interesting for managers? And how does this differ for managers with different cultural backgrounds? In this presentation, we examine the motivations, translation strategies, and tensions that underlie the conversion process. In particular, we discuss how research translations for Chinese-speaking managers may differ systematically from research translations for English-speaking managers. We studied this using a research translation magazine that converts management research from top journals into both Chinese and English research highlights.
Speakers
Jean M. Bartunek is the Robert A., and Evelyn J. Ferris Chair and Professor of Management and Organization at Boston College. Her PhD in social and organizational psychology is from the University of Illinois at Chicago, and she is a past president of the Academy of Management. She is regularly involved in, and studies, change initiatives that involve both academics and consultants.
Isabelle Yi Ren is a Visiting Assistant Professor of Management at Adelphi University. She received her Ph.D. from the Carroll School of Management, Boston College. Isabelle's interests center around how people cross, manage, and make use the various boundaries in organizational life, especially the translation strategies involved in crossing the academia-practice knowledge boundary.
About the Pacific Region Forum
The David Lam Centre draws on academic, business, and government resources, to provide opportunities at Pacific Region Forum events for reporting, analyzing, discussing and debating strategies for articulating relationships within and between businesses and their environments in North America and East and Southeast Asia.
Themes related to potential intercultural continuities and divergences are explored with a view to advancing the consonance and compatibility between corporate and social relationships and cultural values across the Pacific and within North America. This Forum is organized by Rosalie L. Tung, Ming and Stella Wong Professor, International Business at SFU Beedie School of Business.
www.sfu.ca/davidlamcentre/forum.html
Sponsor