CANCELLED/ ANNULÉ NB Stroke Conference / Colloque sur l'AVC du N.-B.
Description
As we continue to live with the daily impacts of COVID-19 on our lives, The Heart and Stroke Foundation of New Brunswick has made it a priority to diligently follow all government recommendations. Our commitment to our community and our mission means that we have chosen to postpone and/or cancel many of our major events.
As stated in our new provincial recovery plan, the Government of New Brunswick has prohibited all mass gatherings until December 31, 2020. With the new restrictions in place, we have come to the difficult decision that we will be officially cancelling the 2020 Provincial Stroke Conference.
-----
Dans la foulée des répercussion quotidiennes de la COVID-19, la Fondation des maladies du coeur et de l'AVC du Nouveau-Brunswick s'est fixé comme priorité d'appliquer rigoureusement l'ensemble des recommandations gouvernementales. Motivés par notre engagement à l'égard de la communauté et de notre mission, nous avons choisi de reporter ou d'annuler bon nombre de nos événements majeurs.
Tel qu'il est énoncé dans son nouveau plan de rétablissement, le gouvernement du Nouveau-Brunswick a interdit tous les rassemblements de masse, jusqu'au 31 décembre 2020. En raison des nouvelles restrictions, nous avons dû prendre la décision difficile d'annuler le Colloque provincial sur l'AVC 2020, de façon officielle.
The Heart and Stroke Foundation of New Brunswick is pleased to be hosting the annual New Brunswick Stroke Conference in collaboration with Horizon Health Network and Vitalité Health Network.
This exciting educational event will bring together a leading group of stroke experts from across Canada to share their knowledge and experience in best practices in stroke care across the continuum and beyond.
Simultaneous translation will be available.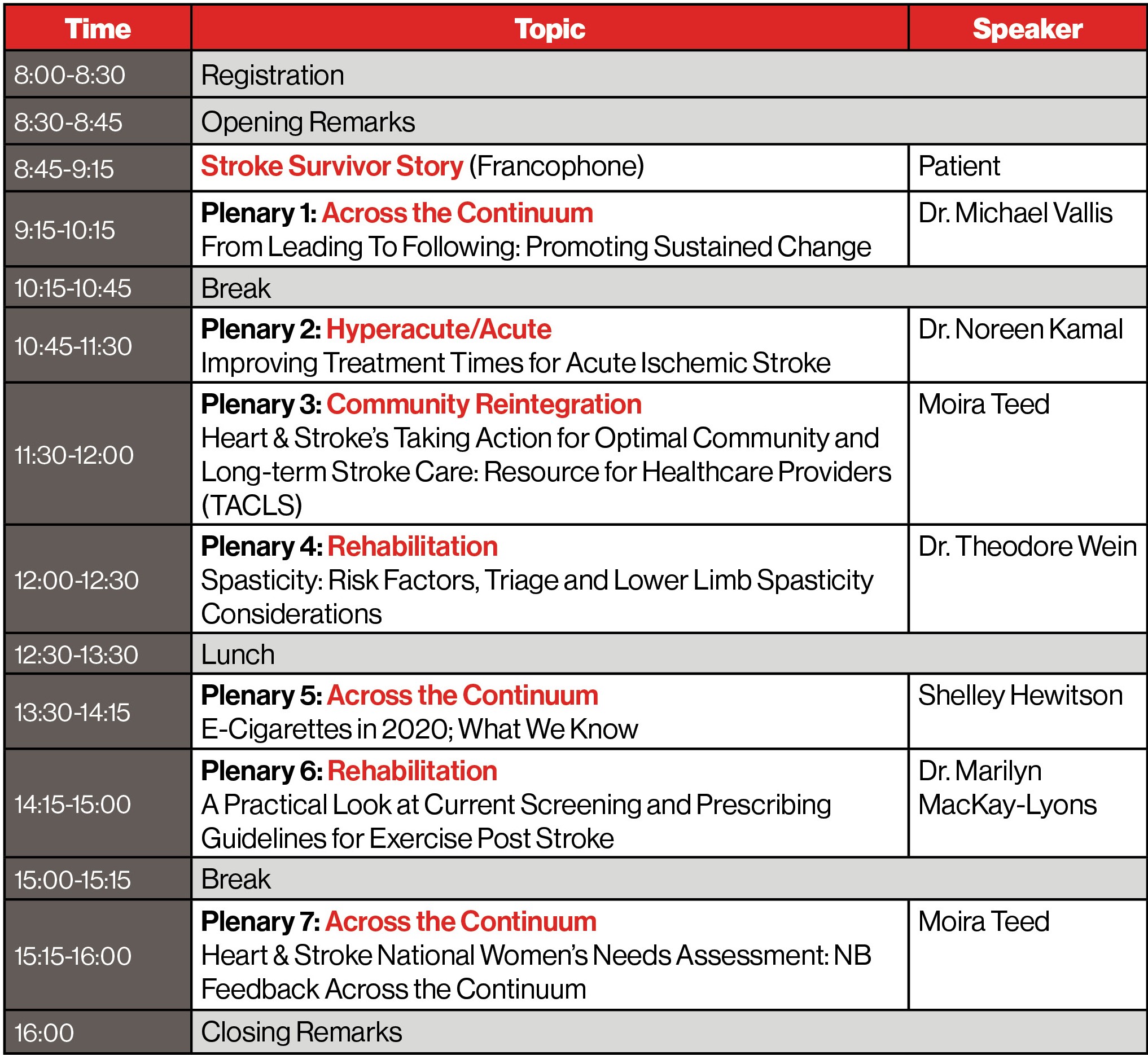 ---
La Fondation des maladies du coeur et de l'AVC du Nouveau-Brunswick est heureuse de tenir le Colloque sur l'AVC annuel du Nouveau-Brunswick, de concert avec le Réseau de santé Horizon et le Réseau de santé Vitalité.
Cet événement éducatif hors pair rassemblera un groupe influent de spécialistes de l'AVC venus de partout au Canada, leur permettant de partager leurs connaissances et leur expérience en matière de pratiques exemplaires liées à l'AVC, dans l'ensemble et au-delà du continuum.
Des services d'interprétation simultanée seront offerts.