CANCELLED - Deepfakes and Digital Harms: Emerging Technologies and Gender-B...
Description
**Following increased concerns about the COVID-19 virus, the Centre for International Governance Innovation (CIGI) has decided to cancel this event. All other CIGI-hosted events are similarly canceled through April. A decision to reopen events will be made with the health and well-being of our speakers, staff and guests as a first priority.

If you have any questions please contact Andrea Harding at aharding@cigionline.org**

Deepfakes and Digital Harms: Emerging Technologies and Gender-Based Violence
In an era where technology is deeply integrated in all aspects of our lives, perpetrators of gender-based violence are using technology to abuse women and girls. It is not a solution to stop using technology to avoid this abuse. So what is the solution?
There is growing concern among anti-violence advocates about how to deal with these new types of technology-facilitated harms. In many cases, it requires a new technological skill set to assess the risk of the situation. Many people don't even know what stalkerware, sextortion, or deepfakes are, let alone how to support a person who has been impacted by them. While legal responses have been slow to catch up with the fast pace of technology, there are a variety of resources, laws, and supports that can help women who have been targeted by this abuse.
PhD Candidate Suzie Dunn, University of Ottawa, Faculty of Law will explain some of the more common forms of technology facilitated violence, discuss technologies that have been developed to specifically exploit women, and share some supports that exist for these women. This misuse of emerging technologies require responses across multiple sectors: law enforcement, legislators, technologists, victim support workers, educators, and non-governmental organizations. Following Suzie's presentation she will be joined by a panel of experts for a discussion on the ways emerging technologies impact women's and girls' safety online and how they think these stakeholders should respond to these novel harms.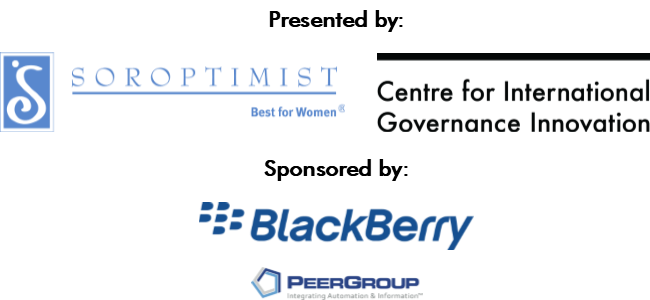 About the Speakers

Courtney Doagoo, AI and Society Fellow at uOttawa | Centre for Law, Technology and Society; Senior Manager, KPMG's Risk Consulting Practice

Courtney Doagoo is currently a Senior Manager within KPMG's Risk Consulting Practice and AI + Society Fellow at the University of Ottawa's Centre for Law, Technology and Society. Courtney completed her Ph.D. in 2017 at University of Ottawa Faculty of Law. In her interdisciplinary research, she used empirical methods to learn about and describe the use of intellectual property law and norms in creative communities. Following her doctoral research, she joined the World Intellectual Property Organization's Coordination Office in New York as a legal intern and contributed to developing the joint initiative on gender and innovation in collaboration with UNESCO and UN Women. She later joined the International Law Research Program at the Centre for International Governance Innovation as a Post-Doctoral Fellow, where she conducted research in technology and law focusing on intellectual property law, artificial intelligence and data governance. In between her academic pursuits, Courtney worked on technology start-ups. She completed her LL.L. at the University of Ottawa, and LL.M. specializing in Intellectual Property Law at the Benjamin N. Cardozo School of Law.
Suzie Dunn, PhD Student; Professor at the University of Ottawa, Faculty of Law
Suzie Dunn is PhD student and part time professor at the University of Ottawa, Faculty of Law. She currently teaches contracts law at the University and has guest lectured on law and technology. Her research centers on the intersections of gender, equality, technology and the law, with a specific focus the non-consensual distribution of intimate images, deepfakes, and impersonation in digital spaces. She was awarded the Joseph-Armand Bombardier Scholarship for her PhD research.As an innovative thinker with a deep passion for human rights and technology, she has published and presented her work both nationally and internationally on issues including the importance of internet connectivity for northern youth, the application of Canadian law to deepfake technology, and civil responses to the non-consensual distribution of intimate images. She is also a researcher with The eQuality Project where she is developing a case law database on technology-facilitated violence. In 2018, she worked as a policy advisory with the Digital Inclusion Lab at Global Affairs Canada in drafting two international commitments to end gender-based violence in digital contexts, including the G7's "Charlevoix Commitment to End Sexual and Gender-Based Violence, Abuse and Harassment in Digital Contexts" and the United Nations Human Rights Committee's resolution titled "Accelerating Efforts to Eliminate Violence against Women and Girls: Preventing and Responding to Violence against Women and Girls in Digital Contexts", both of which were adopted that year.
Sarah Shoker, Founder and CEO, Glassbox; Postdoctoral Fellow, University of Waterloo and Balsillie School of International Affairs
Dr. Sarah Shoker received her PhD in political science from McMaster University. Her dissertation, which was nominated for the CAGS/UMI Distinguished Dissertation Award, examined the Bush and Obama-era decision to exclude boys and men from drone warfare's collateral damage count. The nomination came from her novel contributions to the field; she was able to empirically demonstrate that data analysts used stereotypes about gender and religion to inform who was selected as a drone target. As a result, civilians were often mischaracterized as combatants. "Military-Age Males in U.S Counterinsurgency and Drone Warfare" is currently under contract with Palgrave MacMillan, with publication tentatively scheduled for 2020.
Sarah is the founder of Glassbox, a consultancy firm that trains teams in software development, legal services, and government to identify how choices made along the AI technical pipeline can translate into social bias.
Her research interests focus on international security, emerging technologies, and gender. Sarah is currently completing a project for Global Affairs Canada where she am looking at the gendered impact of ICT failures and how gender can be better integrated into Canada's cybersecurity strategy.
TK Pritchard, Public Education Manager, Sexual Assault Support Centre of Waterloo Region
TK is the Public Education Manager for the Sexual Assault Support Centre (SASC) of Waterloo Region. TK enjoys guiding meaningful conversations with people of all ages about masculinity, gender, healthy relationships, consent and more, using engaging activities and evidence-based practices. He is passionate about queer and trans issues, intersectional feminism, body positivity, and ending gender-based violence. Previously, TK was the Male Allies Program Educator for SASC, has worked as a Sexual Health Educator for SHORE Centre (Planned Parenthood) and a Chapter Coordinator for a national mental health charity.

Sarah Tatsis, Vice President Advanced Technology Development Labs, Blackberry; President, Soroptimist International of Kitchener-Waterloo

Sarah Tatsis is VP, Advanced Technology Development Labs at BlackBerry, a business unit focused on identifying, exploring and creating new technologies to ensure BlackBerry stays on the cutting edge of security innovation. She holds a Bachelor of Mathematics and Masters of Mathematics in Statistics from the University of Waterloo.