Description
Please note: This workshop has been cancelled.
This one-day interactive workshop (formerly titled "Working with Immigrant & Refugee Communities") hosted by the Centre for Race and Culture and the Multicultural Health Brokers Co-operative is intended to examine the concept of culture, the effect culture has in one's personal and professional life, as well as the role biases and power can play in our interactions with others.
Through this workshop participants will explore:
What culture is and how our own cultural lens influences our work

Differences between immigrant and refugee status and the economic and social experiences of refugees in Edmonton

Power and privilege and its impact on relationships

Opportunities for dialogue and discussion in small groups with community leaders
*Lunch will be provided
About the Facilitator:
Holding a PhD in Cultural Studies, Elli Dehnavi is a university teacher, storyteller, and public educator. She has been actively engaged in the community to raise awareness about systemic discrimination. She has developed adult education resources, coordinated training programs, and managed support groups. Elli works with the Centre for Race and Culture as a Consultant and educator, and offers educational workshops on anti-racism, intercultural competency, unconscious bias, creating inclusive communities, refugee awareness, and intersectional feminism.
Participant Feedback:
"An informative and engaging presentation, and an interactive education experience."

"A highlight for me in the day was how differences in culture affect/impact the type of service we provide to clients."

"An insight I had was the need to bring this theory to others in my community."
Notice to Registered Social Workers: REACH workshops are eligible for Category A credits with the Alberta College of Social Workers if they align with your personal learning goals for the year and you submit a Category A Summary Form in your personal portfolio.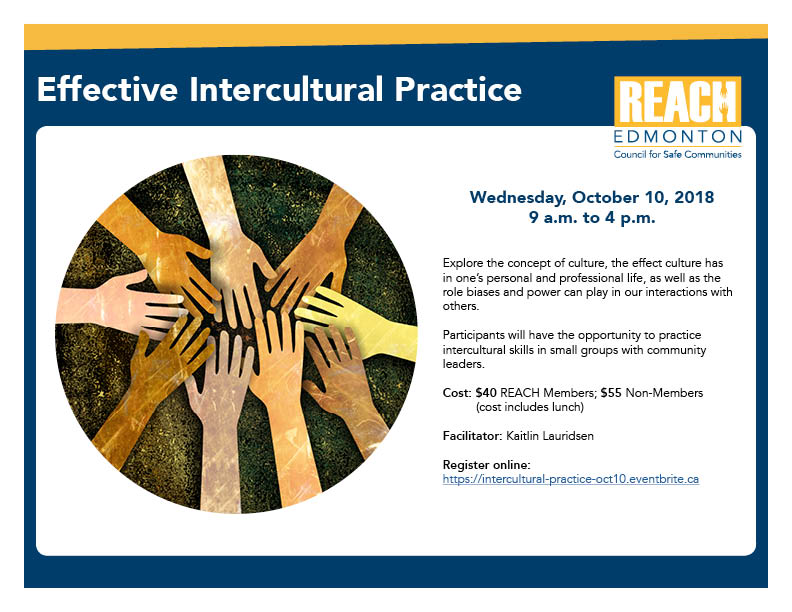 Stay up-to-date on REACH trainings and REACH news, register to join the mailing list here.