***Cancelled *** IIA-Calgary / Governance and Audit Oversight

Thursday, 15 June 2017 from 4:30 PM to 5:30 PM (MDT)
Event Details
Governance and Audit Oversight within Canadian Municipalities
This brownbag afternoon session will be held on June 15th, at the University of Calgary Downtown Campus, located at 906 – 8th Ave SW in Calgary (AB), T2P 1H9.
Doors will open at 16:15, as the registration and mingling for this classroom-setting session will precede the presentation that will run from 16:30 to 18:30.
Please be punctual and arrive before 16:30.
No food or drinks are being provided to attendees so feel free to bring your own with you.
Abstract:
Lack of effective legislation and formal mandates setting out the role of audit and its oversight function can significantly undermine the independence and powers of municipal auditors and limit the scope and effectiveness of their audit activities. This study surveyed and interviewed stakeholders to examine governance and audit oversight processes and their impacts on the scope and effectiveness of audit activities within municipalities in Canada. It identified trends, better practices, and areas for improvement and discusses the implications of these findings on various stakeholders including the CCAF-FCVI, the Institute of Internal Auditors (IIA) CPA Canada and professional auditing associations such as the Municipal Internal Auditors' Association (MIAA) and the Association of Local Government Auditors (ALGA).
Where legislation, formal mandates and formal audit oversight functions are not in place or are inadequate to establish and define audit's role in municipal governance and accountability, the audit function's authority and independence as well as the scope and effectiveness of its activities may be seriously compromised. Inadequate or non-existent legislation, formal mandates and audit oversight processes can be significant barriers to effective auditing in Canadian municipalities. Some municipal audit functions in Canada are providing services that are best in class; others are not providing the audits that are required to support effective governance and add value as their role and responsibilities are not understood or supported by municipal councils.
This study examined the relationship between governance processes, audit oversight functions and the activities performed by audit functions within Canadian municipalities. It aims at identifying different audit service models that are currently in place, best practices and areas for improvement. Finally, it examined the implications of these findings on governing and regulatory bodies as well as professional organizations such as the CCAF-FCVI, The Institute of Internal Auditors, CPA Canada, Municipal Internal Auditors Association and the Association of Local Government Auditors (ALGA).
Guest Speaker:
Ron Foster, CIA, CRMA, CPA, CMA, CISA, CFE. Auditor General at City of Greater Sudbury (Ontario).
The need to perform a research specifically targeting Canadian municipalities spurred from a  2014 research that Ron co-authored. The report entitled "Emerging Strategies for Performance Auditing - Insights from City Auditors in Major Cities in the U.S." was done on behalf of the IIARF.
Registration & Details: RSVP early / Space is limited.
Register at www.eventbrite.ca/o/8509185245
IIA Member: Free for IIA-Calgary members in good standing.

Non Member: $5 + GST + Eventbrite fee
CPD Credit: 1.5 verifiable hours.
For more information: contact the Chapter at iia.calgary.chapter@gmail.com
IIA-Calgary Chapter Events Partner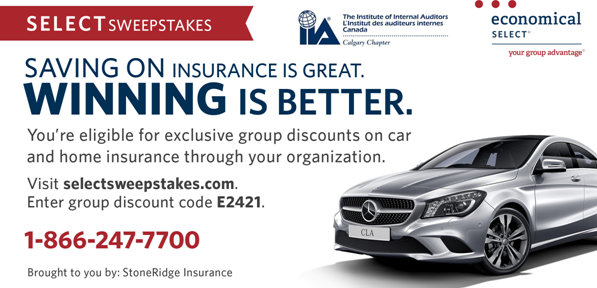 Have questions about ***Cancelled *** IIA-Calgary / Governance and Audit Oversight?
Contact the organizer
When & Where

University of Calgary Downtown Campus
906 – 8th Ave SW
Calgary, AB T2P1H9
Canada

Thursday, 15 June 2017 from 4:30 PM to 5:30 PM (MDT)
Add to my calendar
***Cancelled *** IIA-Calgary / Governance and Audit Oversight