CANCELLED Northern Lights Mentorship Program Kick-Off Event
About this Event

**Please note that this event has been cancelled. We will look to reschedule in the New Year.
This free event is open to anyone interested in learning more about or participating in the Northern Lights Mentorship Program and is an opportunity for mentors and mentees to meet and match up in person. Space is limited.
Keynote speaker:
Judy Cameron was the first Canadian woman pilot to fly for Air Canada, the second woman to fly for a Canadian commercial airline, the first Canadian female captain of a Boeing 767 and the first Canadian female captain of a Boeing 777.
Judy will join us to talk about the events that have defined her life and how mentorship has played an important role in her career.

How to get to Porter
Porter's head offices are located at Billy Bishop Toronto City Airport (BBTCA) at the foot of Bathurst St. and Queens Quay.
Please park on the mainland side in one of the public parking lots. You can then walk through the tunnel and take the evelator on your right up to the Departures level. Come out of the elevator, turn right and you will see a sign for Porter Administration.
There will be a volunteer at the Porter Administration waiting to bring you to the Learning & Development Centre!
If you have any questions please contact marina.bredin@flyporter.com.
The map below details how to get to Porter's Learning & Development Centre.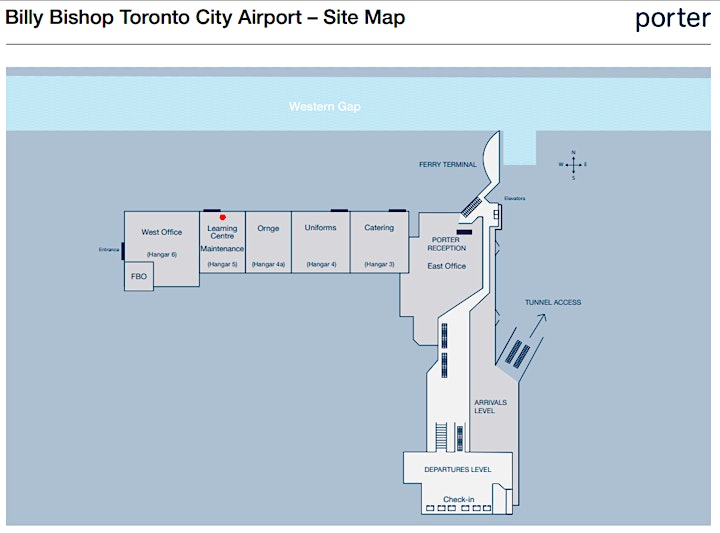 About the Mentorship Program
The Northern Lights Mentorship Program is a way for experienced aviation and aerospace professionals, both male and female, to pay it forward by providing professional guidance and support to women who are aspiring to enter the industry and those who are already established in their careers but want to further grow and develop.
The program helps support women through various phases of their career:
Imagining a career in aviation and aerospace
Training, developing skills and looking for career guidance
Career development and further advancement