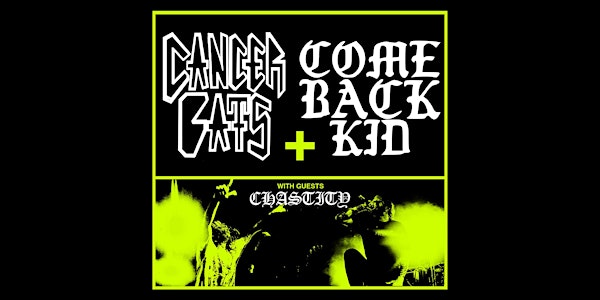 Cancer Bats + Comeback Kid
Performers
Cancer Bats, Comeback Kid
Chastity
Location
Bridgeworks
200 Caroline St. N. (off Barton St. W.)
Hamilton, ON L8R 0A6
Canada
Cancer Bats + Comeback Kid with guests Chastity — Live at Bridgeworks!
About this event
TICKETS ON SALE THURSDAY JULY 28 , 2022 @ 10AM ET
Proving that loud, gritty, and ranting punk rock is still alive and thrashing in Canada, Toronto's Cancer Bats were founded in 2004 and recorded a four-song demo that the band pressed for sale at shows in early 2005; the disc soon sold out two pressings, and was later reissued as a 7" vinyl EP. The hard-partying band released its first full-length album, Birthing the Giant, in 2006. The band kept up its relentless touring pace after the album hit stores, and played a major American tour opening for Billy Talent. In 2008 the band released its second album, Hail Destroyer, which was followed by 2010's Bears, Mayors, Scraps & Bones, 2012's Dead Set On Living, 2015's Searching For Zero and 2018's The Spark That Moves. The band returned this spring with Psychic Jailbreak, their first album without founding guitarist Scott Middleton.
Instagram | Facebook | Twitter | Spotify | Apple Music
•
A blue-collar punk band from Winnipeg, Manitoba, Comeback Kid(otherwise known as CBK) combine declamatory vocals with a hyper-speed rhythm section and two riff-happy guitarists. Originally signed to , the group issued a string of Billboard-charting efforts, including the acclaimed Broadcasting (2007) and Die Knowing (2014), before inking a deal with in 2017. They released their seventh long-player, Heavy Steps, in 2022.
Instagram | Facebook | Twitter | Spotify | Apple Music
•
Brandon Williams makes resonant songs that capture isolation and resilience. As the songwriter behind Chastity, the Whitby, Ontario musician has made 3 unrelentingly perceptive albums culminating in the cathartic Suffer Summer, which is out January 13, 2022 via Deathwish and Dine Alone Records. The LP caps off an album trilogy that showcases both Williams' emotional range as a lyricist but also his boundless love of outsider music. His 2018 debut Death Lust pulled from Unwound and The Smashing Pumpkins as he grappled with mortality while 2019's Home Made Satan dealt in world-weary anxiety and Hum-like atmospherics. But Suffer Summer is a meditation on happiness, channeled through powerhouse riffs and undeniably potent choruses, sung with Mineral and Jimmy Eat World worn on his sleeve. It's an album that shows how healing and staying content is hard but necessary work.
Instagram | Facebook | Twitter | TikTok | Spotify | Apple Music