Sales Have Ended
Registrations are closed
Thank you for Registering for Cancer Update 2015. If you have any questions prior to the event, please contact us at cancerprimarycare@toh.on.ca. Your Regional Primary Care Leads, Dr. Lee Donohue and Dr. Declan Rowan
Sales Have Ended
Registrations are closed
Thank you for Registering for Cancer Update 2015. If you have any questions prior to the event, please contact us at cancerprimarycare@toh.on.ca. Your Regional Primary Care Leads, Dr. Lee Donohue and Dr. Declan Rowan
Description
The Champlain Regional Cancer Program's Cancer Update 2015 is a one day event that invites family physicians and other primary care providers to meet with regional experts and learn more about a wide range of cancer care topics.
Topics at this year's event include:
Early Detection, Diagnosis, and Management of Lung Cancer
Is it Cancer? - Insights into Hematuria
Is it Cancer? - Thyroid Nodule
Cancer Screening in the LGBTQ Community
Building a Quality Culture in your Practice
Cancer Survivorship
Palliative Care
Plenary session:
The Great Debate: Prostate Cancer Screening and Treatment
We hope you'll join us at the Ottawa Conference & Event Center.
Please register here online, or fax us at 613-728-6333 with your name and contact information.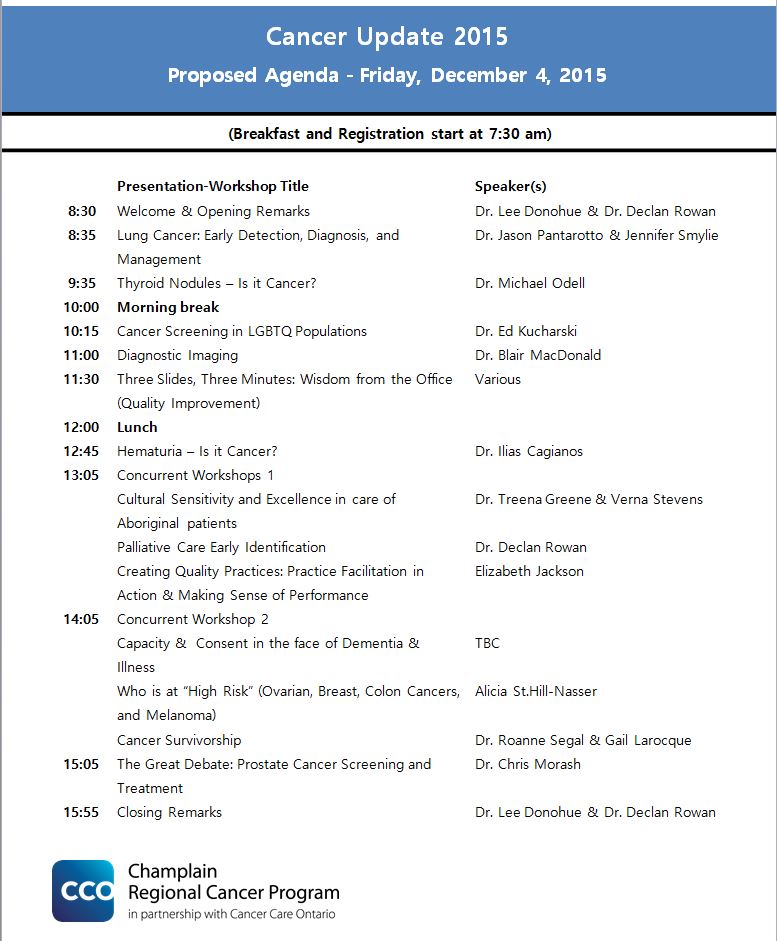 This program has been reviewed by the College of Family Physicians of Canada and is awaiting final accreditation by the College's Ontario Chapter for 6 Mainpro M1 Credits.
Have Questions? Call Julie at 613-728-6508 ext. 238 or email cancerprimarycare@toh.on.ca
Organizer of Cancer Update 2015
The Champlain Regional Cancer Program oversees the quality and delivery of cancer services for the residents of Ottawa, Renfrew, Lanark, Prescott and Russell, Stormont, Dundas, and Glengarry. The cancer program is a network of stakeholders, healthcare professionals and organizations involved in cancer prevention.
Created and funded by Cancer Care Ontario, The Champlain Regional Cancer Programs is responsible for implementing provincial standards and programs for cancer care and ensuring service providers meet the requirements and targets set out in their partnership agreements with Cancer Care Ontario. Regional Cancer Programs respond to local cancer issues, coordinate care across local and regional healthcare providers, and work to continually improve access to care, wait times and quality.