Description
The Champlain Regional Cancer Program's Cancer Update 2017 is a one day event that invites family physicians and other primary care providers to meet with regional experts and learn more about a wide range of cancer care topics.
This year's event includes plenary sessions on:
Lymphoma

Childhood and Adolescent Cancers

Health Equity and Cultural Awareness in Primary Care

Esophageal and Oral Cancers

Prostate/Bladder Cancer

Ovarian Cancer

Update on Regional Cancer Screening Programs: Breast, Cervical, Colorectal and Lung Cancer Screening
Afternoon ConcurentWorkshops:
Best Practices in Colorectal Screening

Recognizing the Many Faces of Skin Cancer

Motivational Interviewing

Hepatitis C: It's in Your Practice and It's Curable

OMD: Data Analytics

Managing Palliative Care Emergencies in the Home
We hope you'll join us at the Brookstreet Hotel for this information filled day.
What's the refund policy?
By registering for this conference, you agree to the outlined terms and conditions. Refunds less a $25.00 administration charge will be issued for cancellations received in writing before November 4, 2017. No refund will be issued for cancellations received after this date. Only cancellations received in writing at cancerprimarycare@toh.ca will be processed.
Agenda: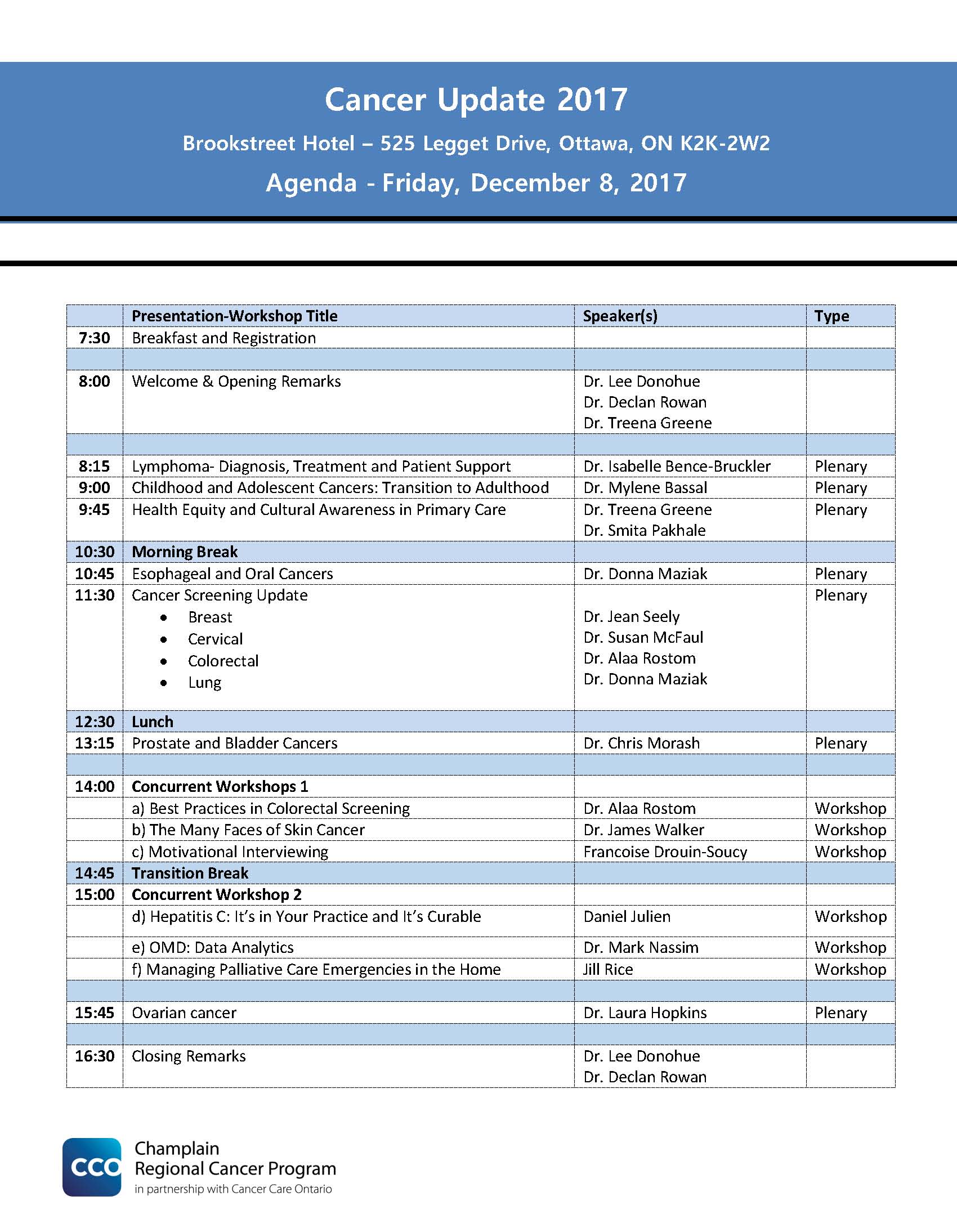 Organizer of Cancer Update 2017
The Champlain Regional Cancer Program oversees the quality and delivery of cancer services for the residents of Ottawa, Renfrew, Lanark, Prescott and Russell, Stormont, Dundas, and Glengarry. The cancer program is a network of stakeholders, healthcare professionals and organizations involved in cancer prevention.
Created and funded by Cancer Care Ontario, The Champlain Regional Cancer Programs is responsible for implementing provincial standards and programs for cancer care and ensuring service providers meet the requirements and targets set out in their partnership agreements with Cancer Care Ontario. Regional Cancer Programs respond to local cancer issues, coordinate care across local and regional healthcare providers, and work to continually improve access to care, wait times and quality.