Build · Grow · Scale your Green Business! We'll be gathering the industry's BEST for vetted, in-depth conversations and monthly networking.
About this event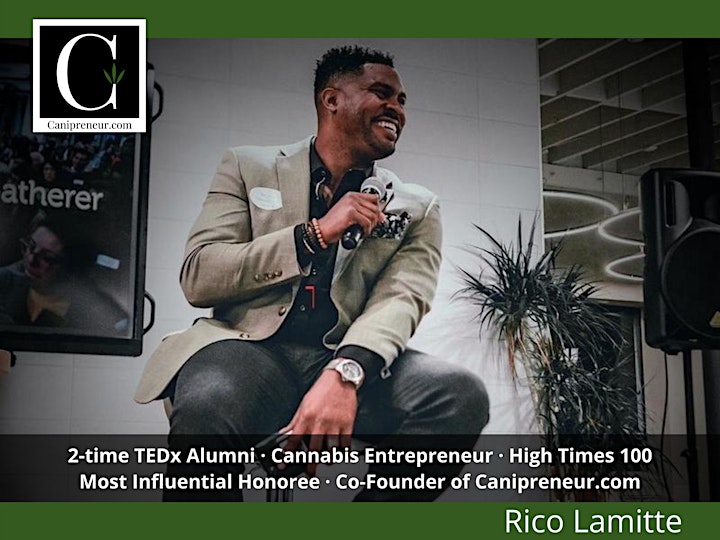 The cannabis industry is booming, but the opportunity for networking and relationship building among vetted, like-minded canipreneurs has not kept pace.
There's a lot of networking events out there in California, but they're all essentially the same - a bunch of people trying to sell you something while you try to sell them something...
... and it gets weird and super hard to build relationships in that kind of environment.
AND
It doesn't matter how many connections you make if those connections don't help each other out when an opportunity arises, right?
That's exactly why Canipreneur.com offers an experience that's different from any other cannabis event on the market today.
We've built our entire business model around creating opportunities for people who want to network with their peers, learn from experts and thought leaders in the space while having fun doing it!
We provide members with access to exclusive content created by top-notch professionals and experts in this industry.
Here's just some of the topics and experiences you will discover throughout Canipreneur.com's live event series:
• You'll get to know the leaders of tomorrow's cannabis industry...
• Learn about what it takes to succeed in an emerging market...
• Network with industry leaders and other like-minded canipreneurs across Southern California (and beyond)...
• Find mentors, advisors, investors, partners - whatever you need to grow your business...
• Have access to some of the most successful entrepreneurs in this space (and our supply chain)...
• Learn about cannabis marketing and branding strategies in a safe, personal environment...
• Build real and vetted connections with people through our entire supply chain...
• Share your story with top leaders in the cannabis industry...
• Gain access to a powerful platform where we share knowledge and expertise about the cannabis industry...
• Be part of an exclusive community for Canipreneurial Minds™...
• Become a thought leader in your local area...
• Have a place to network and find jobs in the industry...
• Provides a safe space for Canipreneurs to learn, grow, and share their stories...
• AND MORE!
To sum it up, Rico likes to call it "Access to Excellence."
SO
If you're tired of working with people who don't have your best interest at heart; and you want to work with people who are honest and transparent, but you've never been able to find them before....
...imagine having access to a community of top leaders in the cannabis industry who will help you grow your business by sharing their knowledge and expertise about the industry from ALL sides of it.
Each month we fill this space with accurate, high-quality cannabis industry information and quality people. We encourage everyone to come together to share stories, network, find jobs in the cannabis industry, learn from each other's experiences, along with providing the tools you need to succeed!
So grab a machete and let's forge our own path today!
Space fills up quickly.
Join us this June 24, 2021, as 2-time TEDx Alumni, Cannabis Entrepreneur, and High Times 100 Most Influential Honoree- Rico Lamitte will be hosting another night of unique, live infomercial-style events with amazing speakers PLUS a great networking community.
Pre-COVID, we averaged over 200 attendees in LA monthly with our industry-leading monthly gatherings. We're no longer locked down and The Green Wave continues to rise...
...so NOW is the time to build, grow and scale unlike any other time in human history before it's too late.
Gourmet food will be included with 1 drink ticket; there'll also be open bar options for those interested in adult beverages.
No cannabis consumption is allowed inside at our events; however, designated smoking areas will be easily accessible at APOP's HQ, where you can still enjoy the show on their numerous outdoor flat screens.
So grab your tickets below today. See you June 24th at 6:00 p.m.! 👇👇👇👇
-Rico Lamitte and Fred Smith, Founders of Canipreneur.com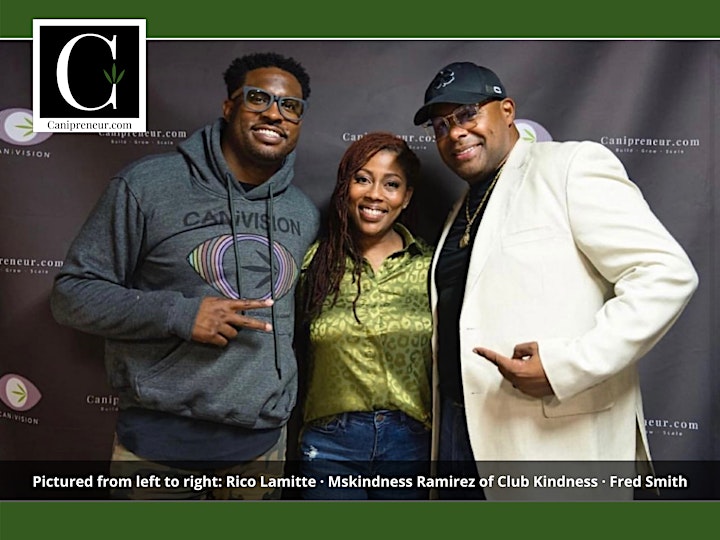 Thanks to our amazing sponsors (so far)! Want to join them? Email us at
info@canivision.com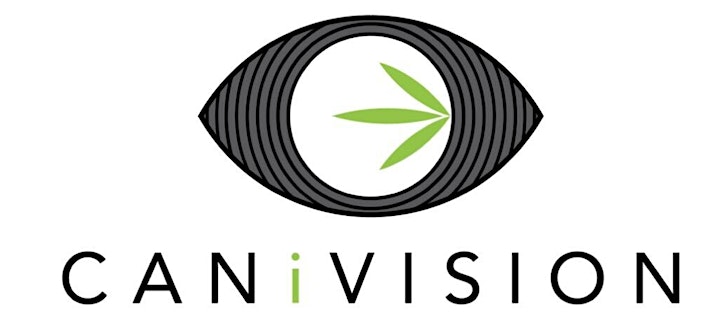 CANiVISION Global is a decentralized media broadcast organization with independent affiliates currently in California, Connecticut, Massachusetts, New York, New Jersey, Washington D.C., Michigan, and Illinois.
The "Vice News of the cannabis industry" seeks stories countering mainstream viewpoints, and believes the industry is a "3-legged stool" whose success relies on Wellness, Business, and Lifestyle needing equal media representation.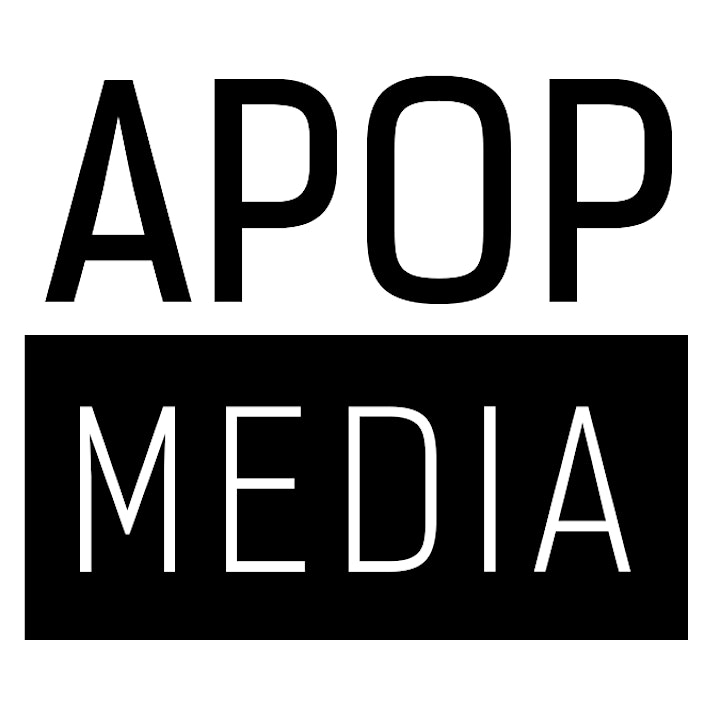 APOP Media - The largest in-store cannabis lifestyle network & digital menu platform based in LA and has quickly evolved into the market's leading advertising and educational service. Strategically placed in dispensaries, waiting rooms, med rooms, doctor's offices & at live events across California.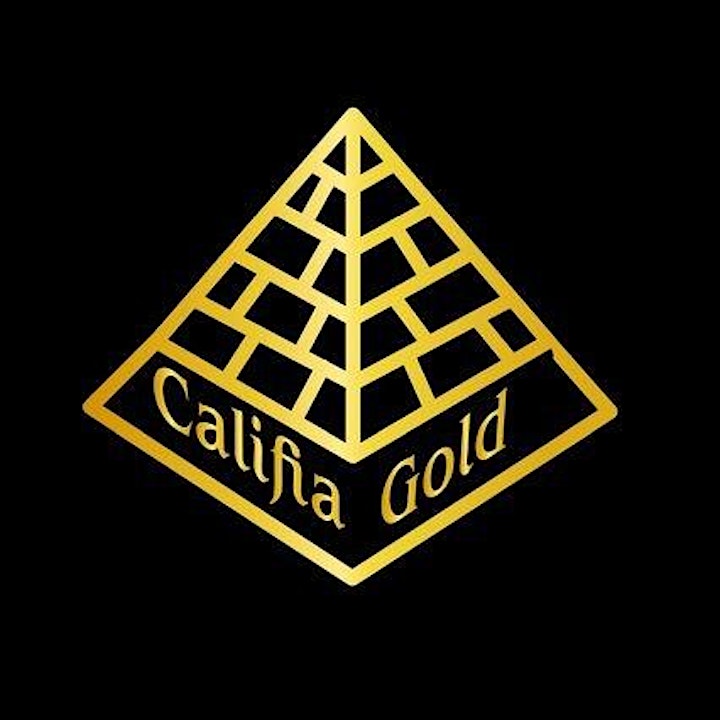 Califia Gold Club believes a hemp-based economy could revolutionize society because of the many uses for hemp and its positive environmental impact. Many products can be made from hemp, can be recycled, reused, are 100 percent biodegradable, and help reverse climate change.
They currently sell full-spectrum, hemp-derived Hemp Oil, capsules, gummies, topicals, water solubles, bath bombs, organic hemp protein powder superfood, B-complex drops, immunity capsules, Elderberry, and liquid Immunity complex.