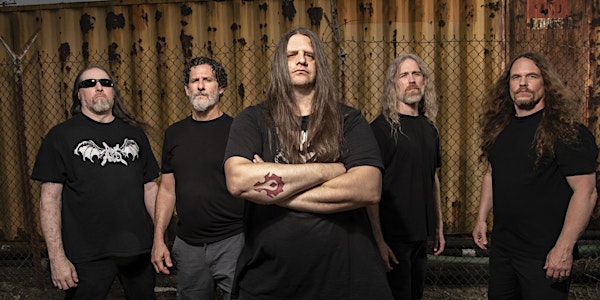 Cannibal Corpse with Dark Funeral, Immolation, and Black Anvil
Join Death Metal legends Cannibal Corpse with support from Dark Funeral, Immolation, and Black Anvil at the Rickshaw for two nights!
When and where
Location
Rickshaw Theatre 254 E. Hastings Street Vancouver, BC V6A 1P1 Canada
Performers
Headliners
More Performers
Dark Funeral
Immolation
Black Anvil
About this event
Live Nation presents Cannibal Corpse
With guests, Dark Funeral, Immolation, and Black Anvil
Thursday, November 17th, 2022
The Rickshaw Theatre
19+
Doors: 6:30PM
Cannibal Corpse
Violence Unimagined. The title tells you everything you need to know about Cannibal Corpse's fifteenth hellish opus. Comprised of eleven tracks, it is state of the art death metal played with passion and breathless precision, making for another flawless addition to what is inarguably one of the premier catalogues the genre has thrown up. "It really follows the path we've been going down for a few years now," states bassist and founding member Alex Webster. "I think we approach the writing in a similar way most every time: each of us try to write the heaviest, most memorable songs we can. We want each song to have its own identifiable character. Showing my age, I like to say you can 'drop the needle' on any point of one of our albums and quickly tell which song you're listening to."
Dark Funeral
Swedish Black Metal pioneers Dark Funeral have blazed a path of Satanic ritualism and anti-religion that has endured for nearly three decades. Now, on the band's seventh studio album, 'We Are The Apocalypse', they find themselves reaching for their most immersive and unrepenting journey to date. Led by the songwriting and technical ferocity of founding guitarist Lord Ahriman, Dark Funeral takes aim to surpass the new foundation they laid forth on 2016's 'Where Shadows Forever Reign' – their first release with current lead vocalist Heljarmadr.
Immolation
Just as one can smell a storm swelling on the horizon, Immolation's cataclysmic tremor approaches to unleash its latest, immense creation: Acts of God. This 11th studio album serves as the next chapter of Immolation's Death Metal epic. With 5 long years passed since the most recent studio album, Atonement, Acts of God vigorously showcases Immolation's ability to consistently create fascinating sounds, while still keeping their feet firmly rooted in the old school, New York Death Metal for which they are renowned.
Black Anvil
Formed in 2007 in New York City, Black Metal troupe Black Anvil released their debut album, Time Insults the Mind, on Monumentum/Reflections Records in September 2009, and later that year signed to renowned independent label Relapse Records. After a re-release of their acclaimed 2009 debut, Black Anvil unleashed their first proper full-length Triumvirate in September 2010. Recorded with engineer 'General' George Fullan (The Rolling Stones, Dream Theater) at Mark 'The Animal' Mendoza's (Twisted Sister) Diamond Drop Studio on Long Island, NY, Triumvirate received critical acclaim and was hailed as an "all-around monster metal album." Pitchfork even stated, "Black Anvil's an amazing live band... and their songwriting's as strong as their stage presence."
For full listings visit www.rickshawtheatre.com