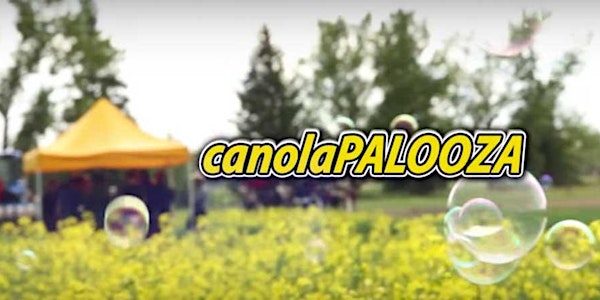 When and where
Location
AAFC Site - Portage la Prairie 370 River Road Portage la Prairie, MB R1N 3V6 Canada
Description
We are excited to be hosting our second annual CanolaPALOOZA.
This event gives you an opportunity to interact with the canola industry in a fun, interactive day of demonstrations, plot tours and access to experts in their fields.
Join us at this free event where you can come and learn at your own pace.
---
Topics include:
Inside the Lab: A look at what happens to your soil samples when testing for clubroot. Early detection and early response is crucial when dealing with clubroot, find out why. Instructors: Holly Derksen (MB Ag), & Xiaowei Guo (PSI Lab)
Soil Compaction: Impacts on canola stand establishment and BMPs for soil health. Instructors: Curtis Cavers (AAFC), Marla Riekman (MB Ag), Mitchell Timmerman (MB Ag), & Mario Tenuta (U of M)
Insect Pest Management: Understanding threshold numbers for flea beetles, lygus and cabbage seedpod weevil. Instructors: John Gavloski (MB Ag), Tharshi Nagalingam (U of M)
Storage Management: Preventing and managing storage issues with canola. Instructors: Angela Brackenreed (CCC), Lorne Grieger (PAMI), & Joy Agnew (PAMI)
Fertility - Top Dressing: Products to top off canola's nitrogen needs with, while focusing on the importance of rates and timing of products. Instructors: Rigas Karamonas(KOCH), John Heard (MB Ag) & Warren Ward(CCC)
Canola Eat Well Snack Station: Easy to cook demos highlighting the versatility and health benefits of canola oil! Instructors: Ellen Pruden (MCGA), & Jennifer Dyck (MCGA)
Sprayer Tank Cleanout: Focusing on proper cleanout techniques and chemistries to be cautious with. Instructors: Tom Wolf (Agrimetrix), Brian Caldwell (Agrimetrix), & Enns Brothers
Understanding the Prescription: Taking a peak at new precision Ag technology and the importance of ground truthing the technology; with an added component on weather stations! Instructors: Ian Cook (Enns Bros.), & Rotimi Ojo (MB Ag)
Beneficial Insects/Natural Areas: Importance of natural areas within cropping systems and the beneficial forces they can provide. Instructors: Melanie Dubois (AAFC), Lora Morandin (Pollinator Partnership), & Gregory Sekulic (CCC)
Group 2 Weed Management: Focusing on the management of group 2 products on four canola herbicide systems. Instructors: Jeanette Gaultier (MB Ag), Rob Gulden (U of M), Jameson Hall (Cibus) & Ian Epp (CCC)
Crushing, Grading, & End Use: Digging deeper into harvest samples, why grade matter, a look at crush output and where in the world our Canadian Canola ends up. Instructors: Chris Fleury (CGC), Taryn Dickson (CCC), & Cargill
Stand Establishment: Using the new canola calculator to help determine target plant stands and highlighting the difference between the drill and planter for canola. Instructors: Murray Hartman (AB Ag), Harold Brown (Bayer), & Brittany Hennig (CCC)
Blackleg Management: Blackleg diagnostics in field and learning about a new tool to help manage the disease; R-gene labels. Instructors: Sakaria Liban (DL Seeds), Gary Peng (AAFC), Harunur Rashid (U of M), & Clint Jurke (CCC)
Mystery Plots - CSI Canola: Put your agronomic skills to the test with our mystery canola plots, highlighting the importance of scouting and tool/techniques to help your scouting game. Instructors: Anastasia Kubinec (MB Ag), & Nicole Philp (CCC)
---
Lunch will be available on site.
---
For more information click on the video link or contact:

Roberta Galbraith - Member Relations Manager - Manitoba Canola Growers
Cell: 204.805.1609 E-mail: roberta@canolagrowers.com
Justine Cornelsen - Regional Agronomist - Canola Council of Canada
Cell: 204.298.4364 E-mail: cornelsenj@canolacouncil.org