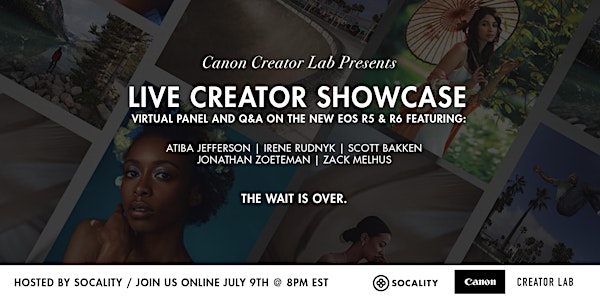 Canon Creator Lab Presents: Live Creator Showcase
Join us for a Live Creator Showcase presented by Canon Creator Lab featuring Atiba Jefferson, Irene Rudnyk, Scott Bakken and more.
About this event
The wait is over. Learn more about the new EOS R5 and EOS R6 tonight with our creator panel. Each creator had the opportunity to put the EOS R5 and EOS R6 to the test. They'll be sharing their experiences using the gear and answering your questions. Be sure to tune in tonight to see what they were able to create!
When: Thursday July 9th 8PM EDT
Where: ONLINE
Cost: FREE - RSVP to secure your spot.
Canon Creator Lab Presents a Live Creator Showcase all about the highly anticipated EOS R5 and EOS R6. Join us July 9th at 8PM EST for a virtual panel and Q & A.
About Atiba:
Atiba Jefferson is an American photographer born in Colorado Springs. Atiba grew up skateboarding there, then moved to California in 1995. He is now living and working in Los Angeles, CA. Although perhaps best known for his 25 years of skateboarding photography, he is now working for all the major skateboard publications at Thrasher Magazine. Atiba has a deep history in basketball as well. Atiba was a staff photographer for the LA Lakers during the Shaq and Kobe years and has shot more SLAM magazine covers than any other photographer. Other photography subjects include music and just life in general. Atiba has also shot for commercial clients such as Supreme, adidas, Nike, Converse, Reebok, ESPN, Gatorade, Mountain Dew, Oakley, Panasonic, Pepsi, Canon and Netflix.
About Irene:
Irene Rudnyk is a portraiture photographer inspired by feminine beauty. She works to capture the woman in front of her camera in a more creative, romantic manner, putting a lot of thought into the environment and details of the photo to create a visually pleasing and feminine version of the finished product. Irene enjoys helping other photographers with tutorials, behind the scenes, and DIY videos.
About Scott:
Scott Bakken is passionate about creating spaces where people can connect and build authentic relationships. Scott founded Socality in 2014, a creative community that exists to inspire people from all walks of life to create things that make a difference. Socality began with the simple goal of connecting creatives online and in person using social media and live events. Scott is a Father, husband, speaker, entrepreneur, and photographer committed to helping others step into their own opportunities. Some of his clients include American Express, Rogers, Canon, Google, Eddie Bauer, GMC and more. Scott lives in Calgary, Alberta, Canada with his wife Jessica and their two kids Sydney Rose and Cruz Zion.
About Jonathan:
Jonathan Zoeteman is a Canadian portrait photographer drawing inspiration from film, narrative, and creative expression. His work focuses on emphasizing and capturing feeling, emotion, and story, while exploring the relationships between individuals and the world around them. Along with commercial, editorial, and lifestyle photography, Jonathan is passionate about building community and supporting other creators with the development of events, education, and workshops through the Socality creative community.
Any further details will continue to be updated and communicated, as we get closer to the date. RSVP to secure your spot, see you there!