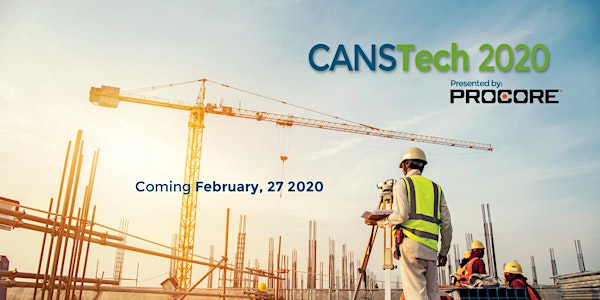 CANSTech 2020 - the Construction Innovation and Technology Tradeshow
When and where
Location
Cunard Center 961 Marginal Rd. Halifax, NS B3H 4P7 Canada
Description
Online registration is now closed, but you can still register on-site at the Cunard Center on Thursday, 8:00am-4:00pm! See you there!
Join us for CANSTech - the Construction Technology and Innovation Trade Show for the commercial, industrial and institutional construction industry, presented by Procore.
CANSTech will take place at the Cunard Centre in downtown Halifax, Nova Scotia, and will unite interactive exhibitors and world-class speakers to showcase new technologies, upcoming trends and innovative products all
under one roof.
Agenda

8:00 AM Trade Show Floor Opens


8:45 AM Welcome Remarks &

CANSTech Scholarship Award Presentation
9:00-10:30 AM Keynote: David Coletto, CEO of Abacus Data
Presentation and Panel: What generational change means for the workplace and the future of leadership.
There are powerful new forces at work in the modern workplace, a dynamic driven by the intersection of disruptive technology and a new generation of employees who were raised differently, have different values and different expectations. Managing this change and embracing not just about survival, but what will make the difference between firms that excel and those that struggle. Through an engaging, data-filled presentation, David will argue that a generational lens is needed by all firms large or small, who are seeking to understand the dynamics at work in the market.


10:45-11:45 AM Speaker: Jonathan Marsh, CEO/ Construction Technologist at Steel Toe Consulting LLC
Presentation: A 360 degree look at BIM
Working within building information modeling (BIM) software is exciting and challenging for most construction companies. It's easy to pick a software, jump in, and start modeling, but it's important to take the time to plan the right BIM workflow for your business. This presentation will discuss the fundamental steps from estimating, pre-construction, detailing, all the way through the fab shop to ensure a successful implementation of BIM.


1:00-2:00 PM Speaker: Jonathan Marsh, CEO/ Construction Technologist at Steel Toe Consulting LLC
Presentation: Why It's Time to Embrace Technology, Offsite Construction and Lean Methodology
Offsite construction is the future of construction. In this presentation we will discuss the benefits and challenges our industry is facing adopting offsite construction methods. We will also discuss common terminology and practical applications when it comes to kitting, prefab and modular construction and the roles we all play in this not so new concept.


4:00 PM Trade Show Floor Closes
Exhibitors List to follow.
To learn more about CANSTech or sponsorship opportunities: www.canstech.ca