Cantonese Bubble Tea Making and Storytelling Workshop for Kids (in-person)
A professional bubble tea barista will be teaching students how to make a large cup of fresh bubble tea!
About this event
歡迎您參加小朋友趣味工作坊之珍珠奶茶!
課堂以廣東話及繁體字教學。
珍珠奶茶師傅將會教小朋友們珍珠奶茶的正確製作過程。另外,陳老師也會閱讀繪本去跟小朋友們分享珍珠奶茶的歷史!
讓我們一起享受這個非常好玩的製作坊吧!
In the workshop, students will learn how to make a fresh bubble tea from a professional bubble tea barista! We will also read a story to learning about the history of Bubble Tea!
The cost includes all the materials, the use of professional tools, and a large bubble tea drink.
Children will have a wonderful time in this workshop!
*Private sessions (minimum of 8 people)are also available upon request. Please email info@brightmindsonlineschool.ca for inquiry.
*Please note that all tickets are non-refundable.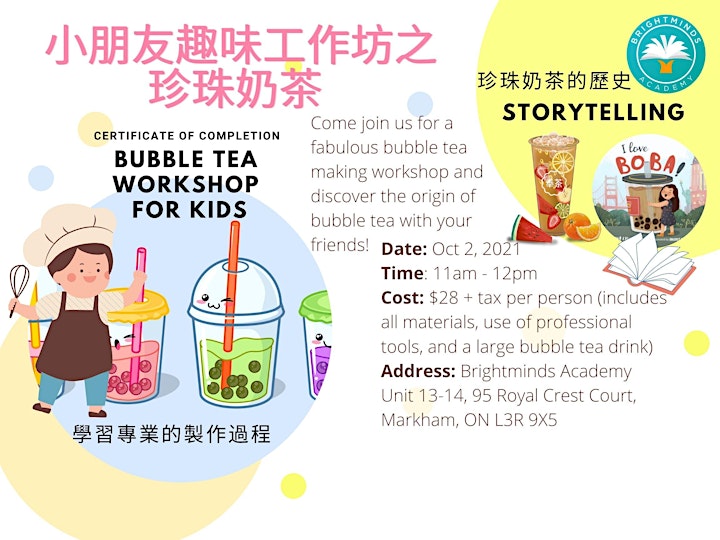 Organizer of Cantonese Bubble Tea Making and Storytelling Workshop for Kids (in-person)