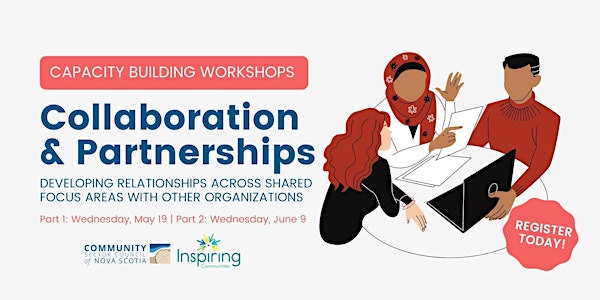 Capacity Building Workshops: Collaboration & Partnerships
Join us May 19 and June 9 for a 2-Part Series on developing relationships across shared focus areas with other organizations!
By Impact Organizations of Nova Scotia
About this event
Collaboration and partnership are vital in the sector to find solutions in a world facing increasingly complex challenges and opportunities. This session will ask how we can amplify the impact of our work, what are the tools and resources required for collaboration, what is the vision or skills needed for collaboration, and how do we elevate collaboration in the midst of all we have to do.
This session will focus on collaboration and partnership with the following focus areas:
Framework for collaboration including communication tools/approaches for engaging potential partners
Partnership agreements (timelines, tools for building partnership agreements)
Intentional focus on developing partnerships with diverse communities (how to reach out) and within diverse communities
The COVID-19 pandemic and other complexities have changed the context and needs for the social sector. Back in March and April2021, the Community Sector Council of Nova Scotia (CSCNS) partnered with Inspiring Communities (IC) to launch a survey to gather data and information on the needs of the sector. Together, we recognized the need to offer capacity building opportunities based on the current and future context. We also understand that community connection and support are essential, especially during times of crisis; we aim to facilitate such connection while offering meaningful, shared learning opportunities and resources that align with evolving sector needs. 
The results from the survey helped identify the sector needs and inform the five capacity building sessions. We invite you to join us for capacity building workshops that will further skill, knowledge and build opportunities for people and organizations to create positive impact across Nova Scotia. 
The 2-part capacity building sessions will have an emphasis on building peer-to-peer relationships (cohort learning) and collaborative learning while offering tools and resources to help you implement the learning within your organization or community. 
***CSC, IC and Wayside will be recording this session for use on Wayside and CSCNS Skillspass. Please note only the facilitation will be recorded and we will not record the discussion and breakout session. Please turn off your mic and video if you don't want to be recorded.****
Facilitators:
Kayla Bernard (she/her)
W2A Associate
Kayla is a member of the Sipekne'katik First Nation and mental health advocate, facilitator, and currently a Therapeutic Recreation student (graduating May 2021). Kayla currently works as a youth programmer, developing and running programs for youth in Halifax, Nova Scotia. She also trains supportive adults on how best to work and engage with youth and leads reconciliation and decolonization workshops for youth and adults. Kayla has been with Wisdom2Action since 2017, first as a member of the Youth Advisory Council and since 2018, has been leading community knowledge sharing events, including focus group type activities. She has also represented Wisdom2Action nationally and internationally in youth mental health events. She also works at Heartwood Centre for Community Development.
Lisa Lachance (they/she), BA, MPA, PhD (candidate)
W2A Principal Consultant
Lisa has been Executive Director of the W2A Network, the foundation for W2A Ltd., since April 2013. Starting as a federally-funded network in 2011, W2A remains a national organization committed to increasing the use of evidence, evaluation and engagement to strengthen organizations and communities.
Lisa started her career in the public sector, working first with the federal government in Ottawa, primarily at the Canadian International Development Agency (CIDA) where she led the implementation of Canada's Action Plan on Child Protection that had a particular focus on child participation. She was also a Senior Advisor on Indigenous issues at the Privy Council Office. Returning to Nova Scotia, Lisa was the inaugural Director of Policy at the Nova Scotia Department of Finance, where she led initiatives to inspire innovation in the provincial government. Lisa has consulted for Canadian, international, and United Nations organizations on children's rights, gender equality, evaluation and knowledge mobilization projects. Lisa is bilingual and provides services in English and French. She has a long history of leadership in the Nova Scotia community sector, including Board positions with Stepping Stone, Byrony House, Heartwood Centre for Community Development, and ongoing volunteer work with a number of other organizations.
About the organizer
Impact Organizations of Nova Scotia was founded in December 2012 (as The Community Sector Council of Nova Scotia) to act as voice for the nonprofit and voluntary sector, and to help build skills and capacity to help organizations be as effective as possible in their work. 
A core part of our work is to provide capacity building opportunities to help organizations better achieve their mission through access to high quality training, resources, and skill development. The root of our capacity building efforts is the vision of the Community Impact Sector equipped to affect positive change and address systemic inequities. Our theory is that the sector will be most impactful when organizations develop the capacity and build skills to nurture healthy workplaces, cultivate innovation, and operate sustainably.