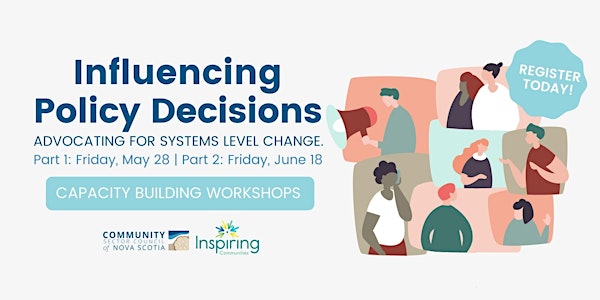 Capacity Building Workshops: Influencing Policy Decisions
Join us May 28th & June 18th for a 2-Part Series on advocating for systems level change!
By Impact Organizations of Nova Scotia
About this event
Seeking to make systems level change and move the needle on social policy issues but don't know where to start? This 2 part session on advocacy will look at how to influence policy decisions while providing you with the tools and resources to bring about real change through policy advocacy. This capacity building session will focus on:
Advocacy and influencing policy decision making, which will include examining the role of politicians and bureaucrats in the process and how best to target efforts;
Framing research and programs to meet political cycles and government agendas, including research elements to consider;
Framing policy briefs, including key steps in government's policy-making process.
The COVID-19 pandemic and other complexities have changed the context and needs for the social sector.
Back in March and April 2021, the Community Sector Council of Nova Scotia (CSCNS) partnered with Inspiring Communities (IC) to launch a survey to gather data and information on the needs of the sector. Together, we recognized the need to offer capacity building opportunities based on the current and future context. We also understand that community connection and support are essential, especially during times of crisis; we aim to facilitate such connection while offering meaningful, shared learning opportunities and resources that align with evolving sector needs. 
The results from the survey helped identify the sector needs and inform the five capacity building sessions. We invite you to join us for capacity building workshops that will further skill, knowledge and build opportunities for people and organizations to create positive impact across Nova Scotia. 
The 2-part capacity building sessions will have an emphasis on building peer-to-peer relationships (cohort learning) and collaborative learning while offering tools and resources to help you implement the learning within your organization or community. 
***CSC, IC and Wayside will be recording this session for use on Wayside and CSCNS Skillspass. Please note only the facilitation will be recorded and we will not record the discussion and breakout session. Please turn off your mic and video if you don't want to be recorded.****
Facilitators:
Jane Allt and Angela Poirier are co-authors of "How Government Really Works — A field guide to bureaucracies in Canada." They are former bureaucrats, with 60 years of service combined and have worked in almost every aspect of provincial government responsibility.
Jane Allt
Civilly Speaking
Jane Allt worked for the Nova Scotia public service for 30 years in both central agencies and line departments. She attended Mount Saint Vincent University and graduated from Dalhousie University with a Master in Public Administration degree. She is also a graduate of the Queen's University Executive Program for HR Leaders and the provincial government's Executive Leadership Program. She has been a volunteer with not for profit organizations for more than 40 years. She lives in Halifax, Nova Scotia.
Angela Poirier
Civilly Speaking
Angela Poirier joined the Nova Scotia public service as a coordinator of customer relations with transportation before moving into senior communications roles with economic development; tourism, culture and heritage; and environment. She also held a senior project management position with finance; and retired from the service as a senior policy analyst with justice. Her experience is complemented with a Master in Public Administration degree from Dalhousie University and a Bachelor of Public Relations degree from Mount Saint Vincent University. She lives in Shad Bay, Nova Scotia.
Louise Adongo
Inspiring Communities
Louise Adongo, Executive Director at Inspiring Communities, is a bold and grounded leader who brings over a decade of experience in systems change, policy and evaluation to Inspiring Communities. She is known for bringing care and intention to uncovering the roots of tangled problems; enabling shifts to greater resilience, sustainability and impact. She believes in carving institutional spaces that are more nimble, transparent and creative. For the last decade she has worked for the Nova Scotia government's departments of Health, Justice (NSHRC), Labour & Advanced Education, Business (ERDT), Service Nova Scotia & Internal Services and Infrastructure & Housing.
About the organizer
Impact Organizations of Nova Scotia was founded in December 2012 (as The Community Sector Council of Nova Scotia) to act as voice for the nonprofit and voluntary sector, and to help build skills and capacity to help organizations be as effective as possible in their work. 
A core part of our work is to provide capacity building opportunities to help organizations better achieve their mission through access to high quality training, resources, and skill development. The root of our capacity building efforts is the vision of the Community Impact Sector equipped to affect positive change and address systemic inequities. Our theory is that the sector will be most impactful when organizations develop the capacity and build skills to nurture healthy workplaces, cultivate innovation, and operate sustainably.