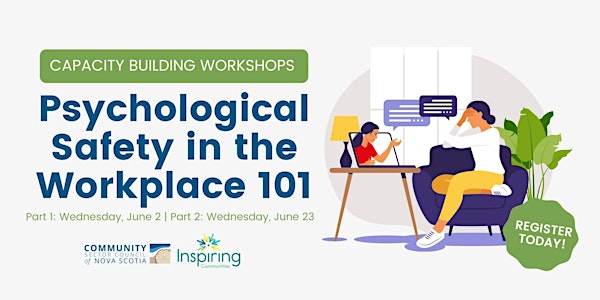 Capacity Building Workshops: Psychological Safety in the Workplace 101
Join us June 2nd & June 23rd for a 2-Part Series on what psychological safety really means and how it shows up in your workplace.
By Impact Organizations of Nova Scotia
About this event
Psychological safety has become a buzzword in justice, equity, diversity and inclusion work, but what does it really mean? What implications does it have for your organization and the health and safety of your team? This 2-part session will explore what psychological safety is and how it shows up in your workplace, focusing on:
What does psychological safety mean?
What are tools to assess and build safety within your organization?
Organizational tools for dealing with the psychological, JEDI, Burnout and Mental health demands of the sector
The COVID-19 pandemic and other complexities have changed the context and needs for the social sector. Back in March and April 2021, the Community Sector Council of Nova Scotia (CSCNS) partnered with Inspiring Communities (IC) to launch a survey to gather data and information on the needs of the sector. Together, we recognized the need to offer capacity building opportunities based on the current and future context. We also understand that community connection and support are essential, especially during times of crisis; we aim to facilitate such connection while offering meaningful, shared learning opportunities and resources that align with evolving sector needs. 
The results from the survey helped identify the sector needs and inform the five capacity building sessions. We invite you to join us for capacity building workshops that will further skill, knowledge and build opportunities for people and organizations to create positive impact across Nova Scotia. 
The 2-part capacity building sessions will have an emphasis on building peer-to-peer relationships (cohort learning) and collaborative learning while offering tools and resources to help you implement the learning within your organization or community. 
***CSC, IC and Wayside will be recording this session for use on Wayside and CSCNS Skillspass. Please note only the facilitation will be recorded and we will not record the discussion and breakout session. Please turn off your mic and video if you don't want to be recorded.****
Facilitator:
Dr. Dayna Lee-Baggley
Registered Clinical Psychologist
Dr. Dayna Lee-Baggley is a Registered Clinical Psychologist in Nova Scotia. For close to 15 years she worked as a Clinical Health Psychologist for medical, surgery, and cancer care units at the hospital. She has taken all this experience to open Dr. Lee-Baggley and Associates, a virtual health psychology clinic offering clinical interventions, training for healthcare providers, and educational courses on health related topics. She holds an Assistant Professor appointment in the Department of Family Medicine and cross-appointments in the Department of Surgery and the Department of Psychology and Neuroscience at Dalhousie University and an Adjunct Professor appointment in the Department of Industrial and Organizational Psychology at Saint Mary's University. She is an internationally recognized trainer in Acceptance and Commitment Therapy and a certified therapist in Emotion Focused Therapy for Couples. Dr. Lee-Baggley provides training, supervision and workshops for clinicians and healthcare providers around the world.
About the organizer
Impact Organizations of Nova Scotia was founded in December 2012 (as The Community Sector Council of Nova Scotia) to act as voice for the nonprofit and voluntary sector, and to help build skills and capacity to help organizations be as effective as possible in their work. 
A core part of our work is to provide capacity building opportunities to help organizations better achieve their mission through access to high quality training, resources, and skill development. The root of our capacity building efforts is the vision of the Community Impact Sector equipped to affect positive change and address systemic inequities. Our theory is that the sector will be most impactful when organizations develop the capacity and build skills to nurture healthy workplaces, cultivate innovation, and operate sustainably.