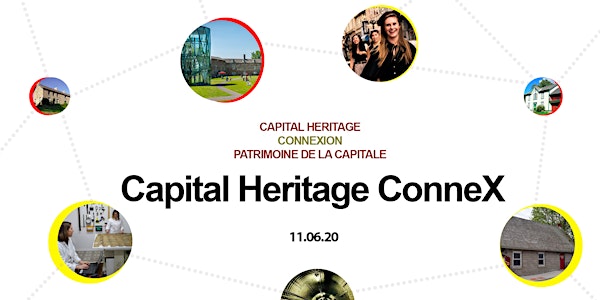 Capital Heritage ConneX
Capital Heritage Connexion invites the Heritage sector to an online community check-in.
By Capital Heritage Connexion Patrimoine de la Capitale
Date and time
Thu, Jun 11, 2020 11:00 AM - 12:00 PM PDT
About this event
Cet événement se déroulera en anglais seulement.
When: Thursday, June 11, 2-3pm
Where: A Zoom link will be sent to registered attendees.
Cost: FREE
Note: Please register in advance. If you do not have a reliable internet connection, you can join the conversation by phone (cellular or landline).
Description
Seeking comfort, counsel and connection during these COVID coping times? Planning through the pandemic paradigm shift? Join your colleagues in Heritage as we Zoom in on two timely themes:
'Re-tooling for Re-Opening' - with discussion leader Anne-Marie Beaudet, Senior Officer, Communications and Visitor Experience, Stewart and McCord Museums, Montreal; and
'Optimizing Online Engagement' - with discussion leaders Tracey Donaldson, Manager & Exhibitions Curator, Goulbourn Museum and Chair, Ottawa Museum Network and Sarah Catterall, Education Officer, Goulbourn Museum.
This is YOUR chance to share questions, concerns, solutions and ideas and support your heritage community in moving towards a new normal.
Accessibility
The workshop will be delivered online and a link will be sent to event registrants.
Should you have any accessibility requirements, please contact our Program Manager, Natalie Hart at program@capitalheritage.ca.
Become a CHC Member
Understanding the difficulties many in our heritage community are experiencing and the support they could benefit from, we are now offering 2020 Connexion memberships at no charge to new Members.
Members are groups and individuals in Canada's Capital region who pursue a wide range of heritage objectives through their work with museums, archives, heritage buildings, cultural landscapes, local history, ethnic and cultural activities, archaeology, genealogy, cemeteries and collections.
There are many Members benefits, including reduced rates for exclusive workshop and training opportunities!
Become a Member: https://www.capitalheritage.ca/members/become-a-member/
Cet événement se déroulera en anglais seulement.
Date : Jeudi le 11 juin de 14 h à 15 h
Lieu : Un lien pour Zoom sera envoyé aux participants inscrits.
Frais : Gratuite
Veuillez noter : S'il vous plait inscrire à l'avance. Si vous ne disposez pas d'une connexion Internet fiable, vous pouvez participer à la conversation par téléphone (cellulaire ou fixe).
Description
Vous cherchez du réconfort, des conseils et une connexion pendant ces temps d'adaptation COVID ? Planification à travers le changement de paradigme pandémique ? Rejoignez vos collègues du patrimoine alors que nous « zoomons » sur deux thèmes :
« Ré-outillage pour la réouverture » - avec la responsable de discussion Anne-Marie Beaudet, agente principale, Communications et expérience du visiteur, Musées Stewart et McCord, Montréal; et
« Optimizing Online Engagement » - avec les animatrices de discussion Tracey Donaldson, gestionnaire et conservatrice des expositions, Musée Goulbourn et présidente, Réseau des musées d'Ottawa et Sarah Catterall, agente d'éducation, Musée Goulbourn.
C'est VOTRE chance de partager des questions, des préoccupations, des solutions et des idées et d'aider votre communauté du patrimoine à évoluer vers une nouvelle normalité.
Accessibilité
L'atelier sera donné en ligne et un lien sera envoyé aux personnes inscrites à l'atelier.
Si vous avez des exigences en matière d'accessibilité, veuillez contacter notre Gestionnaire des programmes, Natalie Hart, à l'adresse program@capitalheritage.ca.
Devenir membre de la CPC
Conscients des difficultés que rencontrent de nombreux membres de notre communauté patrimoniale et du soutien dont ils pourraient bénéficier, nous offrons désormais aux nouveaux membres de la Connexion 2020 une adhésion gratuite.
Les membres sont des groupes et des individus de la région de la capitale du Canada qui poursuivent un large éventail d'objectifs patrimoniaux par leur travail avec les musées, les archives, les bâtiments patrimoniaux, les paysages culturels, l'histoire locale, les activités ethniques et culturelles, l'archéologie, la généalogie, les cimetières et les collections.
Les membres bénéficient de nombreux avantages, notamment des prix exclusifs réduits pour des ateliers et des formations!
Devenez membre: https://www.patrimoinecapitale.ca/devenir-membre/
About the organizer
Connecting Ottawa with its rich history and heritage.
Relier Ottawa à la richesse de son histoire et de son patrimoine.